Guide to Omaha Farmers Markets 
I have helped many families moving to Omaha. Contact me if you have any questions about the Omaha area or need help buying a home.
Fresh produce and crisp flower blooms flourish in the spring, summer, and fall months. This means farmers markets pop up all over the metro area. Here, Omahans can exchange produce and market their handmade goods! It's the ultimate cultural experience where you can meet other locals, support your neighbors, and stock your pantry with delicious homegrown fruits and vegetables!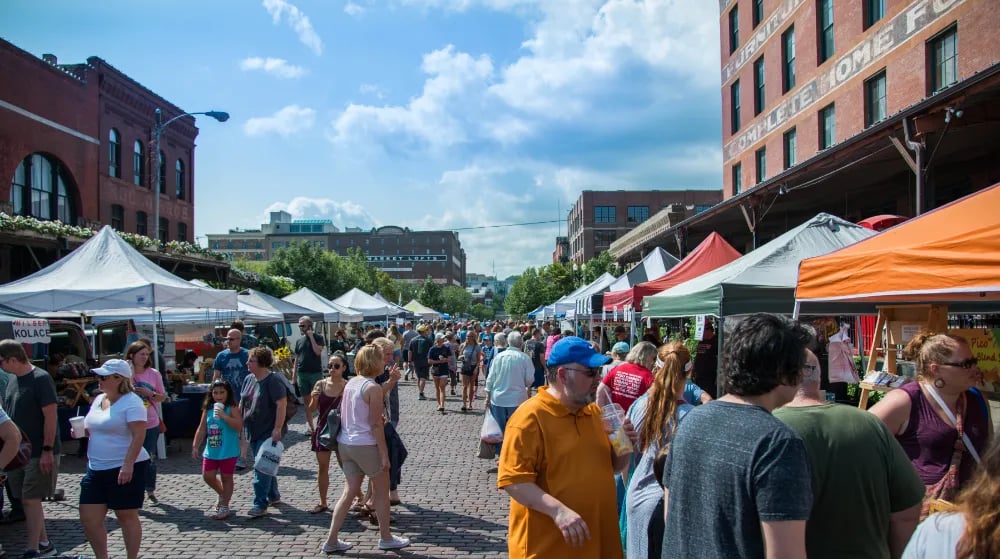 Now, there are farmers markets everywhere! But, what are the best and biggest? I've dedicated my post today to all things Omaha farmers markets. I'll tell you when and where they are. Plus, I'll fill you in on all I know about the venue and vendors. Here's my guide to the Omaha area farmers markets:
Your Guide to Omaha Farmers Markets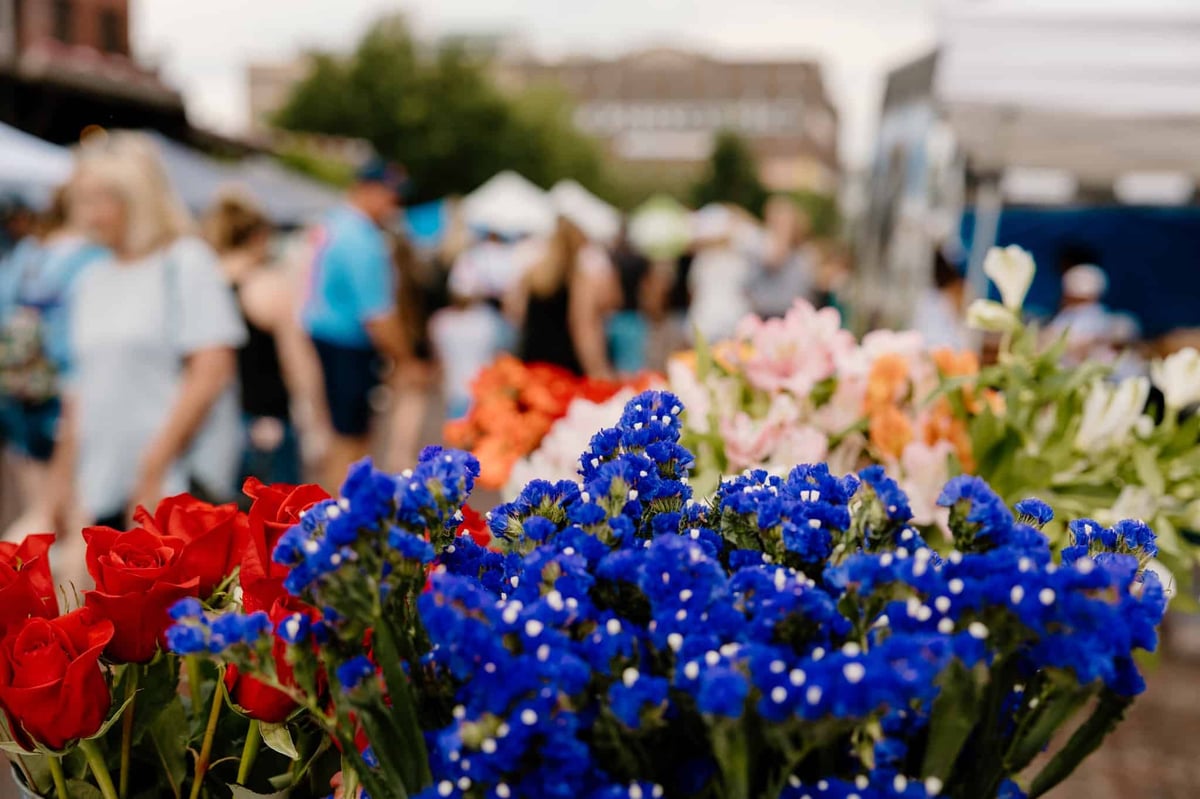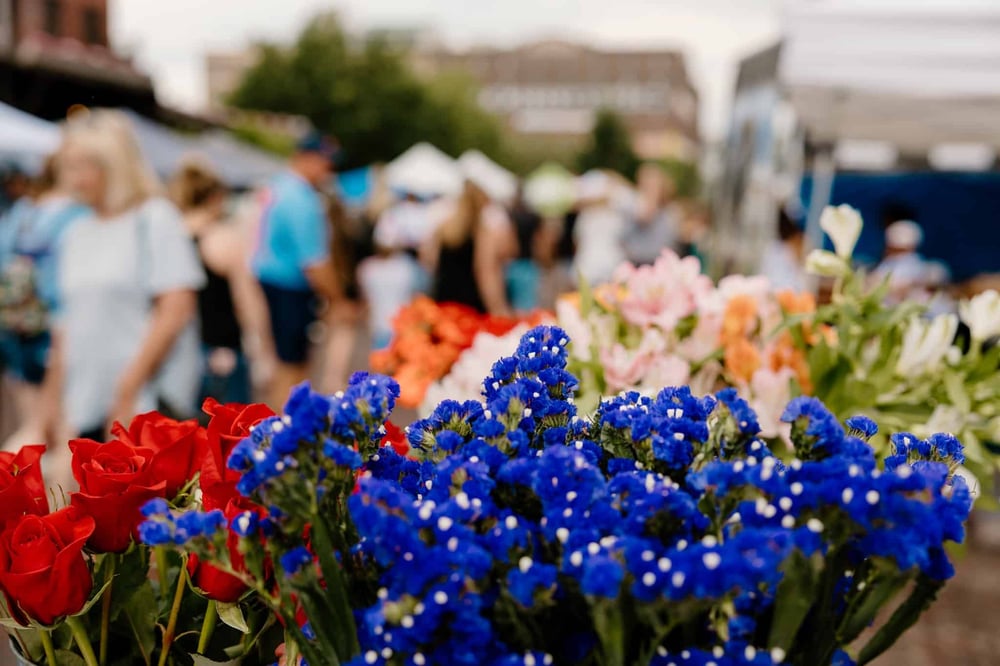 Dates: May 7th – October 15th
Day and Times: Saturdays, 8:00 am–12:30 pm
Location: Old Market at 11th & Jackson
What to Expect
"Omaha Farmers Market" hosts weekly markets in the Old Market and Aksarben Village throughout summer and fall! This market at the Old Market is hugged between antique buildings in Omaha's historic district. The Old Market farmers market is full of vendors selling delicious produce, homemade goods, and handcrafted items.
You can expect lots of food trucks, mobile shops, and other local businesses to be there too! Here's a complete list of all the vendors you can expect:
Vendors
Parking
Since the market is downtown, parking can be a bit tricky. But, there are a few cost effective options:
If you prefer, you can also take a city bus, rideshare, or ride a bike!
More Details
The market is pet friendly as long as you have a short leash. For payment, some vendors take cards while others don't, so kindly bring cash just to be safe! (Small bills.) Additionally, if you receive SNAP or WIC benefits, you can use them at the farmers market to buy fresh fruits and veggies! You can check out this page for more information on using your benefits.
Dates: May 8th – October 16th
Day and Times: Sundays, 9:00 am–1:00 pm
Location: Aksarben Village at 67th Street & Mercy Road
What to Expect
This is another Omaha Farmers Market event, except it's at Aksarben Village instead of the Old Market! Whereas the Old Market is historic and eclectic, Aksarben Village is modern and lively.

The best part is, you could hit up both ‌farmers markets since one is on Sundays and one is on Saturdays! Like the Old Market version, the Aksarben farmers market is packed with unique vendors serving homemade goods, produce, and food! Here are all the exciting local businesses ready to serve you at the Aksarben Village Farmers Market:
Vendors
Parking
Aksarben has lots of street parking opportunities, but there are garage options too! Here are a few options that will get you really close to the action:
Of course, you can take a bus or rideshare. Or, if you live nearby, take a stroll or ride your bike. (Just make sure you don't then buy too much!)
More Details
Like the downtown version, the Aksarben Village farmers market allows you to use your food benefits at the produce vendor stalls! For other purchases, make sure you bring cash, because not all the business owners will have card machines. Additionally, feel free to bring your furry friend as long as they're well-behaved and on a short leash! For more information on the Aksarben farmers market, check out their website.
Dates: May 1st – October 2nd
Day and Times: Sundays, 8:30 am–12:30 pm
Location: Village Pointe Mall – 17305 Davenport St, Omaha, NE 68118
Southeast Parking Lot Behind Old Navy.
What to Expect
The Village Pointe Farmers Market is outside the beautiful Village Pointe mall! So, you can shop for fresh produce from local growers, and then spend the rest of your day shopping at this unique outdoor mall venue!
New vendors line the parking lot each Sunday. You can find an updated list for every week on their Facebook page. Some common attendees include Lu's Flowers & Vegetables, Manley View Farms, Shandy's Bakery, and Mai's Garden! Each week, Village Pointe also hosts some sort of entertainment, like live music, balloon creations, and giveaways.
Parking
Luckily, there is plentiful parking at the Village Point Farmers Market, and it's all free! Just park near the southeast end of the complex, and you'll find plenty of spots.
More Details
The farmers market is totally pet friendly, so bring your furry friends as well as your human ones! The event happens rain or shine too. No need to call to confirm it's happening. It's happening! Like with most farmers markets, try to bring cash, but if you run dry, there's an ATM on site.
When you're done browsing the farmers market, enjoy the Village Pointe mall. Nearby you'll find Kona Grill, Bravo! Cucina Italiana, and Johnny's Italian Steakhouse if you want to grab a bite! For shops, Old Navy, Sephora, Banana Republic, and Bed, Bath, and Beyond are close by. But, don't be afraid to walk the whole mall to get your steps in and enjoy this one-of-kind Midwest outdoor mall experience!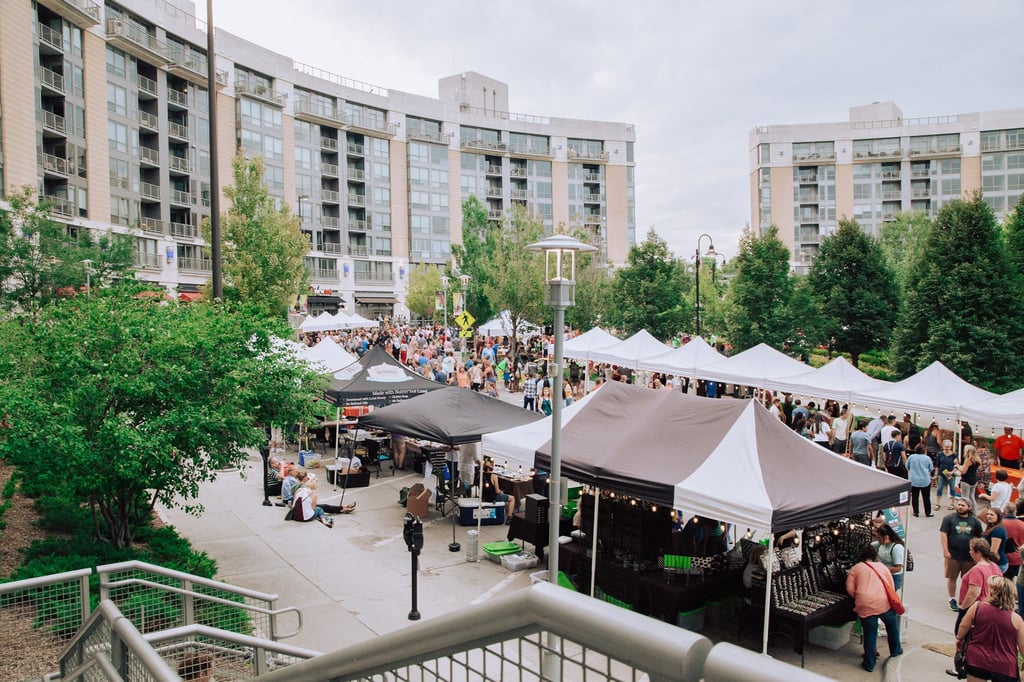 Dates: May 13th and June 24th
Day and Times: Fridays, 6:00 pm–10:00 pm
Location: Turner Park – 3110 Farnam St Omaha, 68131
What to Expect
The Night Market in Turner Park only happens twice a year in late spring and early summer. Unlike most markets on the list, this one takes place (as the name implies) at night! They're full evenings that host over 40 local vendors, live entertainment, and outdoor games. And, you can expect all the restaurants, bars, and snack stops in Midtown to be open, including Cold Stone Creamery, Liquid Sunshine Taproom, Modern Love, Rocky Mountain Chocolate Factory, and Smokin' Oak Wood-Fired Pizza & Taproom.
This market is just as much a vendor fair as a farmers market! The vendors sell fresh flowers, candles, home decor, boutique fashion, homemade goods, and produce, of course. Each event hosts different vendors like CeeJay's Retreats, WildeDawn, Statement Boutique, Harvest Cookie Co., and Nomad Wax Co. No matter your interests, you're sure to have a blast at the Turner Park Night Market.
Parking
There are lots of places to park near Turner Park, including garage and street spots. Here are all the ways to park at Midtown Crossing.
Omaha's public bus stops within walking distance of Turner Park, so the Metro is always an option! Otherwise, you could rideshare or bike there.
More Details
Though the Night Market is after hours, it's not adults only! Bring the whole family, and your pups too. This event is rain or shine, but will move indoors for any lightning or other severe weather. Track any changes at Midtown Crossing's Facebook page. (Plus, their social channels will tell you about more events hosted at this venue!)
Dates: May 29th – September 25th
Days and Times: Fridays, 5:00 pm–8:00 pm
Location: Gifford Park – 520 N 33rd St Omaha, NE 68131
What to Expect
If the Night Market at Turner Park sounded great, but you already missed the days, don't worry! There's another evening farmers market in Midtown that's not quite as extravagant, but runs all summer long. The Gifford Park Neighborhood Market is hosted inside Gifford Park on N 33rd St and Cass. And, they claim to be Midtown's original farmers market!
Every week, they have gardeners, farmers, artisans, artists, entertainers, and musicians come to share their talents, products, and produce with the Omaha community. Plus, there's food trucks and snack stations throughout the park to catch a bite and enjoy the beautiful and historic park. It includes tennis courts, playgrounds, walking paths, and more! (Additionally, the community garden is just a few blocks away!)
Vendors vary from week to week, and no complete list is available. But, some vendors include Haven Express, Gimme the Scoop, Mother Marys Sourdough, Orange Creek Farms, Omaha Sharpening, Taste of Heaven, Conservation Fusion, Best Burger, and, of course, many more!
Parking
Unfortunately, the parking situation at the Bellevue Hometown Market isn't ideal. It's mostly street parking. But, there is parking available at The Park Terrace apartments. It's on 34th and Davenport southeast of the tennis courts. As with most Omaha locations, rideshare and public transit will get you there!
More Details
The Gifford Park Neighborhood Market is definitely family friendly. The Rose Theater regularly hosts kids' acting workshops, and "Crafts with Mo" brings hands-on art projects. If great vendors and children's activities weren't enough, Bad Country often takes the stage to give market goers live music to enjoy while browsing the stalls and enjoying the day!
Dates: May 5th – September 29th
Day and Times: Thursdays, 4:30 pm–7:30 pm
Location: Bayliss Park – 100 Pearl St, Council Bluffs, IA 51503
What to Expect
This farmers market is in Council Bluffs' beautiful Bayliss Park. Council Bluffs is a neighboring city that's just on the other side of the Missouri River. You can walk there from Omaha by crossing the Bob Kerrey Pedestrian Bridge!
This sought after farmers market is also in the evening, so you can catch the excitement after work or school! Besides produce stalls, the farmers market features dozens of local makers, community vendors, and even a kids' activity station!
And, that's not all. The farmers market is hosted by CHI Health Center and Iowa Total Care, so the event is full of additional wellness activities and live music. Yoga is every week from 5:30 – 6:30, but they ask you to sign up in advance to ensure they have enough instructors. You can do that here.
Most vendors attend the event for the whole season. So, you can look forward to seeing your favorite local business stationed in Council Bluffs each Thursday evening from May to September! Here are some of the market's regular vendors:
Vendors
Parking
There are a few options for parking at the Council Bluffs Farmers Market aside from rideshare or public transit! Here are the options:
More Details
Bayliss Park is a smoke-free park, so smoking is prohibited during any events. Additionally, don't forget to check out the water features at the park! There's a beautiful fountain and a super fun splash pad. And, bonus tip, Bayliss Park is right across from the Union Pacific Railroad Museum. If you need a place to beat the heat, check it out!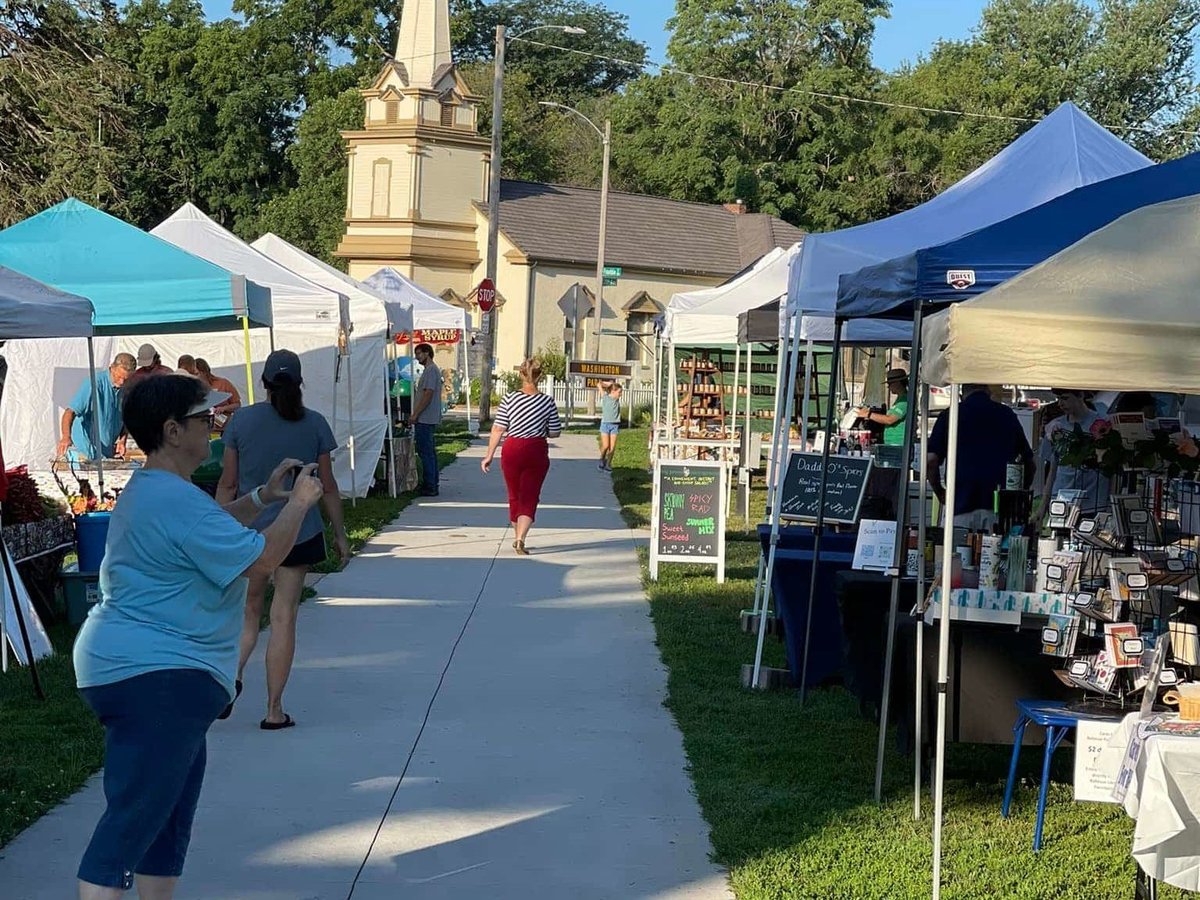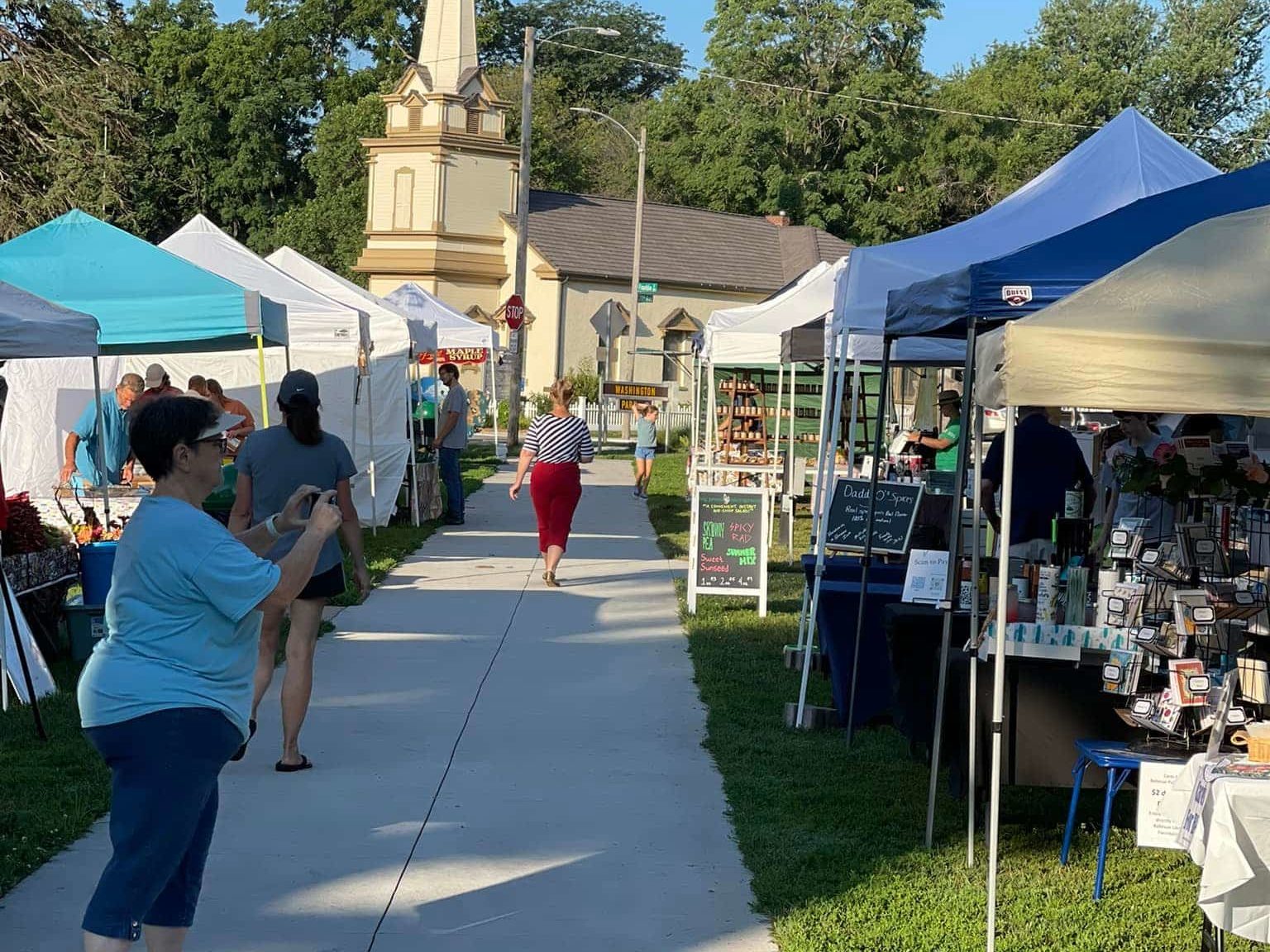 Dates: June 4th – September 10th
Day and Times: Saturday, 8:00 am – 12:00 pm
Location: Washington Park – E 20th Ave, Bellevue, NE 68005
What to Expect
Bellevue is another suburb of Omaha that has its own reputable farmers market! It runs all summer long on Saturday mornings, and it's full of locally grown produce and locally owned business vendors. Each week they'll also host various activities and entertainment opportunities to make your farmers market experience really special.
Upon arrival, you'll receive a free shopping bag, and gain access to rows and rows of Bellevue community growers, artisans, and business owners. Here's the lineup:
Vendors
Parking
There's parking along the east and west perimeter of the park. There's also street parking and the option to rideshare! Unfortunately, the Omaha metro public transit system doesn't travel to Washington Park.
More Details
The Bellevue Farmers Market is dog-friendly and family-friendly! So, everyone in the house can come along. (Make sure all dogs are leashed.) The event is also rain or shine, so don't expect the farmers market to be canceled due to weather. Grab an umbrella or some breezy clothes to suit the season and come on down.
Dates: June 1st – August 24th
Day and Times: Wednesdays, 5:00 pm – 8:00 pm
Location: City Park – W Lincoln St, Papillion, NE 68046
What to Expect
Papillion, a suburb of Omaha, hosts a farmers market from June to August at the Papillion City Park. The park includes playground equipment, picnic tables, and plenty of green space for the market. The farmers market hosts vendors and small businesses selling produce, homemade goods, food, and more! Unfortunately, there is no list of vendors, but you can expect a wide variety of local makers, farmers, and business owners.
Parking
There's plenty of parking at the Papillion City Park! You'll find a huge lot at the entrance, which is at the south side of the park. But, if it fills up fast, to the northwest of the park there is overflow parking at the Papillion Soccer Fields. Rideshare is always an option, though there is no public transit headed this far south of the metro.
More Details
Most vendors only accept cash, so don't forget to grab some before you come. Additionally, pets are allowed as long as they're on a short leash and well-behaved. So grab your family, pets, cash, and a few reusable bags and head to the Papillion Farmers Market.
Dates: June 4th – October 29th
Day and Times: Saturdays, 7:00 am – 12:00 pm
Location: Parking Lot – N Clarmar Ave and E Military
What to Expect
Fremont is a bit of a drive, but it's well worth it for another great farmers market experience. It's an event packed with local vendors selling products they've grown, made, or curated! Whether you're looking for flowers, produce, or homemade goods, the Fremont Farmers Market has what you need. You can check out some photos from their regular vendors on their Facebook page.
Parking
Since this farmers market takes place in a parking lot, there's plenty of parking opportunities all around the area! All free! You can park anywhere in front of the two strip malls on either side of E Military.
More Details
Unlike many of the markets on this list, this event is not in a park. Because of the environment and potentially hot pavement, it may not be the best place for your furry friend on warmer days. If you need a break to cool down (or warm up when we get into the fall!), grab a bite to eat at Rise & Shine Donuts or San Ann'a Pizza & Mexican.
What to Bring to Omaha Area Farmers Markets
When you're headed to a farmers market, you don't want to come empty-handed. It's not quite the full service experience you're used to! Here are some essential items to bring with you when you go to any Omaha area farmers market:
Cash
Some vendors will have the ability to take cards, but many won't. And, those that do could easily experience technical difficulties and lose their capabilities. When you have an open park with no Wi-Fi and lots of patrons, an internet service could easily fail. Don't get caught frustrated and holding up the line after tech problems prevent you from paying. Bring cash! Small bills too. Vendors may not have cash to break down big bills.
SNAP, EBT, WIC, etc.
Did you know your food benefits can be used at many farmers markets? A few on this list specifically state their vendors offer this service. Others don't say this outright, but it's worth bringing them along just in case. For more on this service, check out this link.
Tote Bags
Don't expect farmers market vendors to have plastic or paper bags like the grocery store. And, who wants all that waste anyhow? Bring a tote bag and fill it to the brim with all your farmers market goodies!
Reusable produce bags
At a farmers market, you might purchase lots of different things. Produce, meat, baked goods, and even handmade products! If you don't want all those items rubbing against each other in your tote bags, bring reusable produce bags to keep things separate and sanitary.
Plastic Containers
For the same reason you bring reusable produce bags, you want to bring reusable plastic containers. Things like meat that may leak and contaminate other items need to be separated. And, if you buy breakables, heavy items shifting in your tote bag could break your delicate products. Plastic containers will solve these two farmers market problems!
Cooler
Summer heat is unpredictable, and if you're buying meat or other refrigerated products, you'll need to keep it cool! Bringing a cooler will regulate the temperature of your perishable goods and ensure they don't go bad before you get home.
Water Bottle
Stay hydrated to avoid getting overheated while shopping! Some of these markets are at night, which is great for browsing market stalls in cooler weather. But, it's still a good idea to bring some water with you for a long day of walking and shopping.
Wagon
You might be surprised at how much you end up buying at a farmers market! There's so many high-quality goods and products from fantastic local vendors and businesses. It's hard to say no! You don't want to lug around heavy tote bags all day, so bring a wagon to pull. (Your cooler can go in there too!) Plus, if you have kids, it's a great place to ride.
Picnic Blanket
Lots of these markets include great food vendors! Unfortunately, these food trucks don't come with portable dining rooms, so you'll need a place to eat. A few of the parks may have some picnic tables, but with a bustling farmers market, it may be difficult to snag a seat. With a picnic blanket, you can sit and eat, take a break, or watch some of the live entertainment many of these markets offer!
Shopping at any of the Omaha area farmers markets is an incredible experience! Each one offers a fresh adventure that is sure to please, whether you're looking for homegrown produce or eclectic handmade goods. We hope this guide helped give you a full understanding of what our local farmers and makers have to offer. We'll see you at the farmers markets!