Renting in Omaha
I have helped many families moving to Omaha. Contact me if you have any questions about the Omaha area or need help buying a home.
If you are looking to rent an apartment (or home), here are some places to start.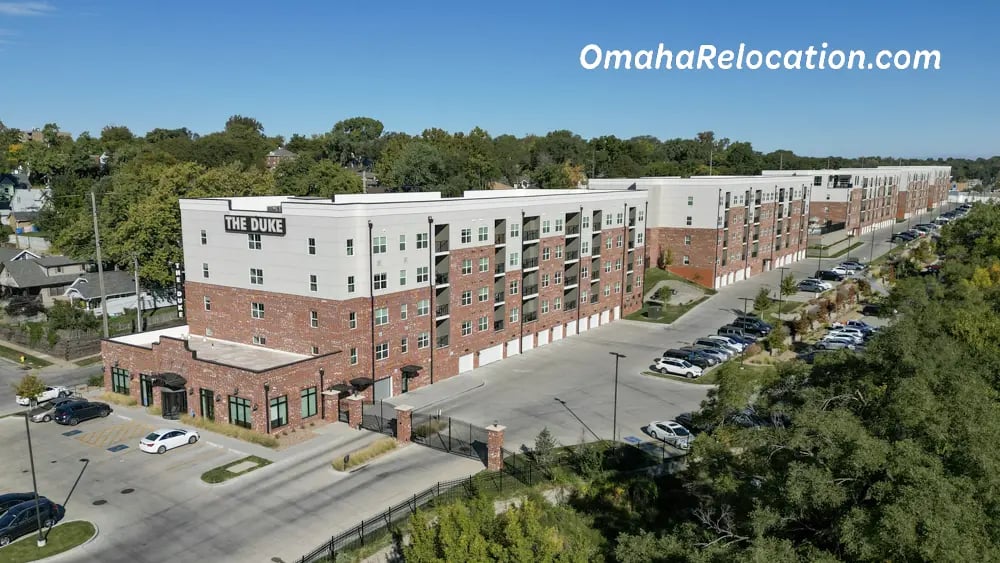 Omaha has seen a huge investment in new apartment buildings over the past 5-10 years. Especially in the midtown and downtown area.
You really just need to decide what area of town you want to be in and what you want to spend.
Some of the newer apartment buildings will have amenities like a gym, pool, and a clubhouse where you can throw parties.
Rental Prices
As with the rest of the country, rents have increased over the past few years.
Average Rent in Omaha
Below is just an average. Some neighborhoods will be much cheaper than others.
Studio – $999
1 Bed – $1,054
2 Beds – $1,420
3 Beds – $1,885
Finding Rentals
In today's digital age, finding an apartment is just a click away.
Your best bet is to check out a site like Apartments.com or even Zillow.
Don't rely on a single website or app. Explore various platforms to get a complete view of available rentals
A Quick Note:
I'm a real estate agent and I get paid when people buy or sell, not rent. In some cities, there are agents that you can work with to help you find a rental. Omaha isn't really that city.
So, you are kind of on your own. I'll try to guide you as much as possible though. If you do have a question about renting, please don't hesitate to reach out to me.
Apartments.com
If you want to live in a complex, Apartments.com will have almost all the listings in the area.
You can filter based on amenities, reviews, price, and more.
Zillow
Zillow isn't just for buying homes, it's also a great place to find rentals.
A quick tip, if you search the site for rentals, you may have to specify the type of rental property you are looking for (house, apartment, or townhome).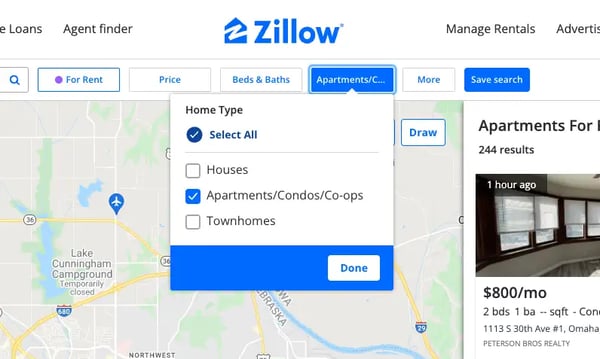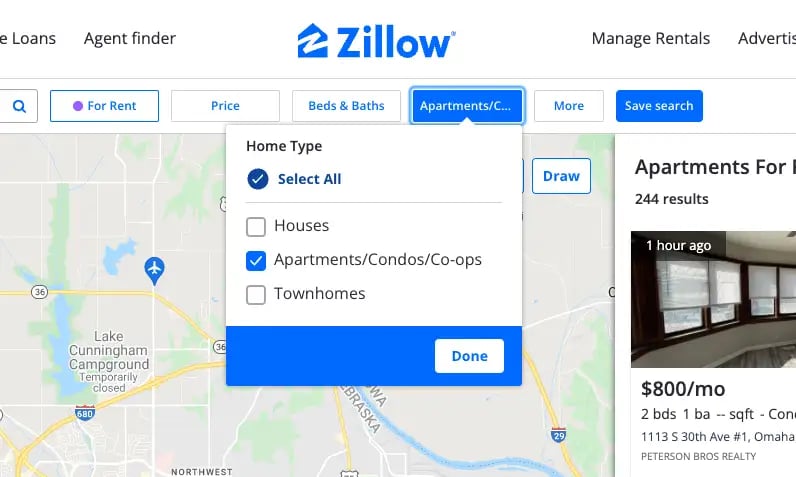 Facebook Marketplace
Another option is the property rentals category on Facebook Marketplace.
Be EXTREMELY CAREFUL! Rental scams exist.
Never send someone money without seeing a property first. No legitimate landlord or rental company will ask you to pay to see a property.
Craigslist
One of the oldest places to find apartments online is Craigslist. Most of the large apartment complexes aren't active on Craigslist so you may want to check a few of the other options below.
And also be careful, there are Craigslist rental scammers out there.
Other Websites
Apartment Guide use to print out a physical magazine of apartments (actually, they still might). The website has over 300 apartment complexes listed on the site.
ForRent.com currently lists over 400 units available.
Large Apartment Owners
Below is a list of some of the larger apartment rental companies in the Omaha area.
You can visit the company's website to view properties (but they also show up on one the other sites above).
Broadmoor operates over 20 apartment complexes in the Omaha area. They even offer short term housing options and villas. In general, they have a good reputation of being responsive to tenants and keeping properties up-to-date.
Urban Village specializes in apartments in midtown Omaha. They have over 15 properties close to the University of Nebraska Medical Center, UNO, and Creighton. Many of the properties are older buildings that have been updated in the past 10 years.
Nustyle focuses on midtown and downtown. They specialize in renovating existing buildings and turning them into apartments – some with amazing amenities.
GreenSlate predominately focuses on Blackstone in midtown Omaha. They have a mix of brand new buildings and older refurbished buildings.
Lease Agreements
Omaha leases typically include clauses about rent payment, maintenance, responsibilities, restrictions, and termination notices.
Always read and understand your lease before signing.
Common Length
Most landlords will expect a 1-year lease. You may be able to find a shorter term lease, but you will pay more.
If you are moving to Omaha and hope to buy a home in the future, read the fine print of your lease. If you move out of your apartment before your lease is up, you may be on the hook for the remaining payments.
Tenants' Rights in Nebraska
You should know your rights when renting.
The Nebraska School of Law put together a useful page about tenants' rights in Nebraska.