A Guide to Midtown Omaha
I have helped many families moving to Omaha. Contact me if you have any questions about the Omaha area or need help buying a home.
Midtown is Omaha's cultural hub. From art and music to dining and historic neighborhoods, Midtown is where locals come to be entertained. There are five key areas that make up Midtown; from north to south they are: Benson, Dundee, Midtown Crossing, Blackstone and Aksarben.
In the midst of it all, you will find Omaha's most prestigious private schools, a trailblazing University, and vintage homes preferred by Academy Award-winning directors and billionaires.
From every corner, Midtown is overflowing with much of the city's most noteworthy and charming characteristics.
Where is Midtown?
There are a lot of opinions on the exact boundaries of "midtown" Omaha.
For our sake, we will use these boundaries… east of 72nd and west of 30th/I480 as well as north of Center and south of Cuming/NW Radial.
If you don't live here, those streets don't mean anything, so I made a map below.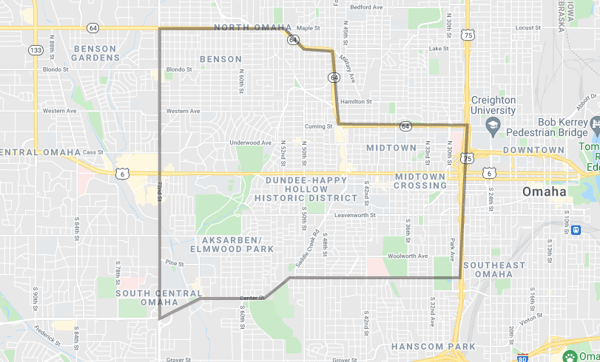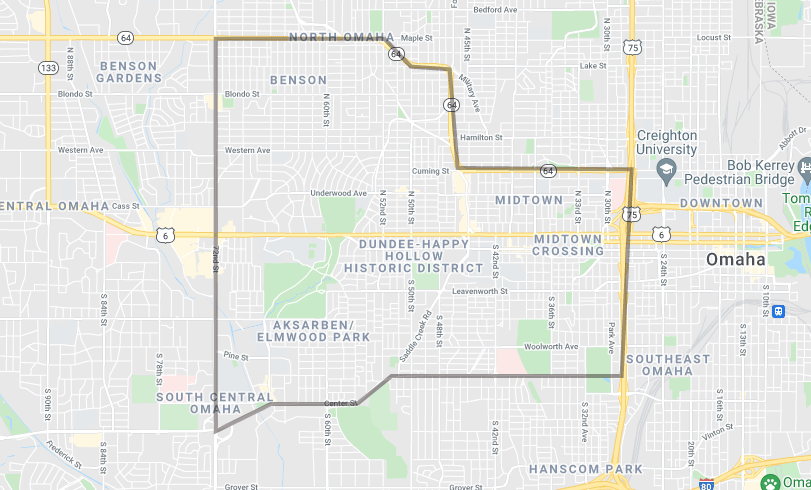 Commuting
Here are some average commute times to various locations in the city.
Midtown to Downtown Omaha – 5 to 15 minutes
Midtown to Elkhorn / West Omaha – 15 to 25 minutes
Midtown to Papillion – 20 to 35 minutes
Midtown to Bennington – 20 to 35 minutes
Midtown to Bellevue / Offutt Air Force Base – 15 to 25 minutes
Midtown to Gretna – 20 to 40 minutes
Midtown to Lincoln – 55 to 75 minutes
Dundee
I lived in Dundee for over 10 years, and in my opinion, it's one of the best neighborhoods in Omaha.
You have a vibrant downtown district with restaurants and bars like Dario's and Pitch. And it also has hair salons, a florist, an independent movie theatre, and other businesses.
Dundee is within walking distance to Memorial Park, where you can walk your dog, play ultimate frisbee, or fly a kite.
Homes in Dundee range in price from $200k to over $1 million. The homes will be older but have a lot of charm. Since it's a walkable neighborhood, don't expect to have huge lots.
If you are looking to rent in Dundee, there are a bunch of options. There are duplexes, single-family homes, and even newer apartment complexes like The Duke and Dundee Flats.
View a current list of homes for sale in Dundee.
Blackstone
Blackstone, in the 1880s, was home to dozens of extravagant homes built by the illustrious architects of the day. During the Great Depression, the area lost a bit of its spark when residents could no longer maintain their beautiful colonial mansions. The homes turned to boarding houses and funeral homes, which earned them the nickname "Funeral Home Row."
Since then, Blackstone has gone through a long overdue restoration back to its original splendor—and then some! Today, it is home to one of the most vibrant and hip neighborhoods in Omaha.
Location
Blackstone is right next to UNMC (not too far from Creighton and UNO), so it's a popular location for medical students, college students, and young professionals.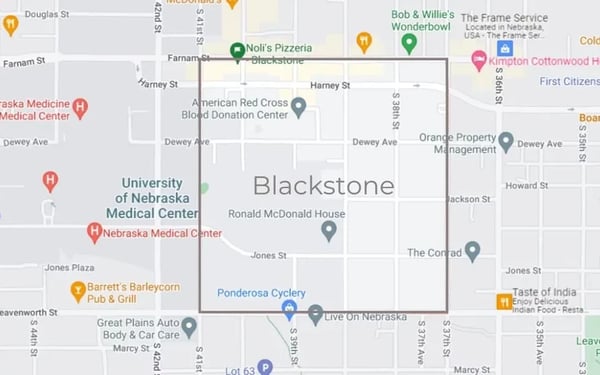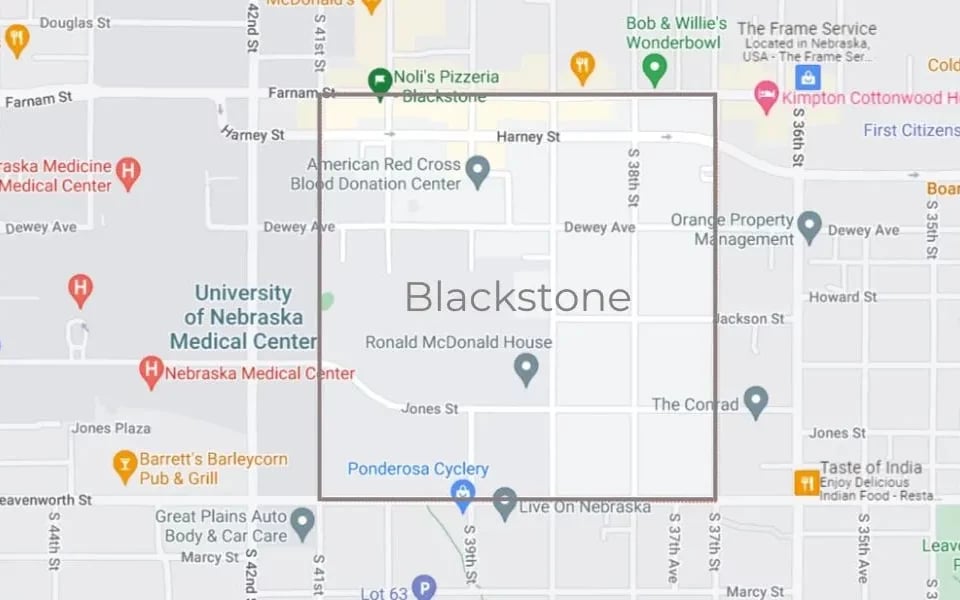 Notable Businesses
Blackstone is home to dozens of trademark businesses that give the district a sense of community and culture. Here are a few restaurants, shops, hotels, and more that make Blackstone loved by residents and tourists alike: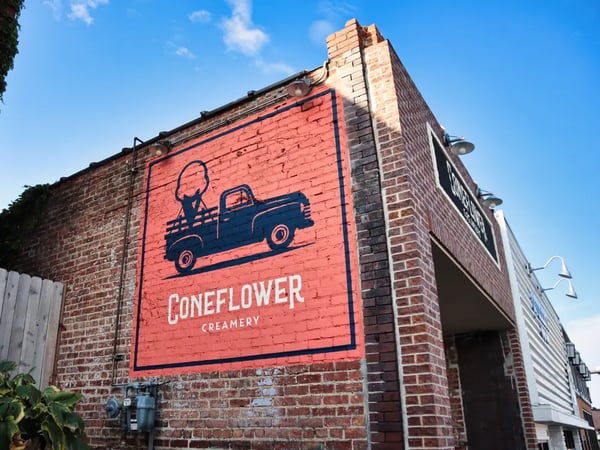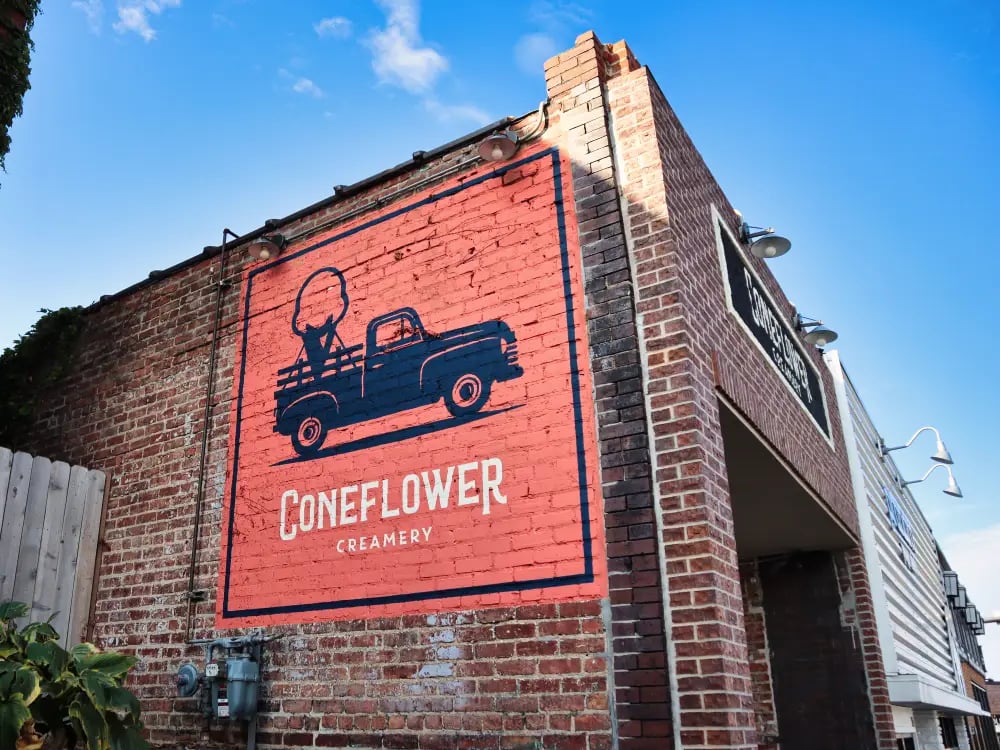 Coneflower Creamery is a Blackstone staple serving handcrafted ice cream made with local ingredients. Even their sprinkles are made in-house. It happens to be one of my family's favorite stops in Midtown. You can get classic ice cream flavors, unique seasonal finds, and all the toppings you could ever ask for! No matter the temperature, stop by Coneflower Creamery for a delectable afternoon treat.
Ponderosa Cyclery is more than a specialty bike shop, and so much more! The staff at hold the spirit of Nebraska and the spirit of adventure in their hands as they take tourists and locals across the city, state, and country on guided bicycle tours. They'll help hook you up with a quality bike or take you on an unforgettable cycling and camping experience. And you ask them about their favorite local bike trails. If you are an avid cyclist or have always wanted to try it out, stop by this Blackstone original.
Who doesn't love an eclectic local coffee shop? Archetype Coffee is a roastery and cafe serving its signature coffee and brunch meals. The atmosphere is modern, industrial, high-end, chill, and unique. Become a regular at Archetype or order some of their bags of coffee to brew at home.
Two of Omaha's best philanthropists, George and Sarah Joslyn completed their incredible Scottish Baronial mansion in 1903. It's in a beautiful four-story castle that cost the equivalent of $7 million to build in its day. The Joslyn legacy and their home of carved wood, stained glass, chiseled stone, mosaic tiles, and wrought iron are preserved by the Joslyn Castle Guild and Omaha's historical society. It's a true piece of Omaha history that you can experience through tours and events hosted on the property.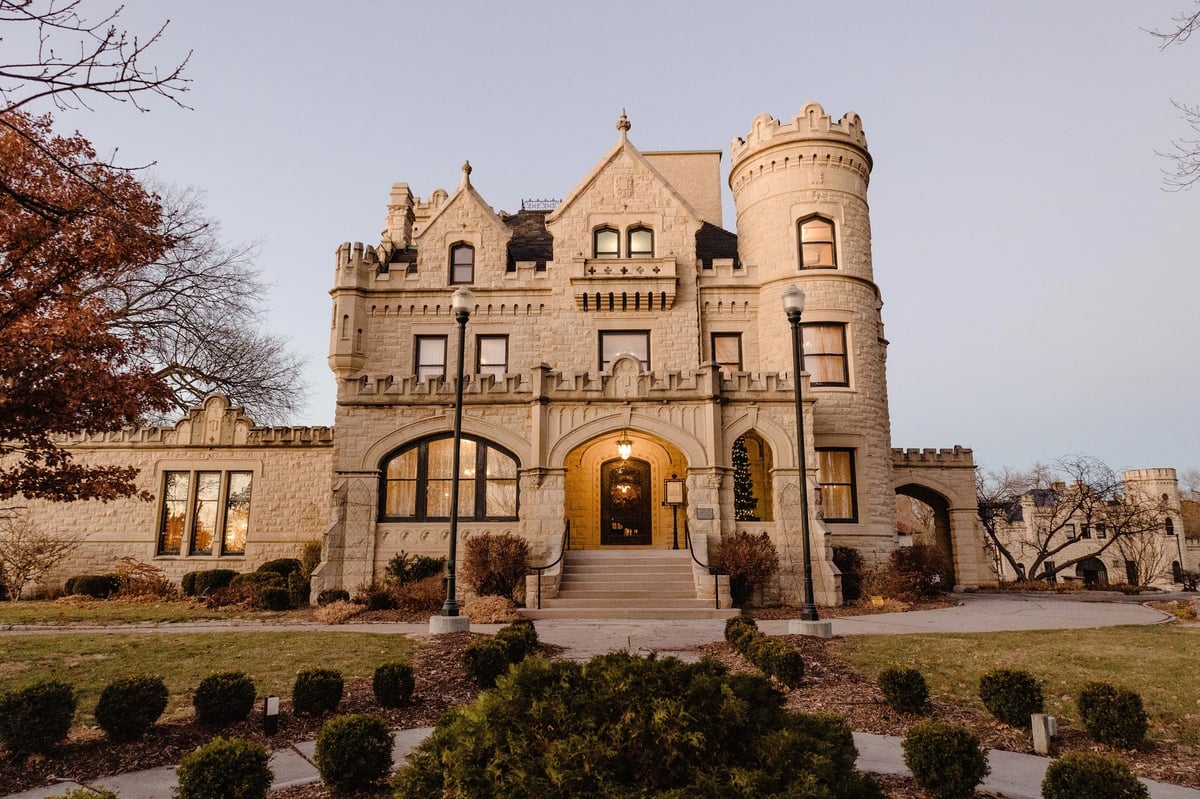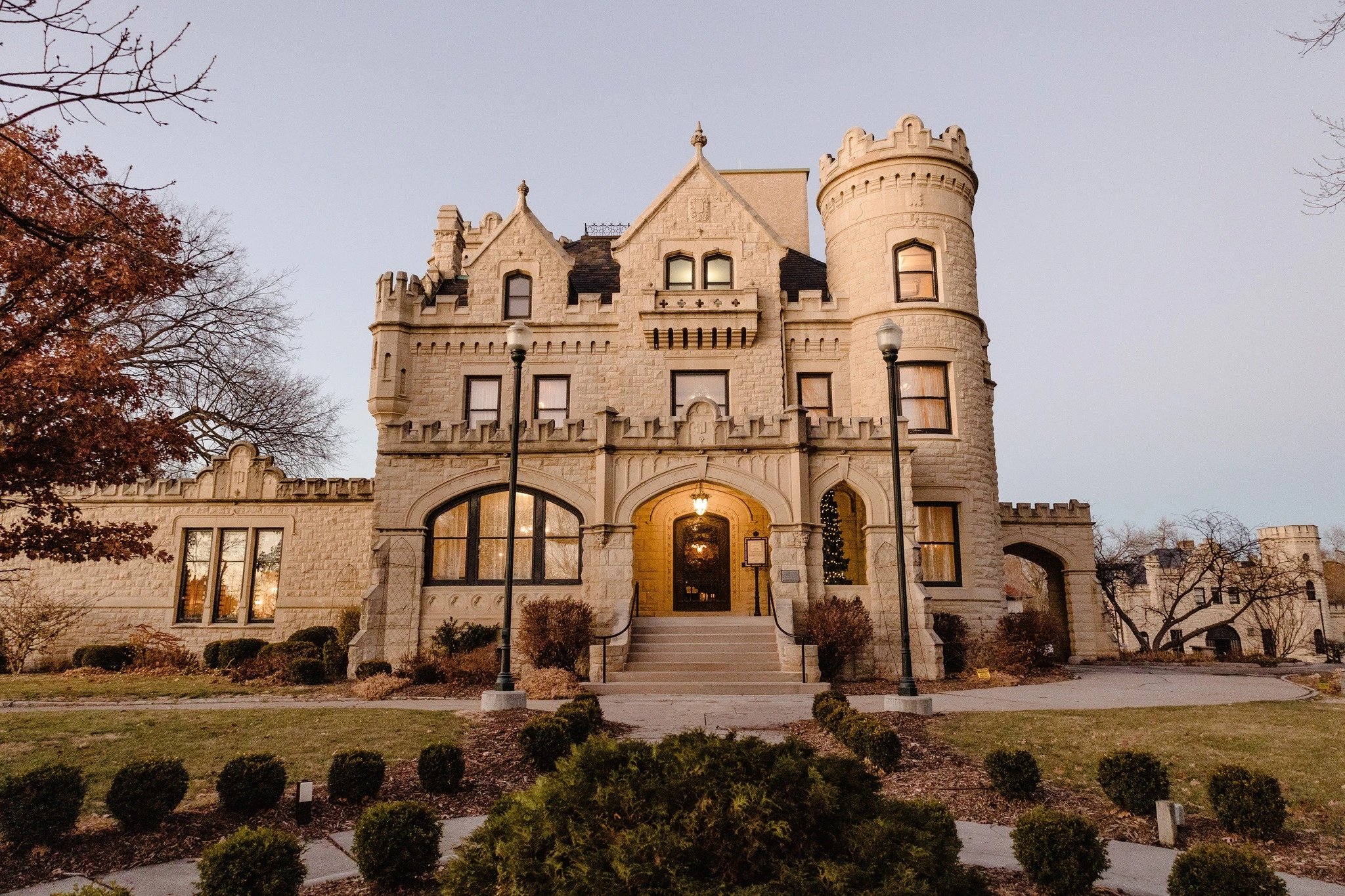 Ground Floor Guitar
Whether you need to sell a guitar, buy a guitar, or get a guitar repaired, Ground Floor Guitar is your place. They offer everything you need to play the guitar as a beginner or expert and are deeply integrated into the Blackstone community. This was clear in September of 2022 when Ground Floor Guitar was robbed at gunpoint, and the neighborhood raised $20,000 to help the owner restore and reopen as quickly as possible. It's an essential part of the Blackstone experience! What are you waiting for? Head over and riff with the staff or pose with your new guitar for their Instagram page.
Breakfast, lunch, or brunch is served up daily at Early Bird. You can sit inside their fun and spacious dining room or take your meal outside to their patio area! Grab some pecan pie pancakes, breakfast nachos, hot coffee, mimosas, and many other tasty treats and eats for any occasion. You can even order brunch-in-a-box to pick up and take home. Yum!
Blackstone Social is a relatively new bar to join Blackstone's nightlife scene! It was opened in 2016, and it's quickly become a favorite. They have beer, specialty cocktails, and an extensive selection of whisky. Their environment is fun and industrial, which makes it the perfect place to chill and socialize with friends. Plus, they have plenty of specials to keep you coming in time after time.
This thriving pizzeria on the edge of the Blackstone district is a family-owned restaurant that's essential to the community. They serve up New York-style pizza with classic and artisanal options for those looking for a traditional or adventurous experience. Not only is it the best pizza joint in Blackstone, but it's one of Omaha's favorite pizzerias!
The Cottonwood Hotel building was constructed in the 1920s, and this city landmark has been totally restored into a luxury escape. The sophisticated hotel will take your breath away with its second renaissance revival architecture and contemporary renovations. Aside from immaculate rooms, the Cottonwood Hotel also has onsite dining, a fitness center, a pool club, valet parking, laundry services, a children's library, and so much more. If you're traveling to Omaha or a resident looking for a staycation destination, make Cottonwood your spot.
Real Estate in Blackstone
If you want to live in the Blackstone neighborhood, renting is probably your best option. GreenSlate Development has built, renovated, and currently manages many of the properties in the area. But, there are other rentals available too, whether you are looking for a brand new building or something older and a little less expensive.
If you get a little farther away from the heart of Blackstone, there are more buying options. Midtown Crossing offers condos you can purchase as well as additional rentals. Field Club is another option for anyone seeking homeownership. The point is, snagging property in Blackstone is like finding a diamond in the rough!
Insider Tips for Living in Blackstone
Nearby Parks: If you want to get out of the house and go on a nice walk or let the kids play on the grass, head to Hanscom, Turner, Memorial and Elmwood Parks.
Parking Options: There are not many options for parking in Blackstone. A construction project recently blocked one of the few parking garages, so it's mostly street parking. If you're visiting, consider Ubering. And, if you live in the area, there are plenty of rentable scooters and bikes to get around the city blocks. No parallel parking or fighting for a spot!
Oktoberfest: Blackstone is home to the biggest Oktoberfest celebration in the Metro. Don't miss it; plan for the extra traffic and bustle if you're a new resident.
Yoga: Blackstone has two great stops for yoga. If you're in the area, consider joining one of the studios. Both Power Life and Pranam Yoga are loved by the community.
Aksarben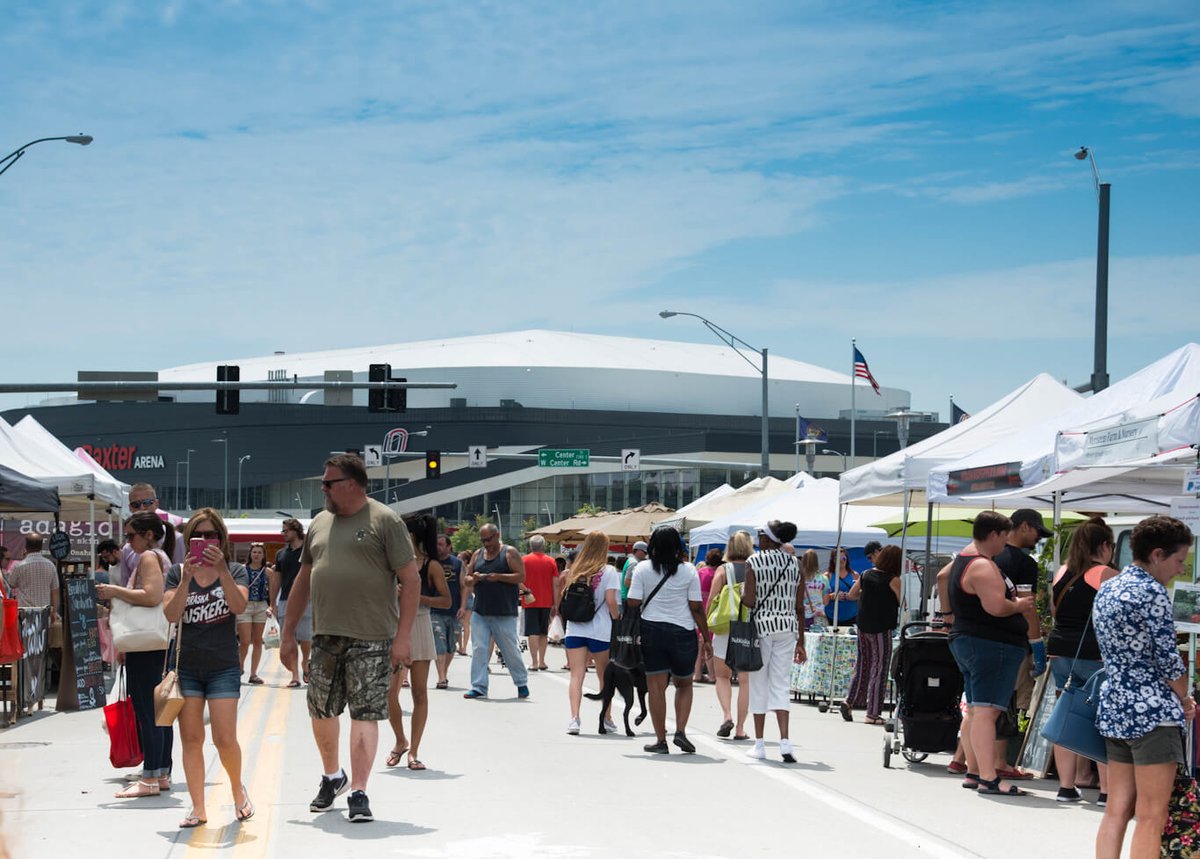 The boundaries of Aksarben (Nebraska spelled backward) can be found below. It is east of 72nd, north of Center, west of Saddle Creek, and south of Pacific/Leavenworth.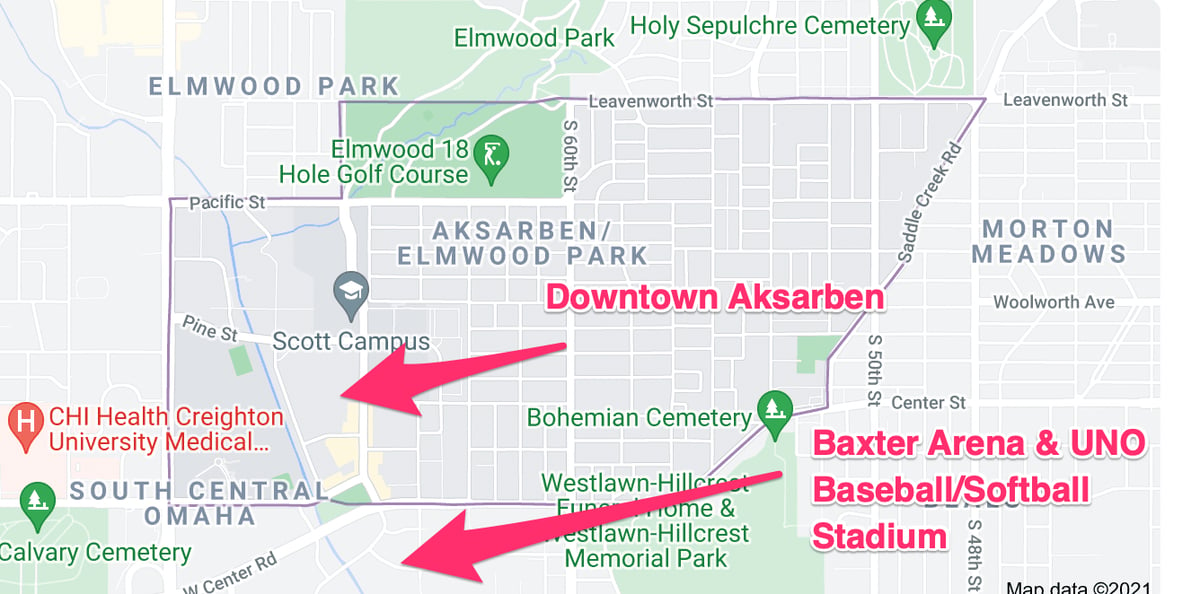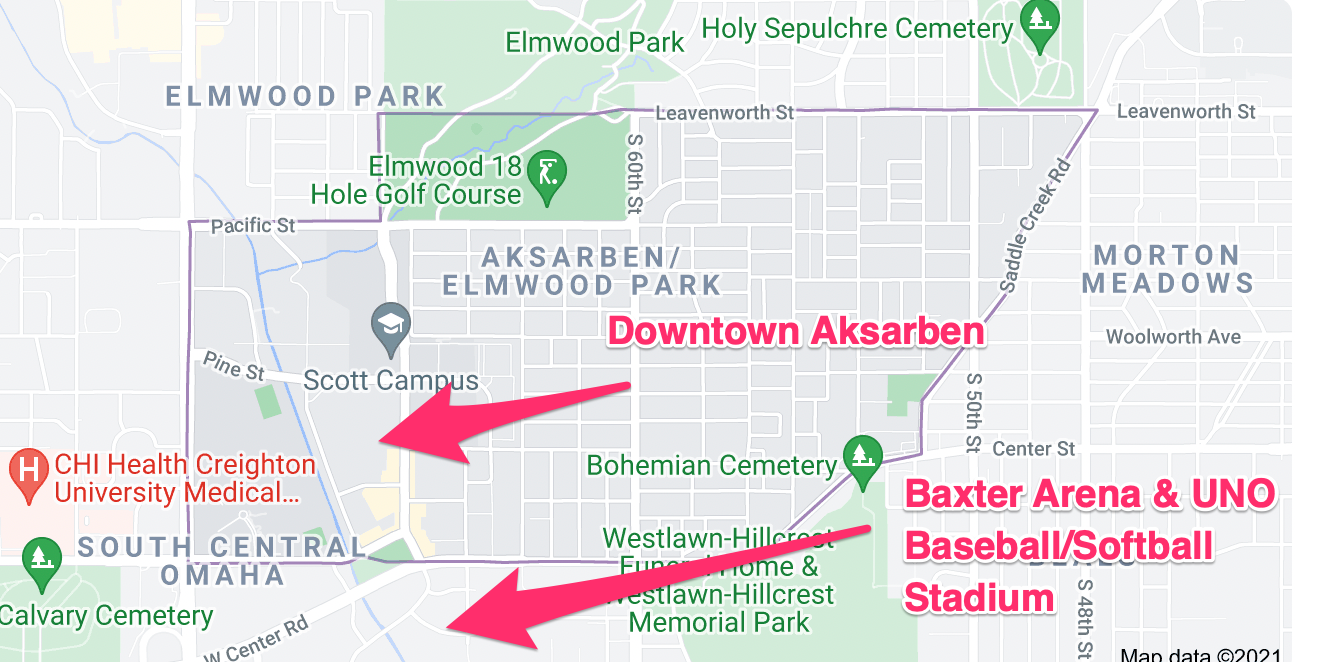 The Aksarben neighborhood used to be anchored by an arena and horse racing complex. It shut down in 1995 and in 2005 it was demolished to give way to a mixed-use development. This development is called Aksarben Village.
Since breaking ground, Aksarben Village has slowly grown into a business and entertainment destination. Many businesses have found a home here including Pacific Life, Microsoft, Blue Cross and Blue Shield of Nebraska, DLR Group, HDR, and more.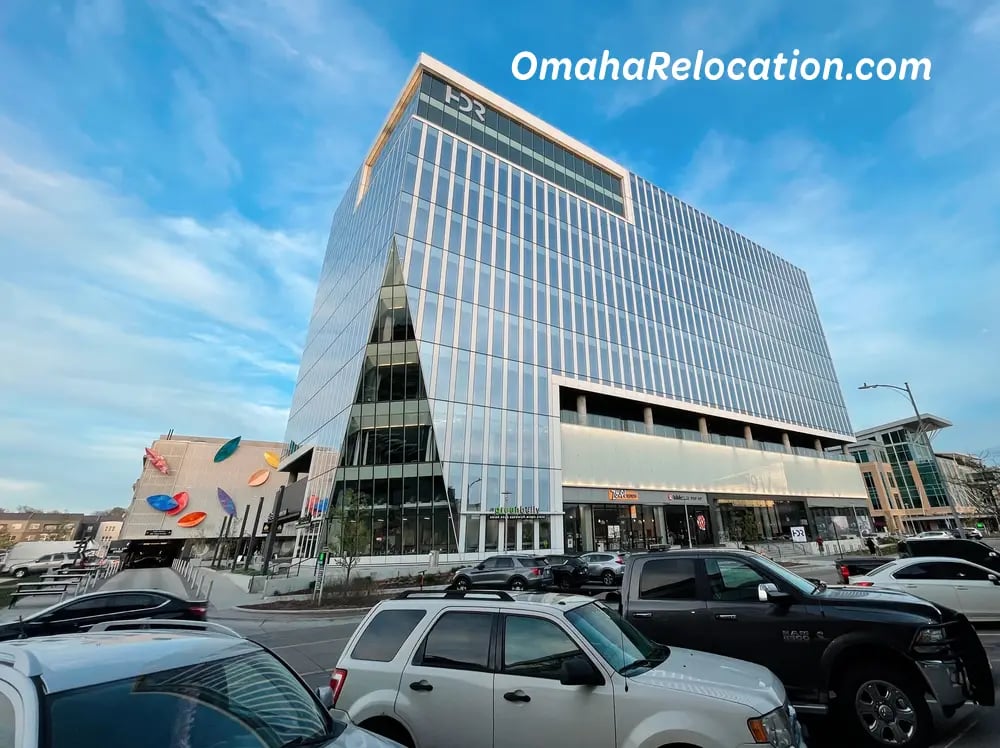 As for entertainment, there is a movie theatre, lots of restaurants, a weekly farmer's market in the summer, and Stinson Park, which hosts many events, including MAHA (an annual music festival).
And just to the south of Aksarben Village is Baxter Arena, the University of Nebraska – Omaha sports home. You can see the hockey, basketball, and volleyball teams playing there. And UNO recently opened a new baseball-softball complex next to the arena.
Just to the north of Aksarben Village is UNO's Scott Campus. This area has exploded over the past 10 years and features a lot of on-campus housing as good buildings for the school's business and engineering programs.
As you venture outside Aksarben Village, you will encounter homes built between 1920-1950.
Living in Aksarben
Buying a Home
If you are looking to buy a home, expect to spend between $150k – $350k. On the low end, homes usually have 2 bedrooms, 1 bathroom, and around 1,000 square feet.
On the high end, 3+ bedrooms, 2+ bathrooms, and around 2k square feet. Most homes in Aksarben only have 1 car garage.
View a current list of homes for sale in Aksarben.
Renting
Aksarben Village has a lot of newer apartments, including Broadmoor, Cue, Pinhook Flats, and many more.
Since Aksarben is so close to the university, many single-family homes are also available for rent.
Additional Aksarben Resources
Parks/Rec: Elmwood Park, Stinson Park
Restaurants/Bars: Jones Bros Cupcakes, Spirit World, Voodoo Taco, DJs Dugout, Ponzu Sushi, Pickleman's Café
Entertainment / Events: Stinson Concert Series, Omaha Beer Fest, Omaha Farmer's Market, Maha Music Festival, Kidchella
Benson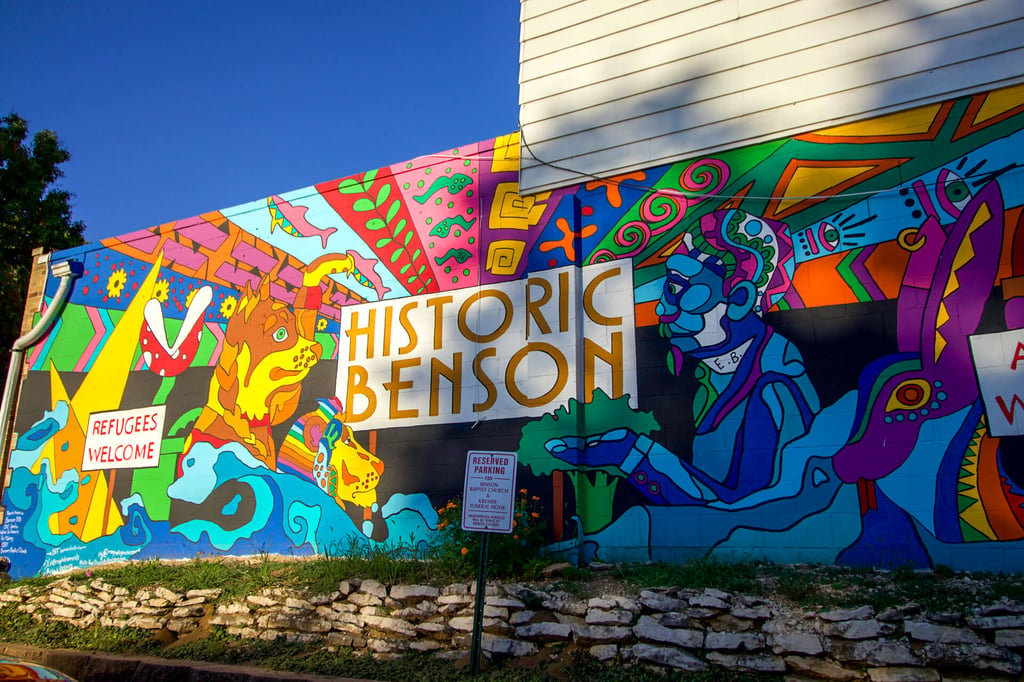 Benson has been a low-key destination for underground music and dive bars for a while. Still, it has recently revived itself as a go-to destination for art, entertainment, and great restaurants.
In 2015, Benson began a streetscape project which included the widening and replacement of all sidewalks, new curbs, new public plazas, traffic calming at several intersections, new landscaping, benches and bike racks from 59th to 63rd and Maple Streets, and unique event space along Military Avenue.
Schools: Montessori Co-Op, Benson High School, Benson West Elementary, Central Park Elementary, Pinewood Elementary, St. Bernard's School, Rose Hill Elementary, Fontenelle Elementary, Holy Name Elementary, St. Pius X/St. Leo Elementary. Nearby: Roncalli Catholic, Northwest High School, Marian High School, Creighton Preparatory High School
Parks/Rec: Fontenelle Park, Benson Park, & Dill Softball Complex
Restaurants: 1912, Benson Brewery
Bars: Jake's Cigars & Spirits, The Sydney, The Waiting Room Lounge, Benson Brewery, Beercade
Entertainment: The Waiting Room, 402 Arts Collective, Beercade
Events: First Fridays
View a current list of homes for sale in Benson.
Midtown Crossing
Midtown Crossing is one of the newest developments in the eastern part of Omaha. It has a more polished and corporate aesthetic than its Dundee and Blackstone neighbors.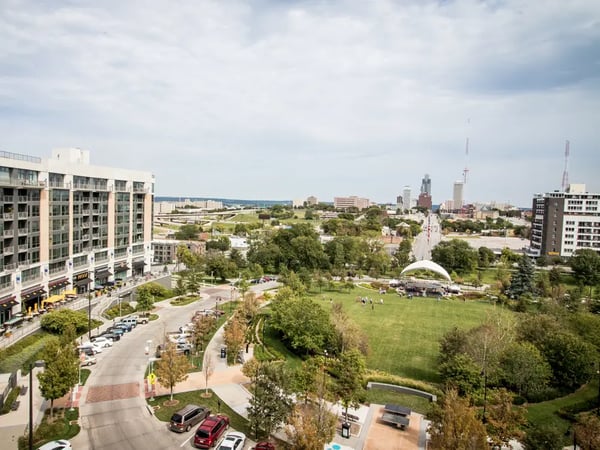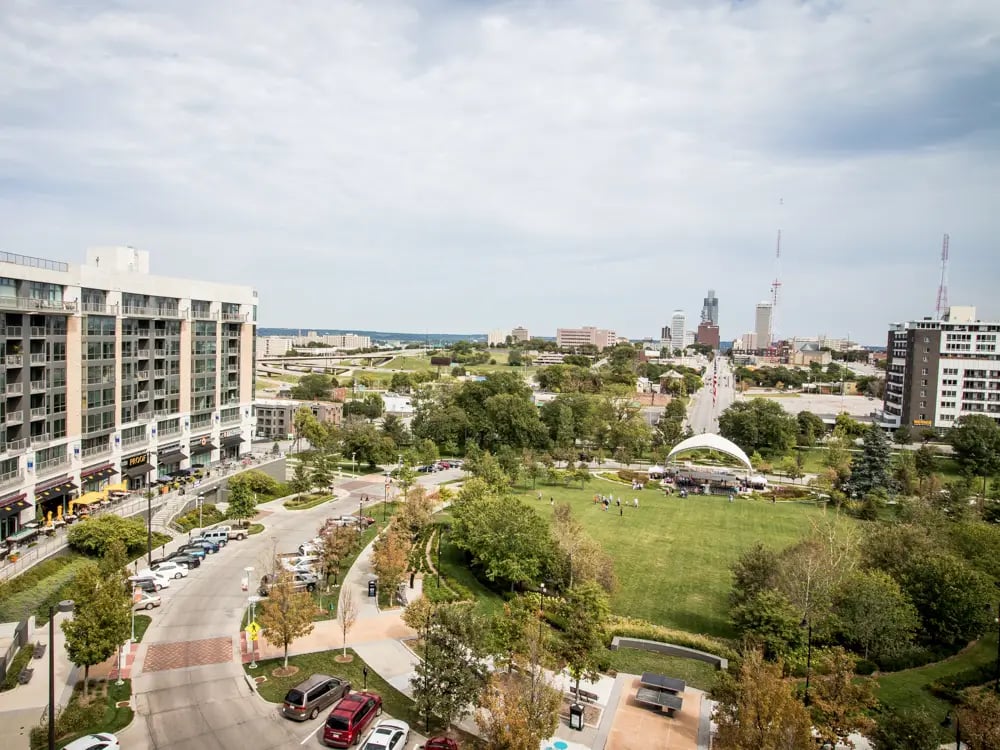 Fortune 500 company Mutual of Omaha, resides here as well as many other Omaha-born establishments.
Living: Midtown Crossing is popular for college students and business folks. While the Midtown Crossing is ideal for luxury condos in Omaha, the area is right between the Creighton University and the University of Nebraska – Omaha campuses. Also, it serves as home to some Greek housing.
Parks/Rec: Turner Park regularly hosts recreational events, including Yoga Rocks the Park, bocce ball tournaments, and charitable runs/walks. Dewey Park and Gifford Park are also nearby.
Entertainment/Events: Midtown Car Show, Miracle at Midtown, Monday Night at the Movies, Jazz on the Green, End of Summer Concert Series