Guide to Living in Papillion, Nebraska
I have helped many families moving to Omaha. Contact me if you have any questions about the Omaha area or need help buying a home.
Papillion is a fast-growing suburb of Omaha. It's located south of Omaha in Sarpy County. In 2015, it was ranked 2nd on Money Magazine's Best Places to Live in America list. It is linked to Omaha via 72nd Street, 84th Street, and I-80.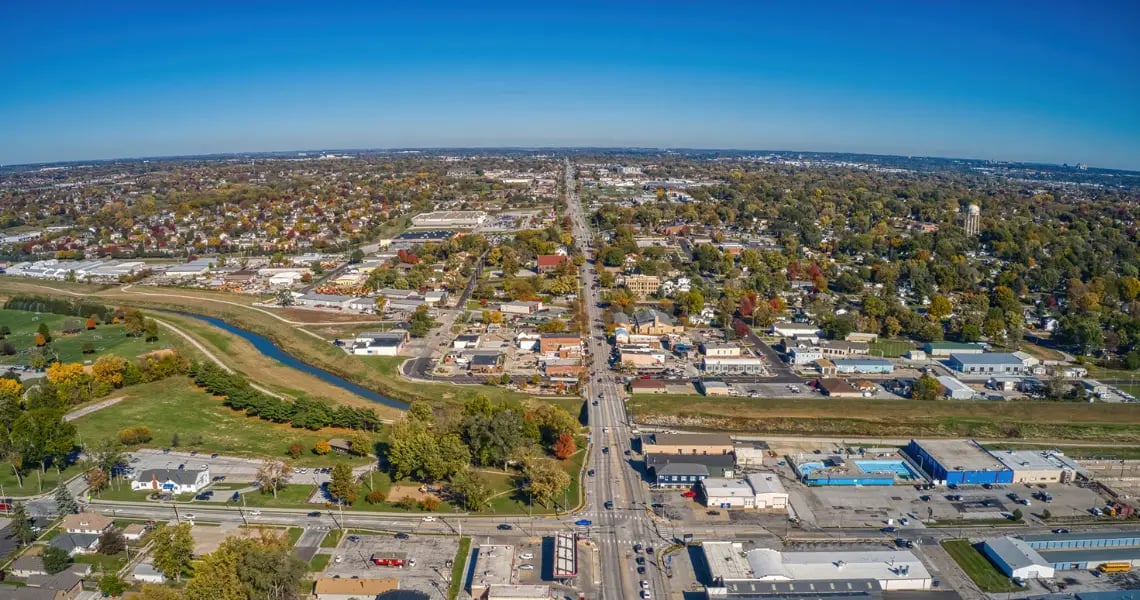 Pronunciation
Some out-of-towners struggle to pronounce Papillion. Don't confuse it with the French word for butterfly. It's PA-PILL-YUHN.
Here's an audio guide…
Population
Papillion has a population of 24,105. That number is deceiving because it only counts the people in the city limits. A lot of Papillion is new subdivisions that haven't been annexed into the city yet.
It's the eleventh-largest city in Nebraska. The average income is $95,515, making it one of the wealthiest cities in Nebraska.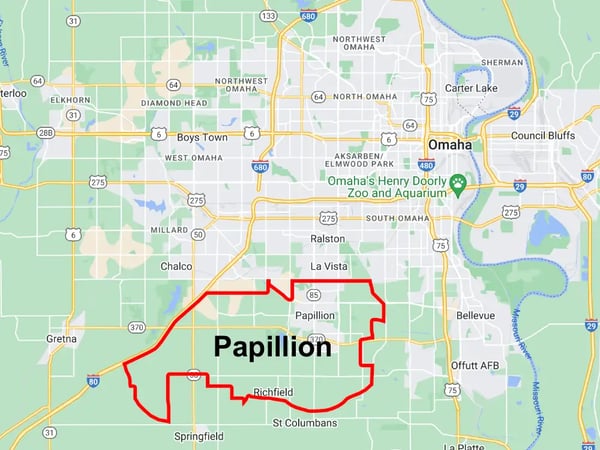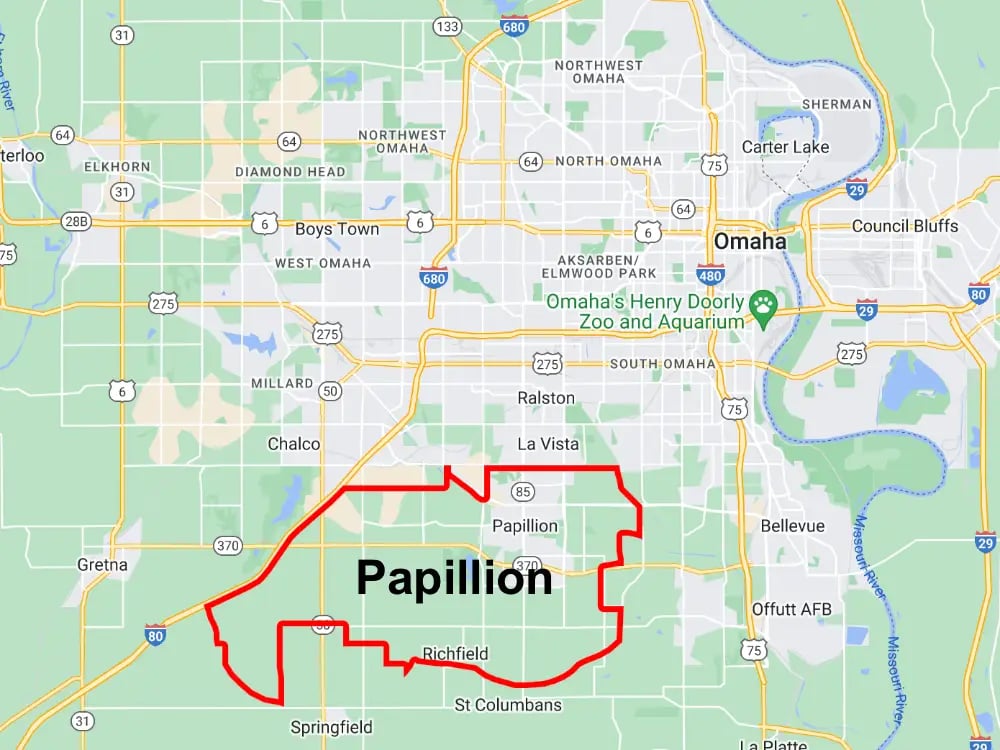 Navigating Papillion
There are a few ways to get to Papillion from Omaha and the surrounding areas.
There is no interstate or expressway through Papillion.
Taking 72nd St and 84th St, otherwise known as Washington St, will allow you to access all the main roads that run east and west.
Highway 370 is one of the most efficient ways to travel east and west. It has stoplights about once per mile. To the east, it will take you to Bellevue and Offut Air Force Base. Traveling west will allow you to connect to Interstate 80 and eventually Gretna.
Commuting
Depending on where you work, Papillion can be a little tricky when it comes to commute times.
The major issue with Papillion is traveling north and south. There are no major interstates or expressways near Papillion that run in that direction.
During morning rush hour, most people leaving Papillion are heading north towards Omaha for work. And south in the evening.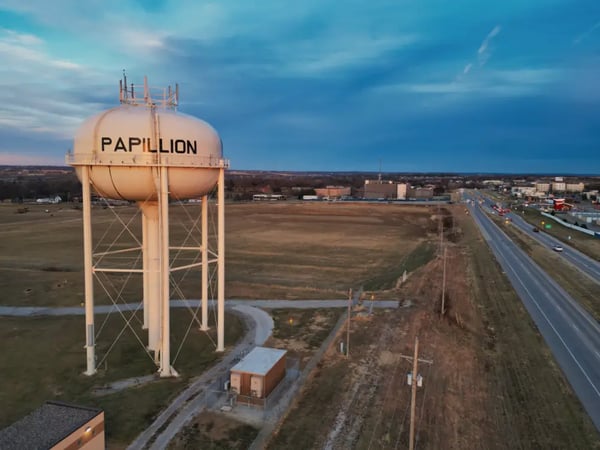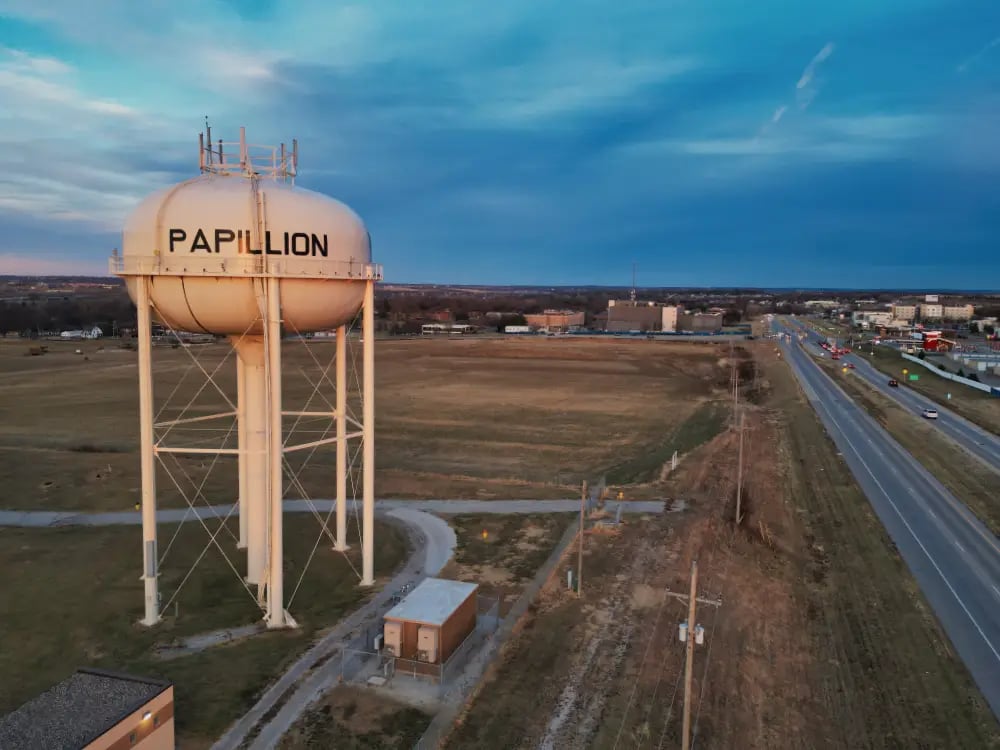 Commuters often use 72nd and 84th St. Unfortunately, these streets have stoplights and can get backed up during rush hour. Some will use Kennedy Freeway (Highway 75), but that route is also prone to congestion and accidents.
Expect at least a 30-minute commute if you are working downtown.
On the bright side, your commute is very manageable if you work at Offutt Air Force Base.
If you live on the western side of Papillion, commuting to Lincoln is pretty fast.
Sample Commute Times
Papillion to Downtown – 20 to 35 minutes
Papillion to Midtown – 20 to 35 minutes
Papillion to Elkhorn – 25 to 45 minutes
Papillion to Gretna – 15 to 25 minutes
Papillion to Bennington – 35 to 50 minutes
Papillion to Offutt Air Force Base – 10 to 20 minutes
Papillion to Lincoln – 50 to 70 minutes
If you still have questions about commuting, visit our Omaha traffic page.
Schools
Papillion shares a public school system with the neighboring town, La Vista.
Papillion-La Vista Community Schools serves over 11,000 students. It has 11 elementary schools, 3 middle schools, and 3 high schools.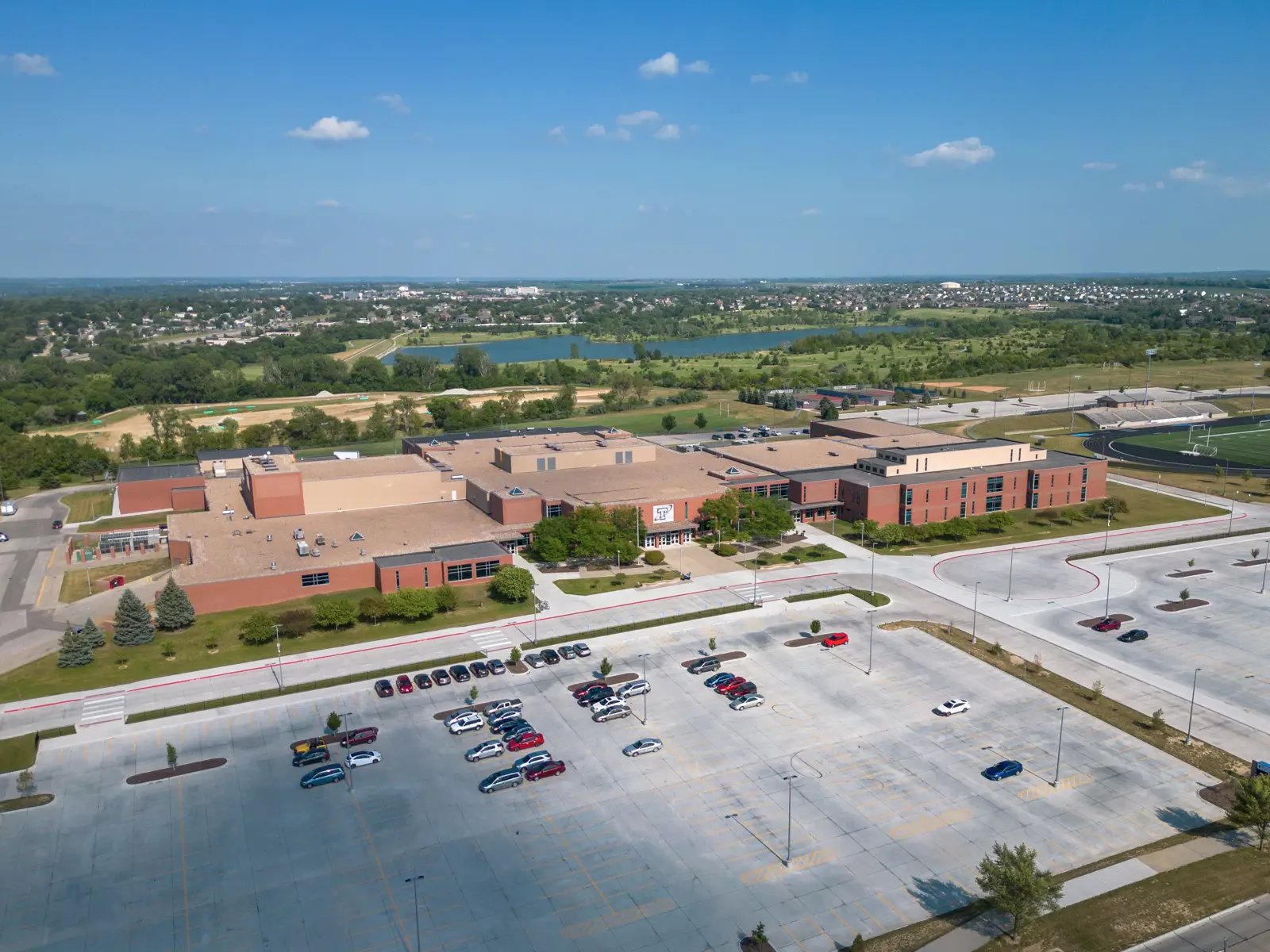 St. Columbkille Catholic School offers a K-8 education.
Private school options are pretty limited in Papillion. One option is St. Columbkille Catholic School, which offers a K-8 education.
Buying a Home
Expect to pay at least $300k (although 10% of homes sold in Papillion in 2022 were less than that).
The median price for a home in 2022 is $400k.
Papillion has a great variety of homes and neighborhoods to choose from.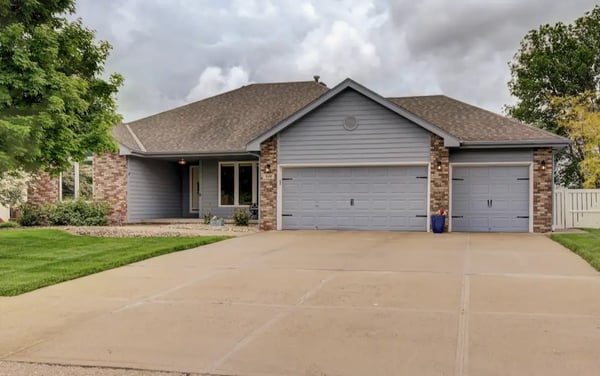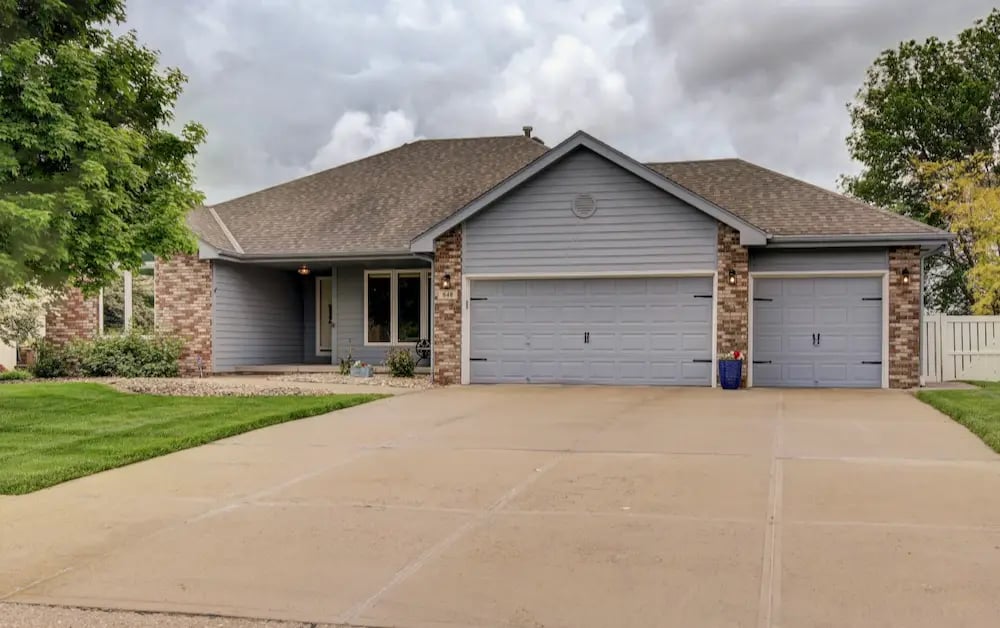 If you are looking for an older, established neighborhood, you have options. If you are looking for a newer home or new construction, there is much to choose from.
In 2022, 75% of the homes sold in Papillion were built after 2007, with 50% being built in the last 2 years.
As you can see, Papillion has had an enormous population explosion in the past 15 years.
Visit my other site for a complete list of Papillion homes for sale.
Renting
There are quite a few apartment complexes in the Papillion area. Many of these are less than 10 years old.
Check out Apartments.com for a list of your options.
Hospitals and Healthcare
The main hospital in Papillion is CHI Health Midlands. Family Hospital is another option.
There are a lot of clinics, dentists, and other doctors throughout Papillion. You should be able to find most medical providers within a 10-minute drive from home.
Things To Do
Check out a page I created dedicated to things to do in Papillion.
Below are some of the options discussed on that page.
Entertainment
Werner Park is home to the only professional sports teams in the area. It's home to two teams. The Storm Chasers are a Minor League Baseball affiliate of the Kansas City Royals, and Union Omaha is a Division III soccer club.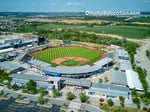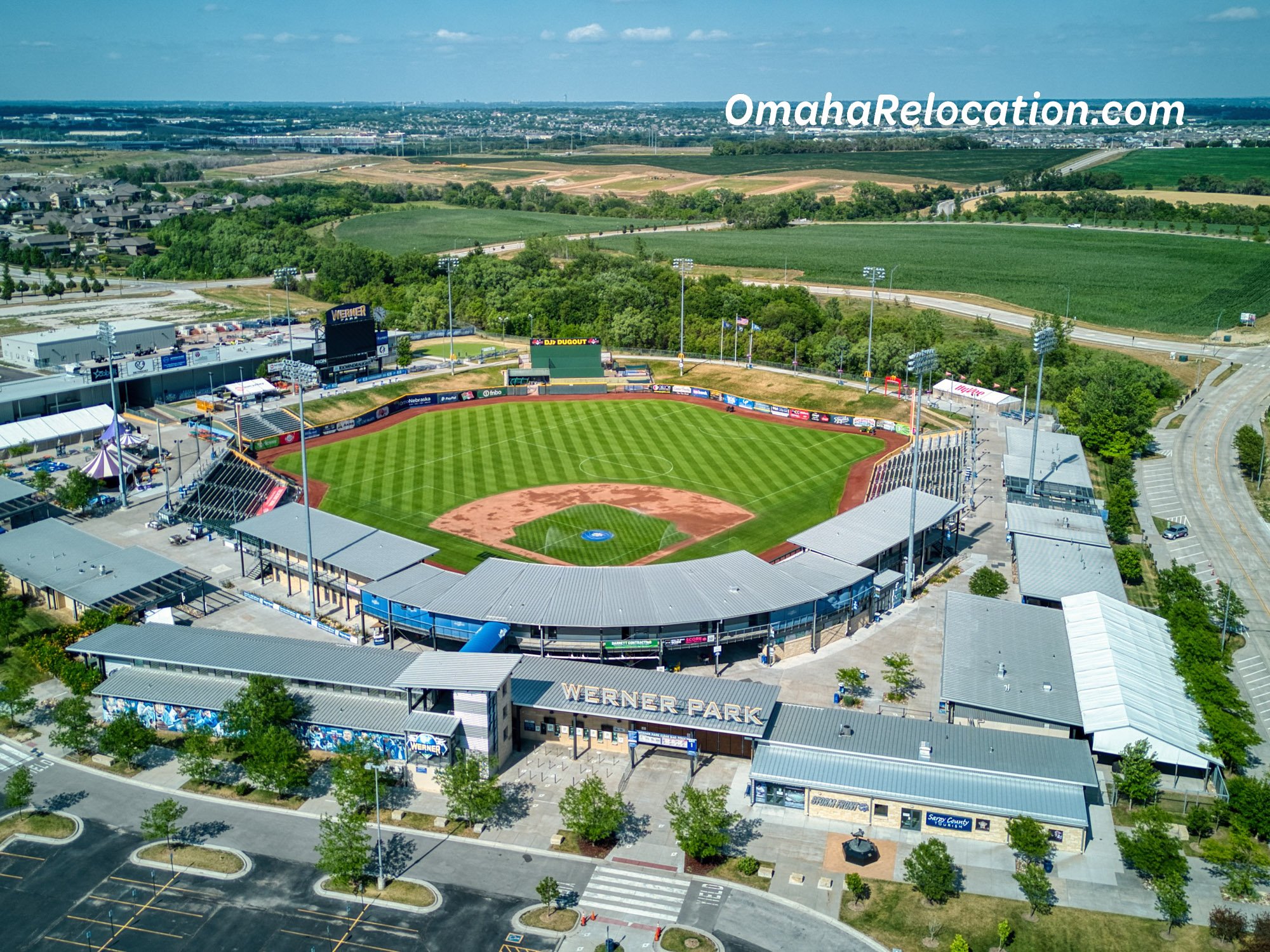 Papio Bowl and Papio Fun Park, located near downtown Papillion, are two popular family-friendly activities.
If you want to catch a movie, head to the Twin Creek Cinema in Bellevue or the Alamo Drafthouse in La Vista.
Restaurants
If you are a foodie, Papillion may be a disappointment.
Most of the restaurant options will be chains – some national and some regional.
You have to travel a few miles into Omaha for more unique options.
Smaller local chains in Papillion to consider include Ollie & Hobbes, Ika San Ramen, and La Mesa.
Parks & Recreation
Papillion is known for their amazing parks and recreation system. They have 23 different parks within a ten-mile radius.
Big Elk Lake Recreation Area and Halleck Park have beautiful lakes you can walk through. Halleck Park's Arboretum also has a lot of beautiful trees and scenery. Papillion has multiple trails for cyclists, runners, or families simply looking to go on a walk.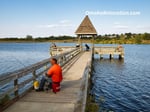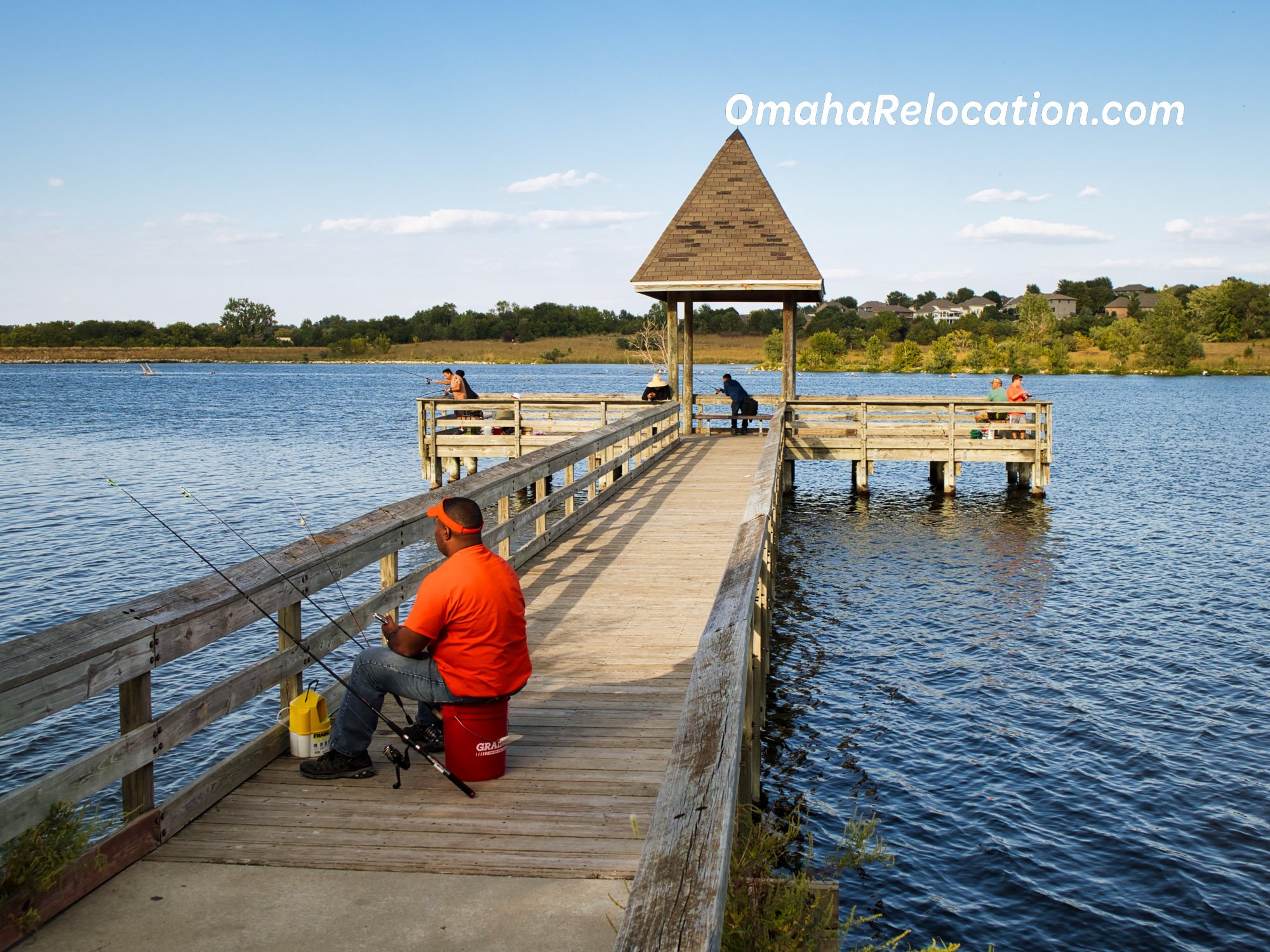 The Papio Bay Aquatic Center is very popular during the summer. Papillion Days tends to be one of the biggest events in the Omaha Metropolitan Area each year. Finally, you can find several events going on at Sumtur Amphitheater and Papillion Landing throughout the year.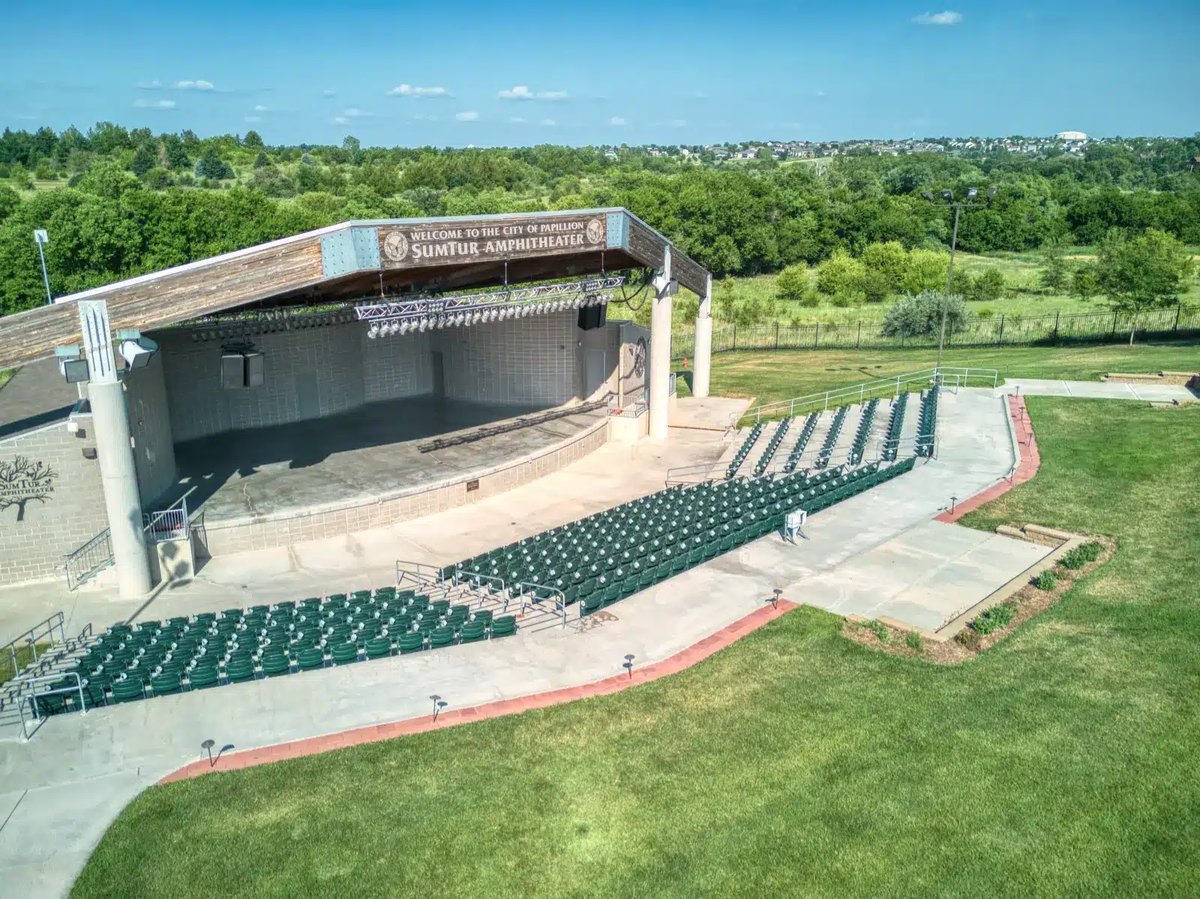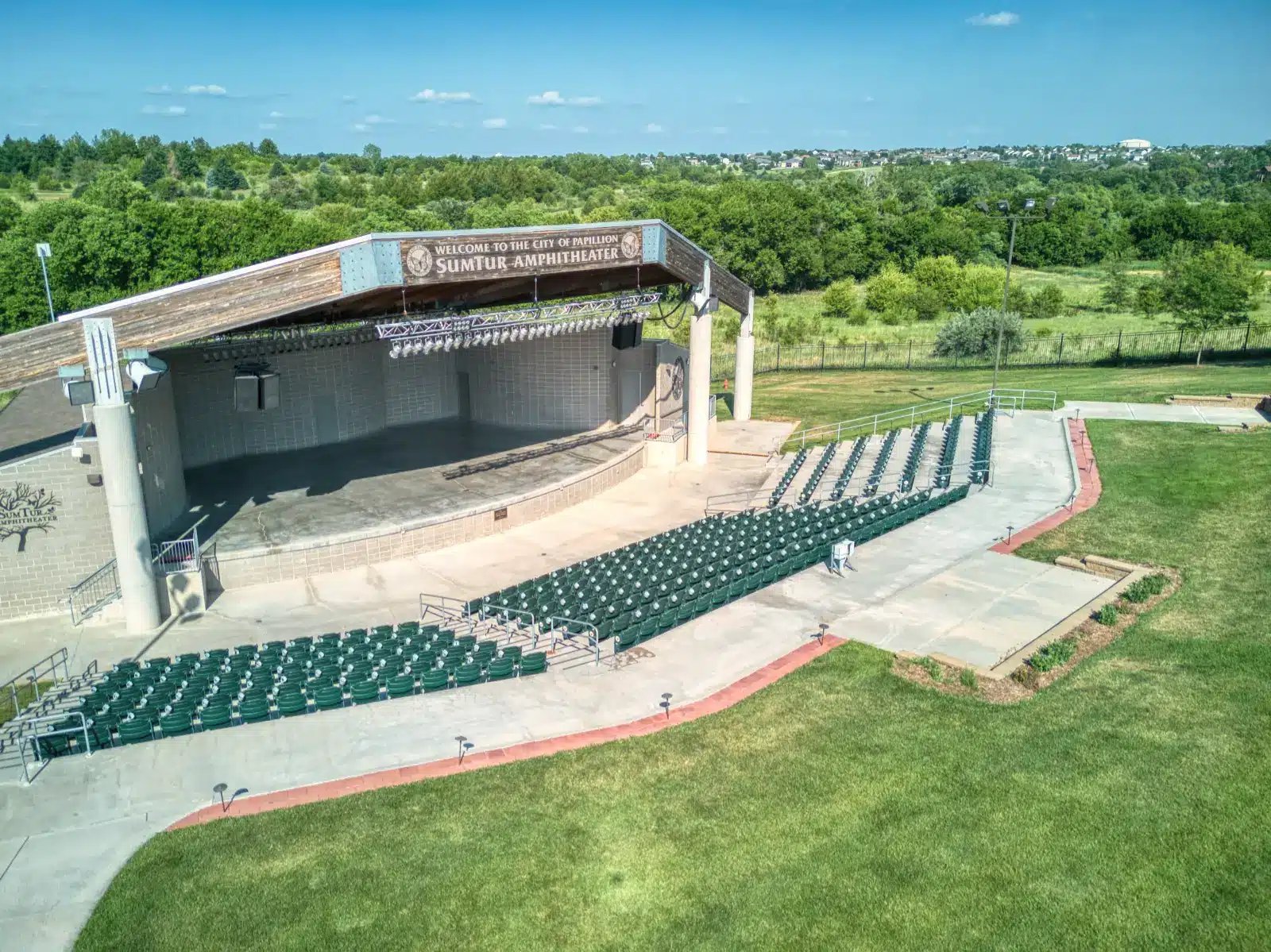 The city operates two public golf courses – Tara Hills and Eagle Hills.
Shopping
Shadow Lake Town Center is a large outdoor shopping mall off Highway 370 and 72nd St. It has numerous restaurants and stores, such as JCPenney, Old Navy, Ulta, Dick's Sporting Goods.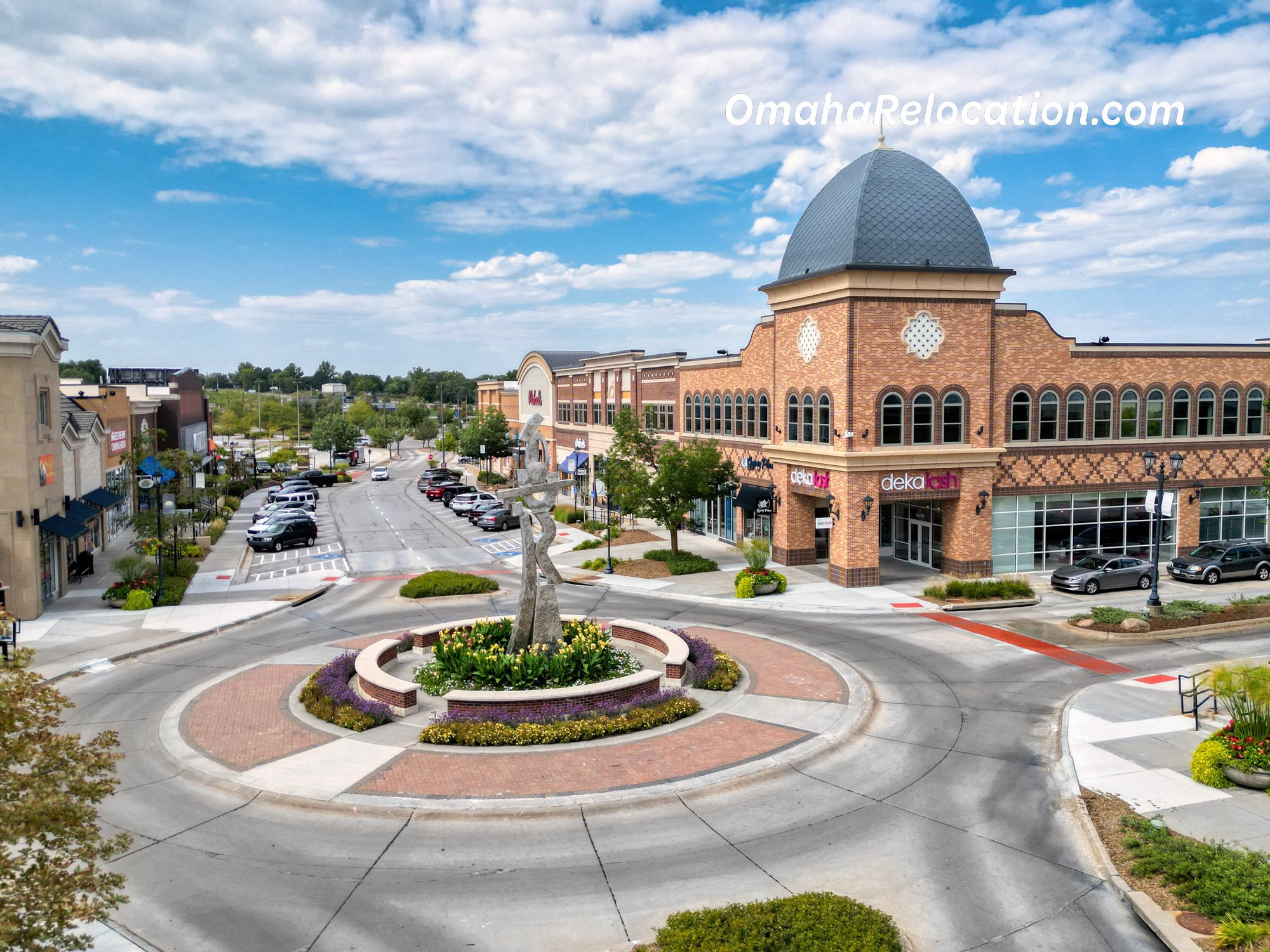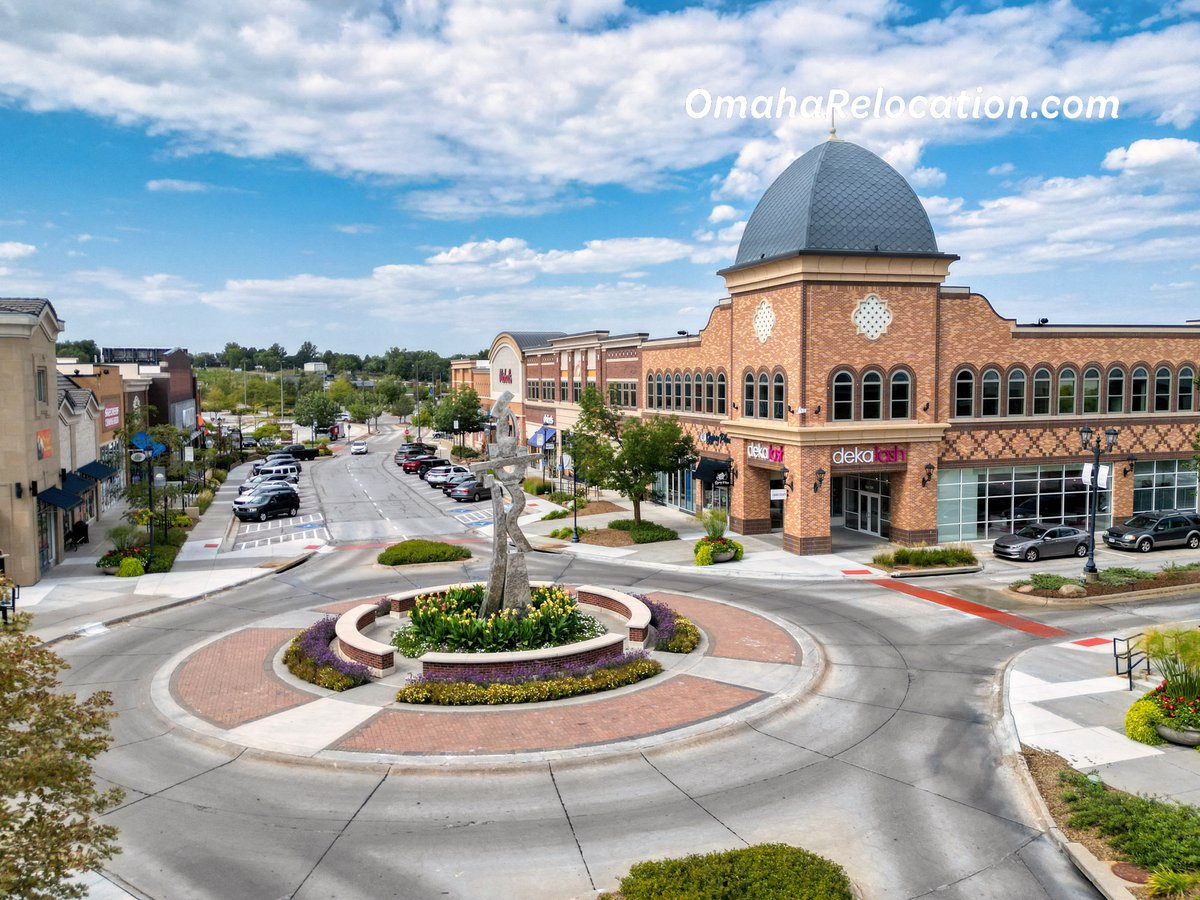 If you are looking for some local shop, downtown Papillion is a popular destination.
City Services
The mayor of Papillion is David Black. Papillion has a city council with 8 members that make up 4 wards.
Water/Sewer: City of Papillion
Gas: Black Hills Energy
Electricity: OPPD
Frequently Asked Questions