Guide to Splash Pads in Omaha in 2022
I have helped many families moving to Omaha. Contact me if you have any questions about the Omaha area or need help buying a home.
Kids love splash pads. And as a father of a three-year-old, I've become familiar with several of the splash pads in the area.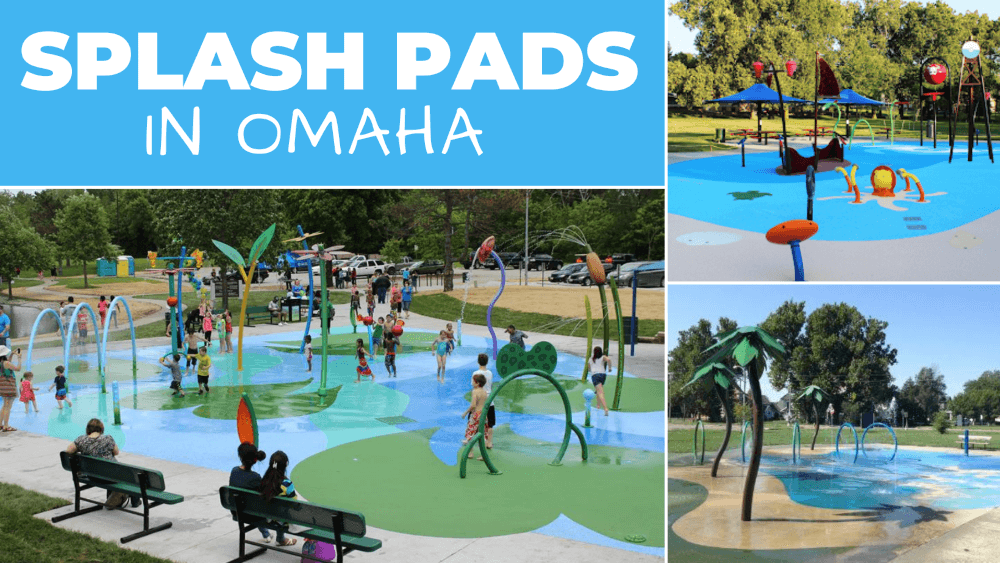 Most splash pads (also known as spray pools or spray grounds) are found in public parks. About 15 years ago, I'm not sure if there was a single public splash pad in the area, but times have changed.
Splash pads have little or no standing water so that helps eliminate the need for lifeguards or other supervision. Splash pads have distinct advantages over swimming pools in that they are cost-effective and low maintenance, and water-play activities extend well beyond normal pool season.
If you are looking for a pool, Omaha has a lot of public and private pools to choose from.
Here's a list of slash pads available in Omaha
Alaskan Adventure at Henry Doorly Zoo (3701 S 10th St)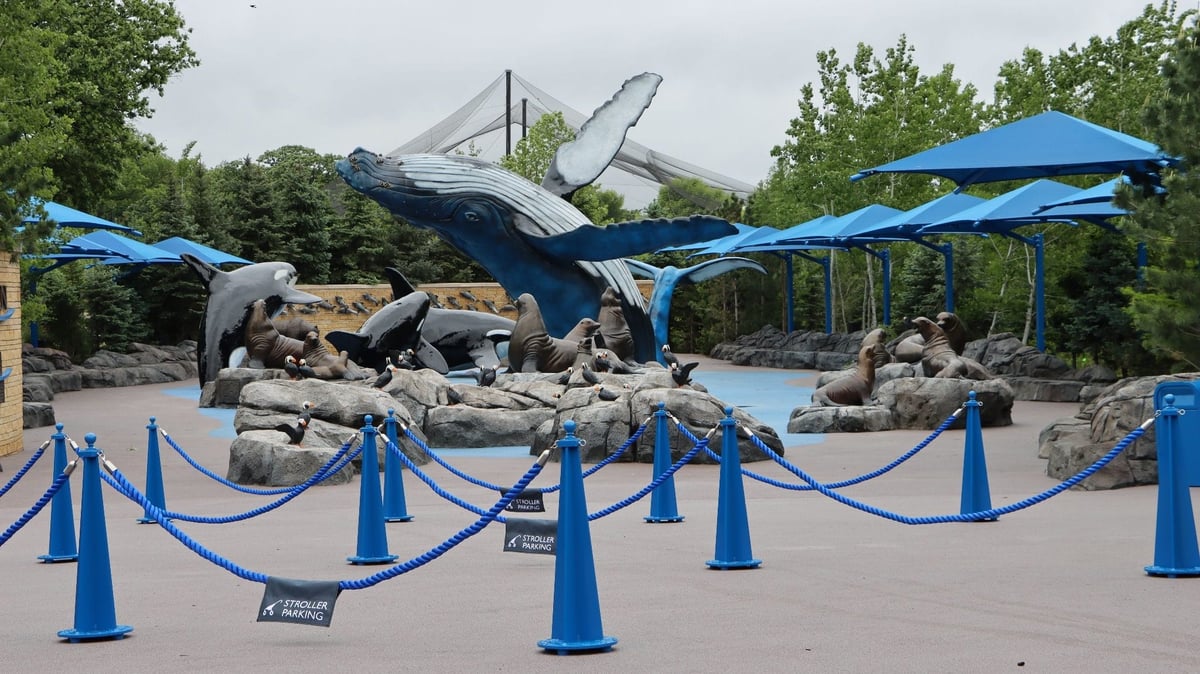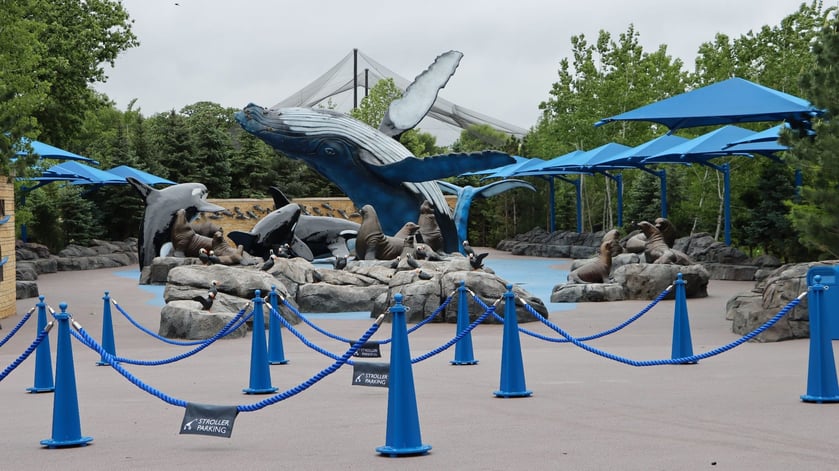 Alaskan Adventure at the Henry Doorly Zoo is an Alaskan-themed splash pad with an 18-foot-high humpback whale as a centerpiece. The splash pad incorporates a variety of animals and large species that gives kids the opportunity to learn about animals native to the Alaska coastline.
Benson Park (7002 Military Ave)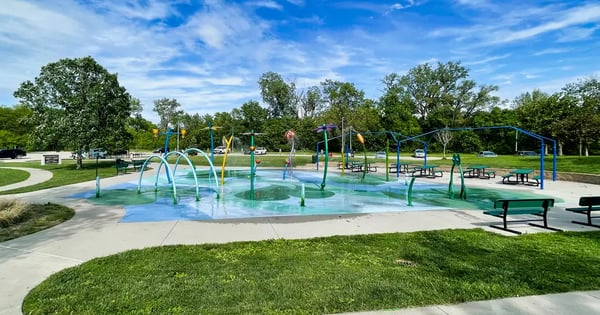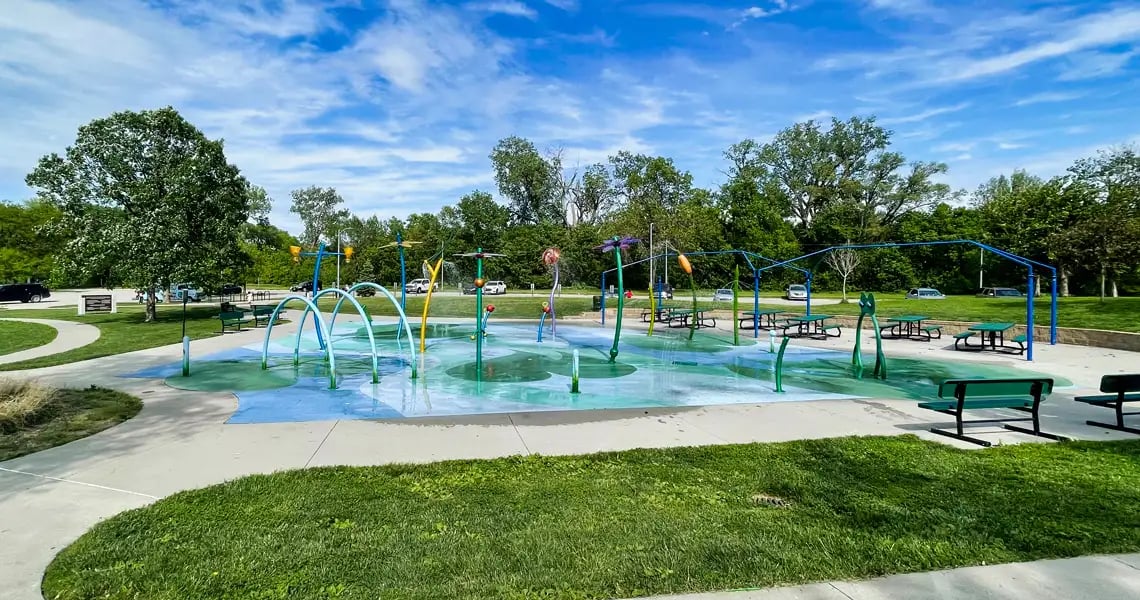 The Benson Park splash pad is decorated with blue and green wave patterns and lily pads. I covers over 3,200 sqft. It has 29 spray features that include images of cattails, insects, and flowers. Benson Park is surrounded by a picnic table area with 15′ x 50′ shade canopy and bench seating. Best of all, it is handicap accessible! This is one of the only splash pads in the midtown area.
Bob Kerrey Pedestrian Bridge (705 Riverfront Dr)
Enjoy a splash pad at the foot of the Bob Kerrey Pedestrian Bridge in downtown Omaha. The Missouri River provides a breathtaking backdrop to this urban park. The park has interactive water sprays that rise from the circular plaza, and the grassy slope and stepped seating offer an area where parents can sit and watch their kids. This park is a short walk from the Kiewit Luminarium and the Gene Leahy Mall.
Gene Leahy Mall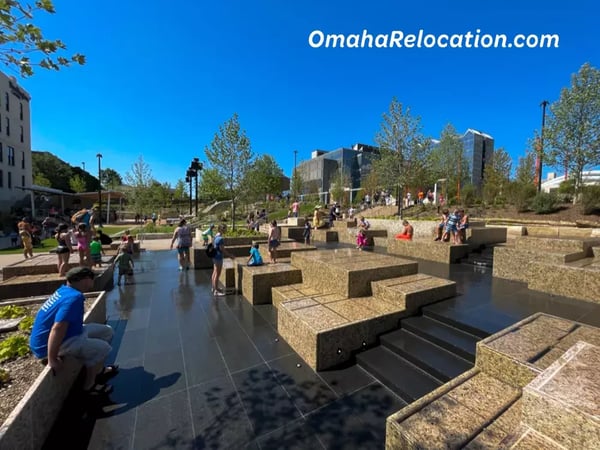 If you are downtown, check out the water feature that just opened up at the new Gene Leahy Mall.
Just warn your kids not to run. The blocks can be slippery.
Coyote Run Splash Park (5305 S 189th St)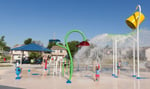 Conveniently located in the Coyote Run subdivision, this new splash park offers 13 water features, a picnic shelter, and additional parking for visitors. The water features were designed to create separate use zones for kids of different age groups.
Fontenelle Park Sprayground (4405 Fontenelle Blvd)
Contains 9 spray features including colorful dumping bells, spinners, and spray "flowers", and offers a close playground, a Port-a-John, and tennis courts. It has Interactive ground sprays (when a child steps on a spray, nearby sprays react by rising higher) as well as toddler-friendly low sprays called water jellies. Shaded benches are nearby for parents to sit on and observe the fun.
The Grove Park Splash Pad (188th St and Pacific St)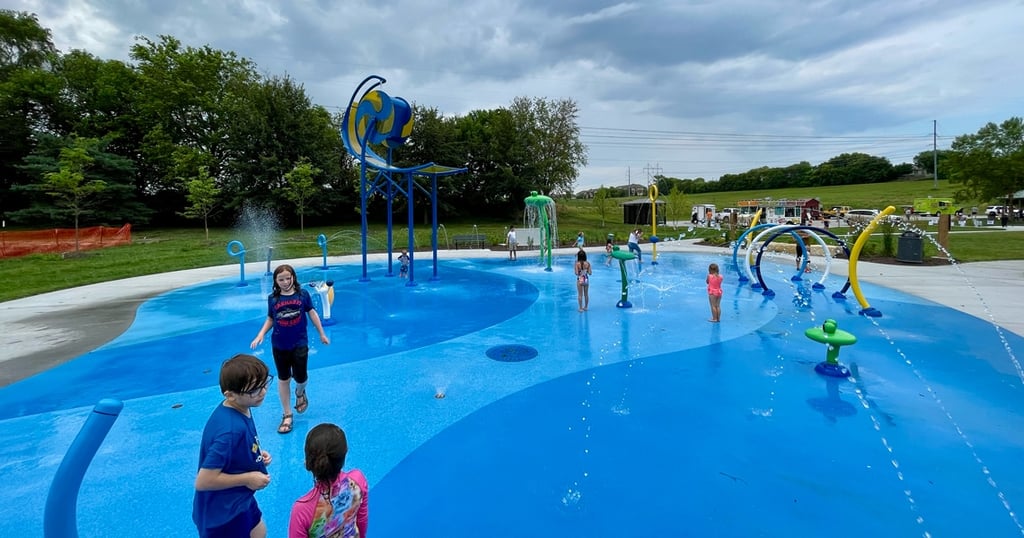 This brand new splash park in Elkhorn was completed in 2020 along with the upgraded baseball field and new pavilion in The Grove Park. It is open from May all the way through September.
Kountze Sprayground (1920 Pinkney St)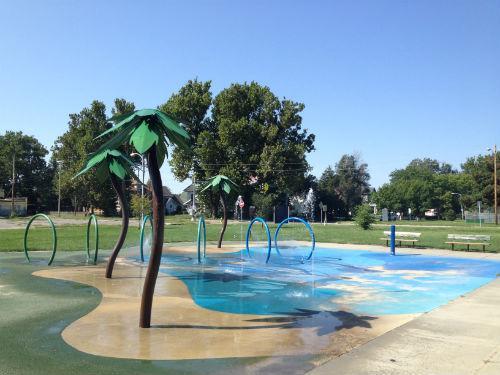 Funded by the Peter Kiewit Foundation in 1999, this sprayground offers interactive palm trees, spray hoops and ground sprays. There is also a large grass area, tennis courts, and a close playground. They are open 11am to 8pm daily.
Levi Carter Park Sprayground (809 Carter Lake Shore Dr)
CLOSED DUE TO MECHANICAL ISSUES (as of this writing)
Features a serpentine stream bed with playful fish, flowing water plants, and many other fascinating water play elements designed to evoke thoughtful and imaginative play. There's a large, 50-gallon, dump bucket that will be sure to cool you off on the hottest of days. It also has many interactive ground sprays and overhead sprays for the kids to enjoy.
Miller Sprayground (2707 Redick Ave)
Omaha's newest sprayground; opened in May of 2019. The largest one in Omaha with almost 4,000 sqft of space. It has a Viking theme with 37 spray features, including a Viking ship, sea monster, and large dump bucket. It also includes areas for children of all ages and has shaded seating areas for parents.
Morton Park Sprayground (5724 S. 41st St)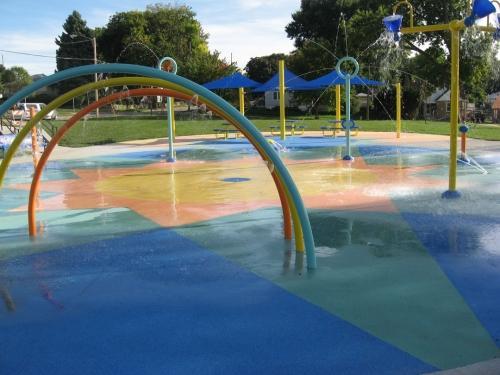 Open 9am to 8pm, this 3,000 sqft Sun-themed water playground first opened in 2014. It has an area designed for smaller children equipped with smaller spray features. Dumping buckets, sun-shaped sprays, and larger features ensure that the sprayground will entertain kids of all ages.
Orchard Park Sprayground (6502 Hartman Ave.)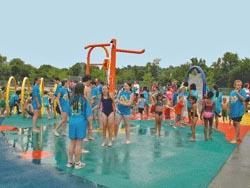 Open 11am to 8pm, offering a close playground, a Port-a-John, picnic tables off to the side a little (not covered), and older tennis courts. Opened in 2002, this splash pad was constructed as part of the Orchard Park Rehabilitation project. It features a space theme with the sun, stars, and planets illustrated in the rubber surfacing.
Sandy's Splish-Splash Garden (500 S 20th St)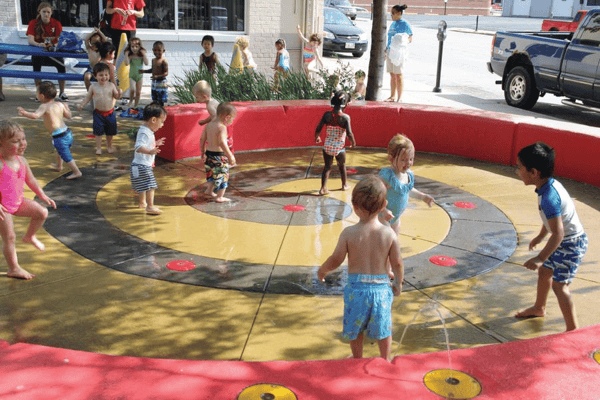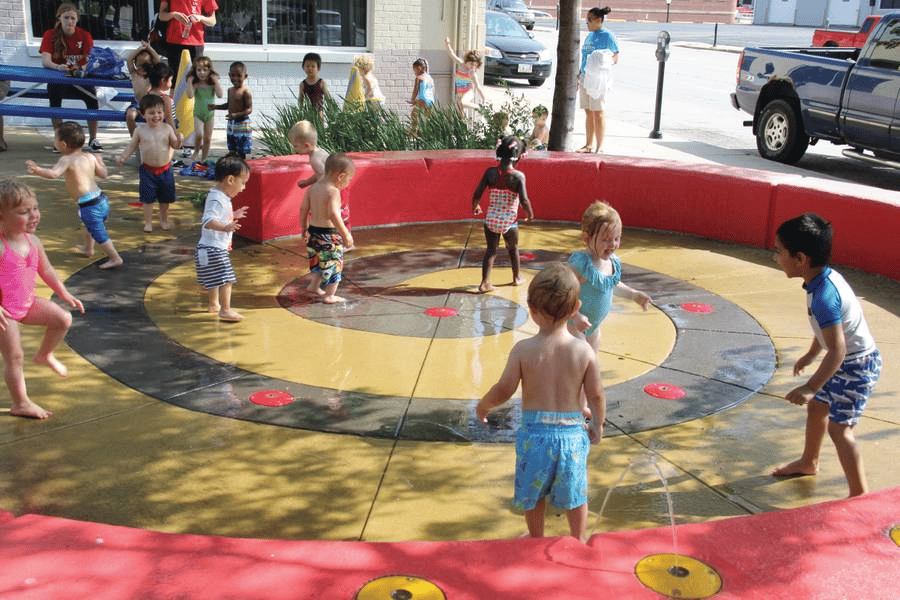 The Splish-Splash Garden is typically open from Memorial Day to Labor Day. It is a small outdoor water play area where kids can enjoy splishing and splashing, and cool off with water that spouts, sprays and delights.
Seymour Smith ALL PLAY Park (6802 Harrison St)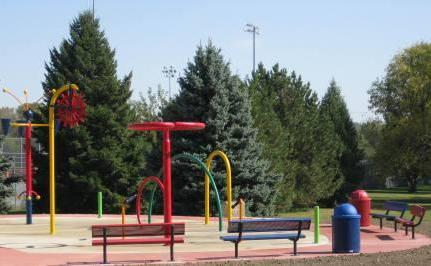 Offers a few shaded picnic tables, a nearby playground (with rubber bottom), frisbee golf, and a Port-a-John. The splash pad was built without curbs and steps to complement ALLPLAY Park's universal accessibility concept. It is ADA compliant and has lots of handicap parking.
Stone Ridge Splash Park (4655 N 163rd St)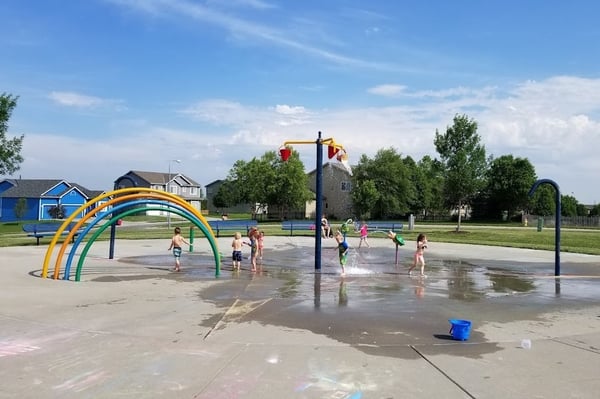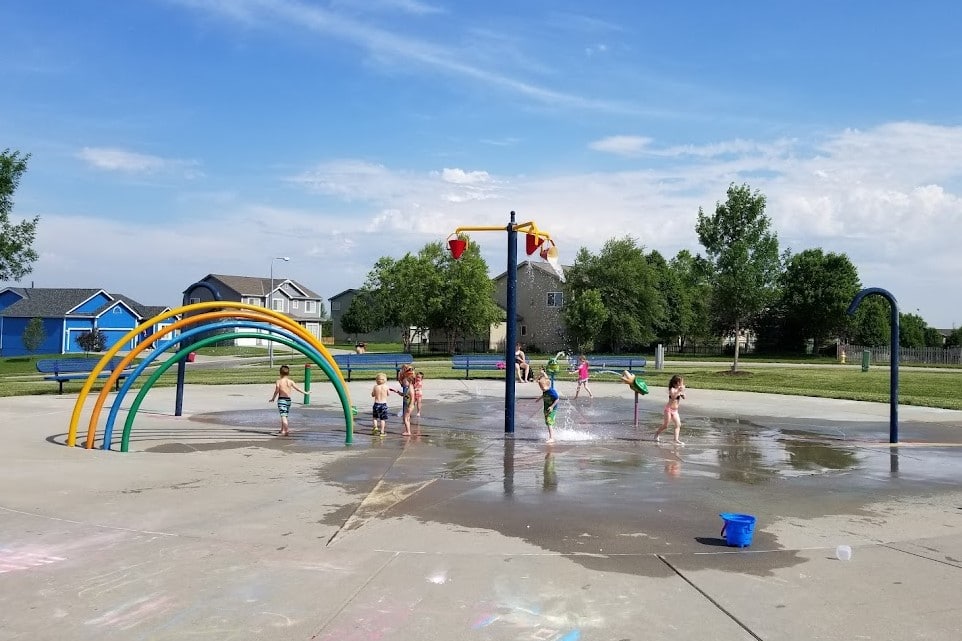 Right beside the splash park is a covered picnic area. There's also a nearby playground and lots of open space for other activities.
Upland Sprayground (3104 Jefferson St)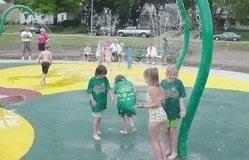 Opened in 1999 and features a sea serpent, spray hoops, and daisies. Spray features are activated by the kids themselves when they touch the activator posts. Constructed as part of the Upland Park Renovation, replacing a deteriorating and outdated swimming pool.
Westwood Heights Sprayground (12334 Seldin Dr)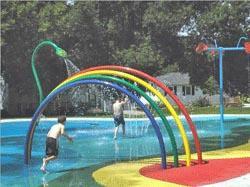 Offers a covered picnic area, close playground, and a Port-a-John. The water playground features a Rainbow, a Serpent, Ground Sprays, Dumping Buckets, Elephant, and Sea Horse spray cannons. Kids activate the sprays themselves by placing their hand on top of a blue post. The various spray features turn on and off randomly.
Other nearby Splash Pads
Cimarron Woods Splash Park (7419 S 101st Ave, La Vista)
It has both a splash park and a playground area. Near the splash park are covered picnic areas with a grill. There's also a basketball court, gazebos, and a walking trail for you to explore.

Eagle Ridge Splash Pad (2 blocks east of 66th St. and Ashwood Ave. in Papillion)
Open from 8am to 7pm, it offers a covered picnic area, playground, sand volleyball, and a restroom. Follow the sidewalk past the playground, over the bridge to the splash pad. It features a pelican dump-bucket, blue whale misting system, sunflower sprays, bubblers, and a geyser.

Schwer Park Splash Pad (800 W. Centennial Rd, Papillion)
Open from noon to 7pm, this splash pad offers a covered picnic area, nearby playground, and bathrooms. Features include shower flowers, dumping buckets, spray cannons, and rainbow rings.

Shadow Lake Towne Center (7775 Olson Dr, Papillion)
Located in the middle of the Shadow Lake Towne Center Shopping, the former fountain area was transformed into a spray ground. The water play area features an umbrella, aqua ball, water tunnels, and loads of nozzles for an interactive and refreshing way to play and stay cool.

First Street Plaza Splash Pad (1st Street and Washington Street, Papillion)
A small splash pad, which is open from 9AM to 10PM. First Street Plaza provides modern ADA compliant bathrooms to the downtown historic district. The plaza is also the location of a B-Cycle station where residents can rent a bicycle to explore the downtown area or ride on the nearby West Papio Trail.
Hastings Banner Park Splash Pad (Virginia St & S 50th St, Bellevue)
Open daily from 8AM to 7PM, aside from the splash pad, the park also has a playground, lighted pavilion, access to the Keystone Trail, and great fields for softball, soccer, or rugby. It is a great splash pad for kids with a good-sized picnic area with outlets. The playground is new and there is a nice paved trail around the entire park. The parking lot just got repaved and striped. There is easy access to the Papio Trail just west of the park.

Everett Park Splash Pad (Adjacent to Betz Road, Bellevue)
Open daily from 9am to 7pm, the park, named after former Bellevue City Councilman Robert Everett, was originally called Betz Park when it was built in the 70s. It's one of the larger parks in Bellevue. Aside from the splash pad, it also offers plenty of space for recreation such as baseball and soccer, and tennis courts.

Buffalo Park (271 S 6th St, Springfield)
The Splash Pad is open daily Memorial Day through Labor Day from 10am to 8pm. Nearby are 2 pavilions with picnic tables, a playground, walking trail, baseball field, and an open grass area.

Louisville City Park (3rd and Main, Louisville)
Right beside the splash pad is a playground and a covered picnic area with tables. Across the street is a tennis court and a miniature skate ramp.

Platte River State Park (14421 346th St, Louisville)
The spray park, one of the only two-tiered spray parks in the region, includes various spray features, three water slides, a waterfall, dump buckets and a fountain, among other water features. The upper level is designed for younger children and the lower level for older kids. It also has an area that may be reserved for birthday parties, as well as picnic tables, benches and plenty of shade. Guests may bring their own lawn chairs. Attendants are on duty.

Fairmount Park Splash Pad (E Graham Ave & Park Entrance St, Council Bluffs, IA)
Fairmount Park Splash Pad is open 8am – 9pm daily during the summer months. Fairmount amenities include an extensive interactive water playground with multiple elements that are fun for children of all ages, a scenic overlook, a playground, hiking trails, a fire pit, two picnic shelters, and ample parking.