Best Omaha Steakhouses (Updated 2023)
I have helped many families moving to Omaha. Contact me if you have any questions about the Omaha area or need help buying a home.
New York City is known for pizza. Texas has barbecue. Omaha is known for steak. Ask ten people where the best steakhouse is and you will probably get 5 different answers.
The Drover
The Drover is my favorite steakhouse.
It's known for its whiskey filet. I won't say it's the BEST steak in town, but when you add in the atmosphere and iceberg lettuce salad bar, it takes the top spot.
The Drover is a quintessential steakhouse. It's not pretentious. There's no crazy gastronomy.
Just a slab of meat, with excellent preparation, and classic sides.
Food: A-
Atmosphere: A+
Cost: $$$
Mahogany Prime Steakhouse
This pick may ruffle some feathers.
And that's because Mahogany is technically a chain (they have 3 locations in Oklahoma and 1 in Omaha).
But, the food is phenomenal.
It is going to be the priciest of the steakhouses. And the atmosphere is going to be just a little more formal. It's a little fine dining and a little steakhouse which makes it the perfect special occasion restaurant. But you don't need to wear a suit and tie.
Food: A-
Atmosphere: A
Cost: $$$$
J. Gilbert's
J. Gilbert's Wood-Fired Steaks & Seafood (also a chain) is located in the Marriott in downtown Omaha.
The filet mignon I had recently was the best steak I've had in Omaha in a long time.
It was perfectly cooked and seasoned. My wife had a seafood plate. She has been on the hunt for the best jumbo shrimp cocktail in Omaha, and this was a contender.
My major issue with this restaurant is the ambiance. The restaurant had no personality. It was sterile and the lighting was too bright. It was like I was eating in a hotel restaurant… because I was.
If you looking for an amazing steak, this is a great option.
If you are looking for a steakhouse experience, this isn't it. When I think of steakhouse, I think of dimly lit, a little grungy, a little quirky, and a step back in time. J. Gilbert's just doesn't have a steakhouse vibe.
In full disclosure, I've only eaten at this place once, and we were seated on the second level – maybe the first level is a little different.
Food: A
Atmosphere: C
Cost: $$$
Brother Sebastian's
I've never been blown away by the food at Brother Sebastian's.
A few years ago, the local newspaper awarded it the best steakhouse in Omaha.
Relax in the cozy old world comfort of an early California monastery with friendly "monks" that pamper you in subdued, romantic surroundings.
Not only will your waiter be dressed as a monk, but you'll also be serenaded by Gregorian chants in the background while you dine.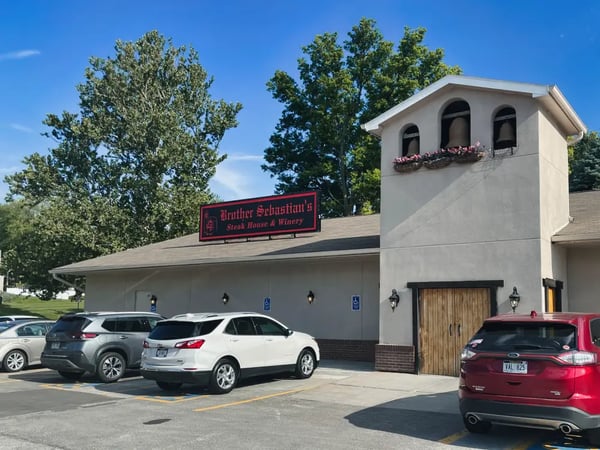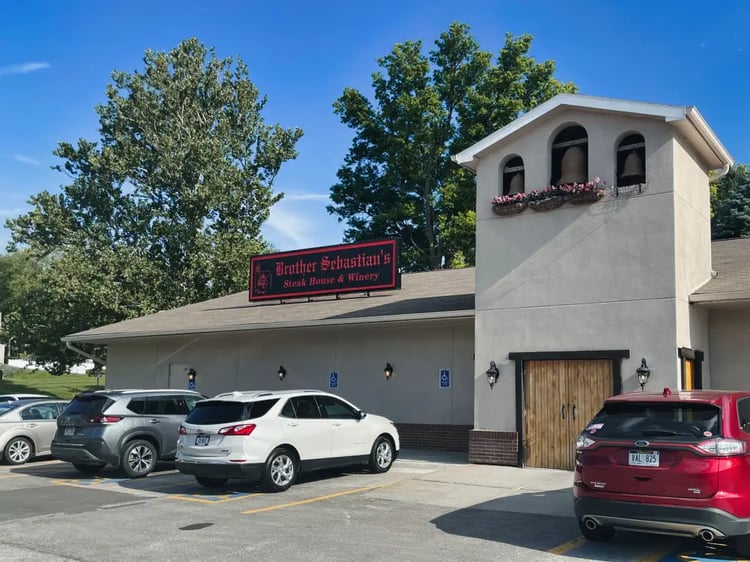 Some would call the atmosphere romantic. I call it a little weird but to each their own.
If you want a memorable finish to your evening, order Baked Alaska.
Food: B
Atmosphere: B+
Cost: $$$
Other Notable Spots
Gorat's
I haven't been to this place in years. I went there once, and the food wasn't that great. The reason it makes the list is because it's Warren Buffet's favorite steakhouse. If you eat there, the Oracle suggests that you "show you are a sophisticated diner by ordering the t-bone with hash browns."
Omaha Prime
I've never been here, but it's high on a lot of lists. It's located in the Old Market.
801 Chophouse at the Paxton
A really great steakhouse atmosphere and the food is solid. If you are looking for a steakhouse downtown, give this place a shot.
Pink Poodle Steakhouse
If you are looking for amazing prime rib, you are going to head over to Crescent, IA, and visit the Pink Poodle. I've eaten here a dozen times, and I've never been disappointed.
I have not been to the Pink Poodle since the pandemic started so I hope it's still everything I remember and love.
Fleming's Prime Steakhouse
Fleming's atmosphere is upscale compared to other steakhouses in Omaha. It's a large national chain, and with that, you can expect a pretty consistent and refined experience.
The food is decent, but it can get a little pricey with the menu being a la carte. They have an extensive wine list and good seafood options as well.
If you're feeling adventurous, try the seafood tower appetizer. They also have a pretty decent happy hour menu – I'm a fan of the burger.
Oh, and the onion rings. The onion rings! If you love big jumbo-sized onion rings, you won't find a better one in Omaha.
The Committee Chophouse
This is the newest steakhouse in Omaha. It's located in the Kimpton Cottonwood Hotel in Blackstone (midtown Omaha).
I haven't been here so I can't offer any advice. I've heard from friends that it is good (and pricey). If you are staying in the area, give it a shot.
Last Updated on August 7, 2023 by Ryan Renner