Pickleball in Omaha: Your Go-To Guide for Local Play
I have helped many families moving to Omaha. Contact me if you have any questions about the Omaha area or need help buying a home.
Looking for a place to play one of the nation's fastest growing sports? Omaha is a great place to be if you're looking for a casual or competitive pickleball match!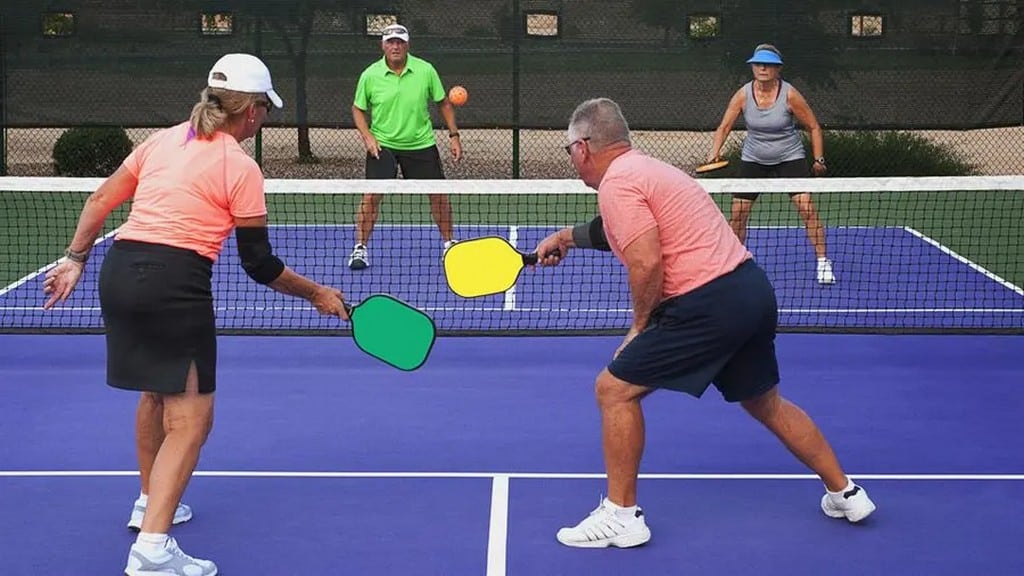 Omaha offers a fantastic scene for pickleball enthusiasts with a variety of indoor and outdoor courts for players to enjoy. Pickleball players can easily find a suitable court regardless of age or skill level.
Among these options, players can choose from dedicated locations ranging from Smash Park with its multiple courts to public spaces such as Meadow Lane Park. This ensures a diverse selection for both casual and competitive games.
Public Pickleball Courts
City Parks
Omaha's City Parks system offers various options for pickleball enthusiasts. The City Parks have eight different community centers that offer drop-in pickleball hours, including:
Most of these options feature free pickleball play for seniors (i.e. visitors who are 55+ years old). However, all other adult players need to pay a $3 drop-in fee. In addition, Elkhorn's Common Ground charges $33 for 5 visits.
Otherwise, you can find a place to play at a free dedicated outdoor pickleball court located at the Meadow Lane (4 courts), Miller (2 courts), Prairie Lane (8 courts), or Roanoke Parks (4 courts). In addition, many of the other City Parks, such as Englewood Park or TaHaZouka, feature combination tennis/pickleball outdoor courts.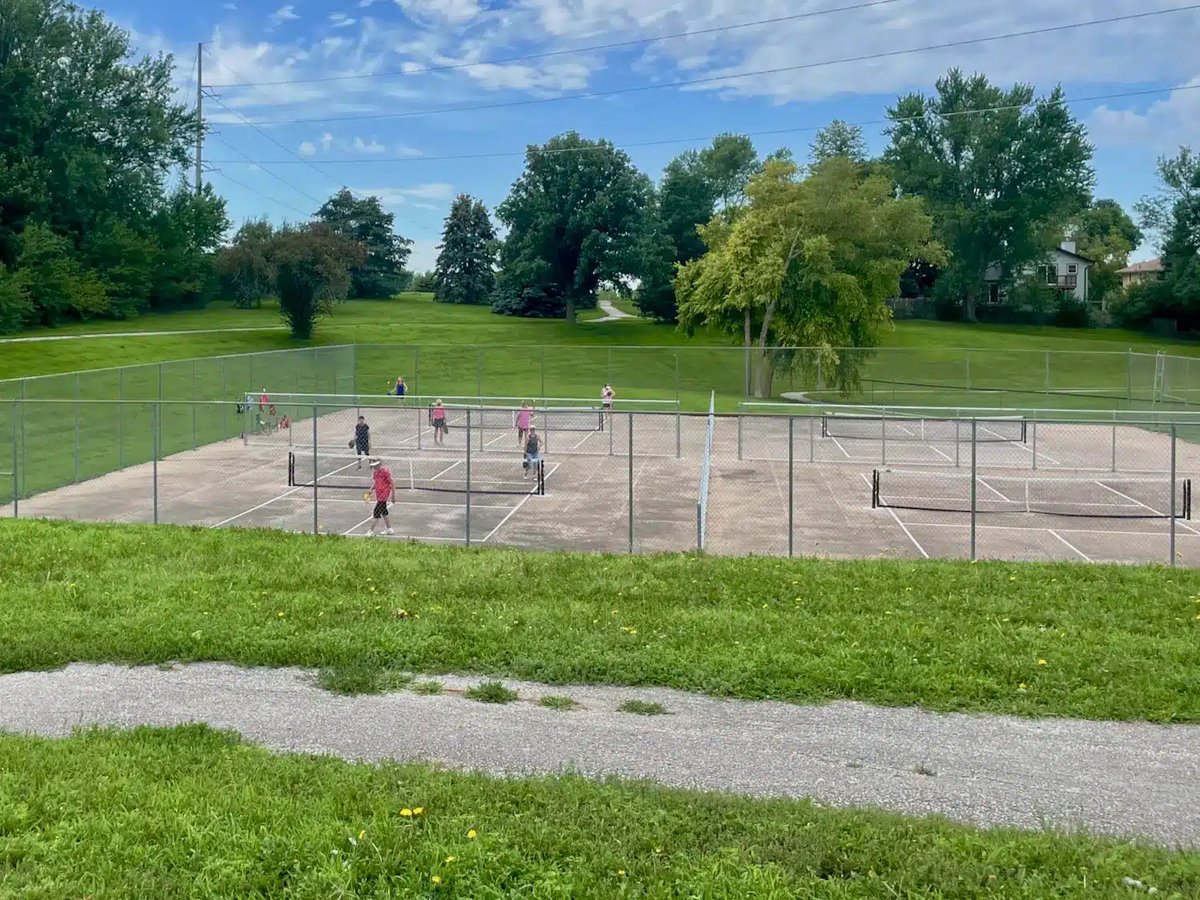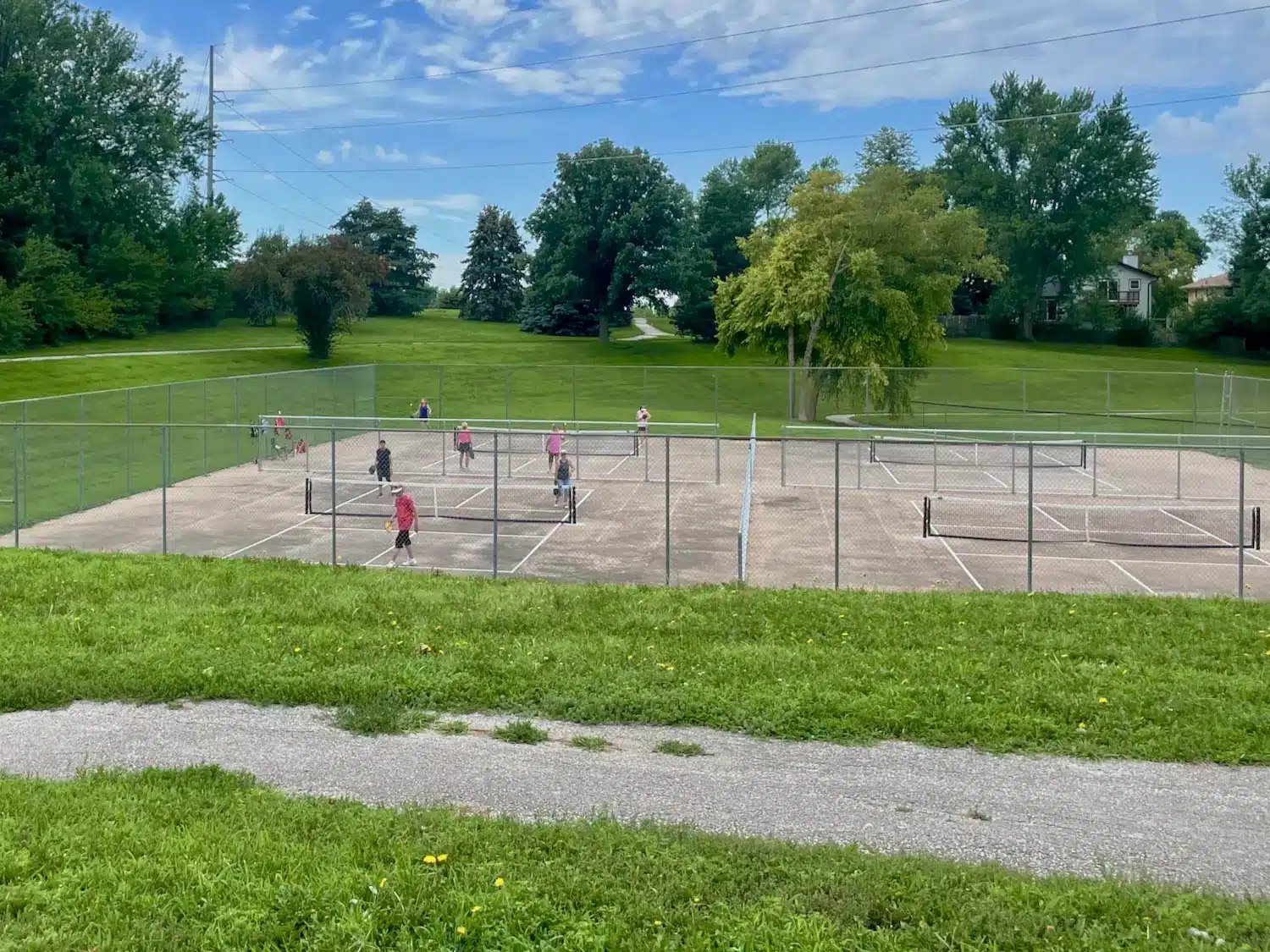 You can also reserve pickleball courts in advance for a $5/hour permit fee at the following locations:
Stone Creek
Located within the Stone Creek golf course, pickleball players can find as many as five different courts to satisfy their craving for the sport. Enjoy friendly games or practice sessions in this welcoming environment. Although there is a one-time fee to play at Stone Creek, you can't reserve your desired court in advance.
Blue Sky Patio & Pickleball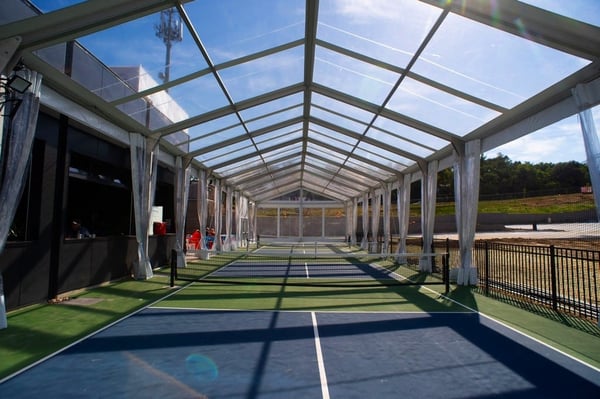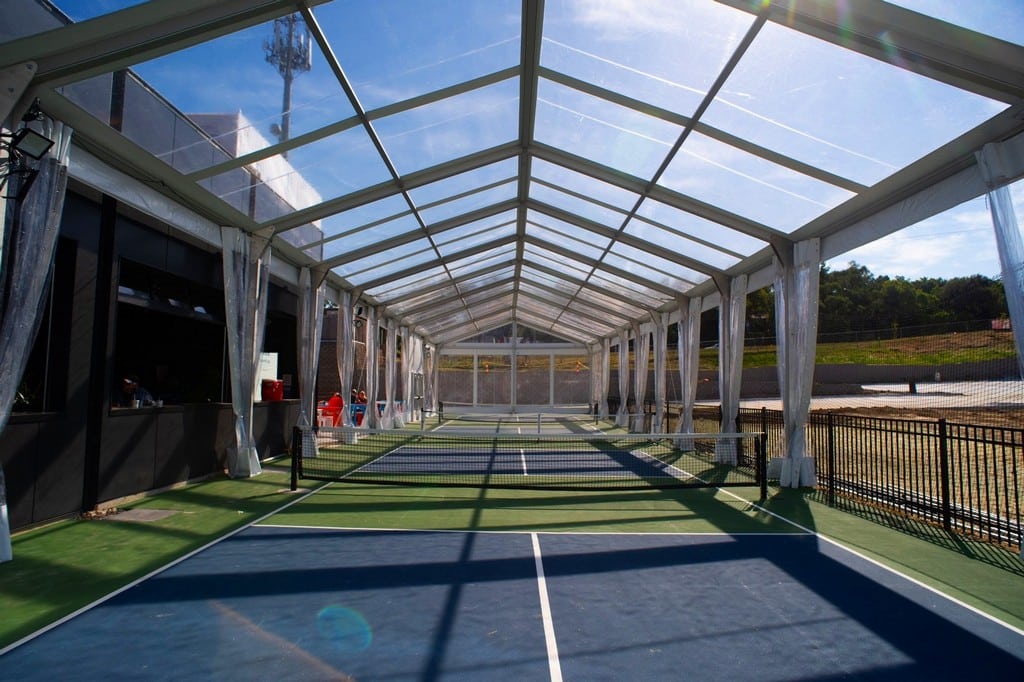 With two dedicated indoor hard courts with permanent lines and nets, Blue Sky Patio & Pickleball is a great place to enjoy a game of pickleball. A one-time fee is required to play at this facility. Access includes the chance to pick up some food (including items from the in-house Noli's Pizzeria and Cheeseburgers- A Takeout Joint) and drinks. There is also a co-working space in the same building. Eat, play, and work.
Maple Athletic Complex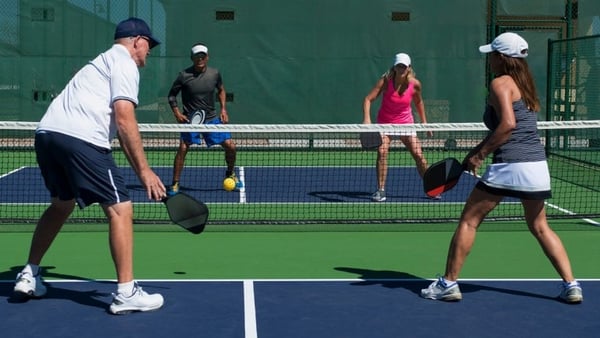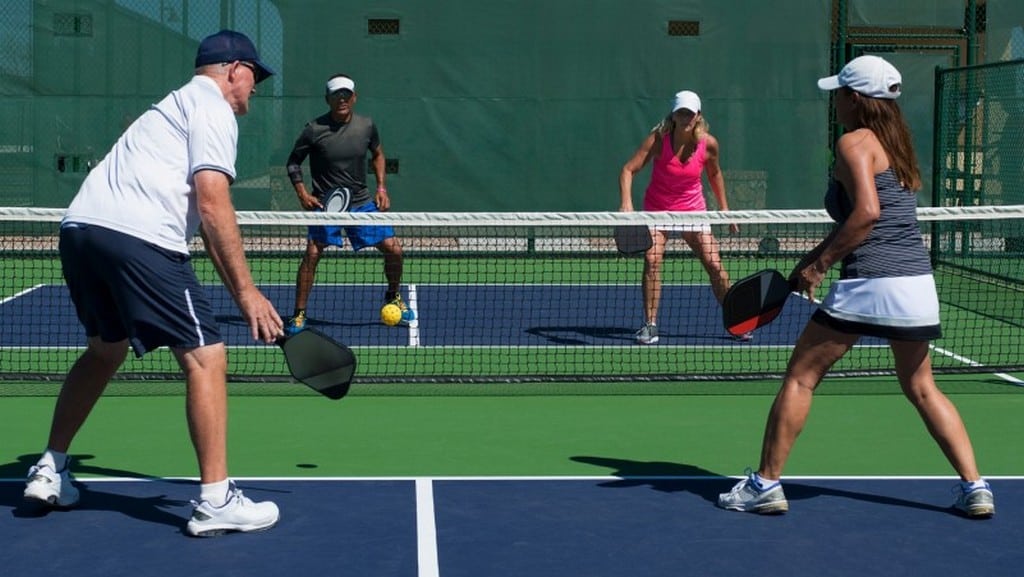 The Maple Athletic Complex provides pickleball players with a great option for four outdoor courts. There, players can engage in a fun and competitive atmosphere amidst stunning surroundings. Nets and lines are already provided, and the complex offers rental paddles. Plus, you can schedule a lesson or clinic directly with the staff if you want to beef up your pickleball game.
Miracle Hill Pickleball Courts
Located within the Miracle Hill Golf Club, this inviting space provides pickleball players with the chance to find the fun and competitive experience they've been looking for. With well-maintained courts, it's an ideal location for games and practice sessions.
Union Bank and Trust Sports Complex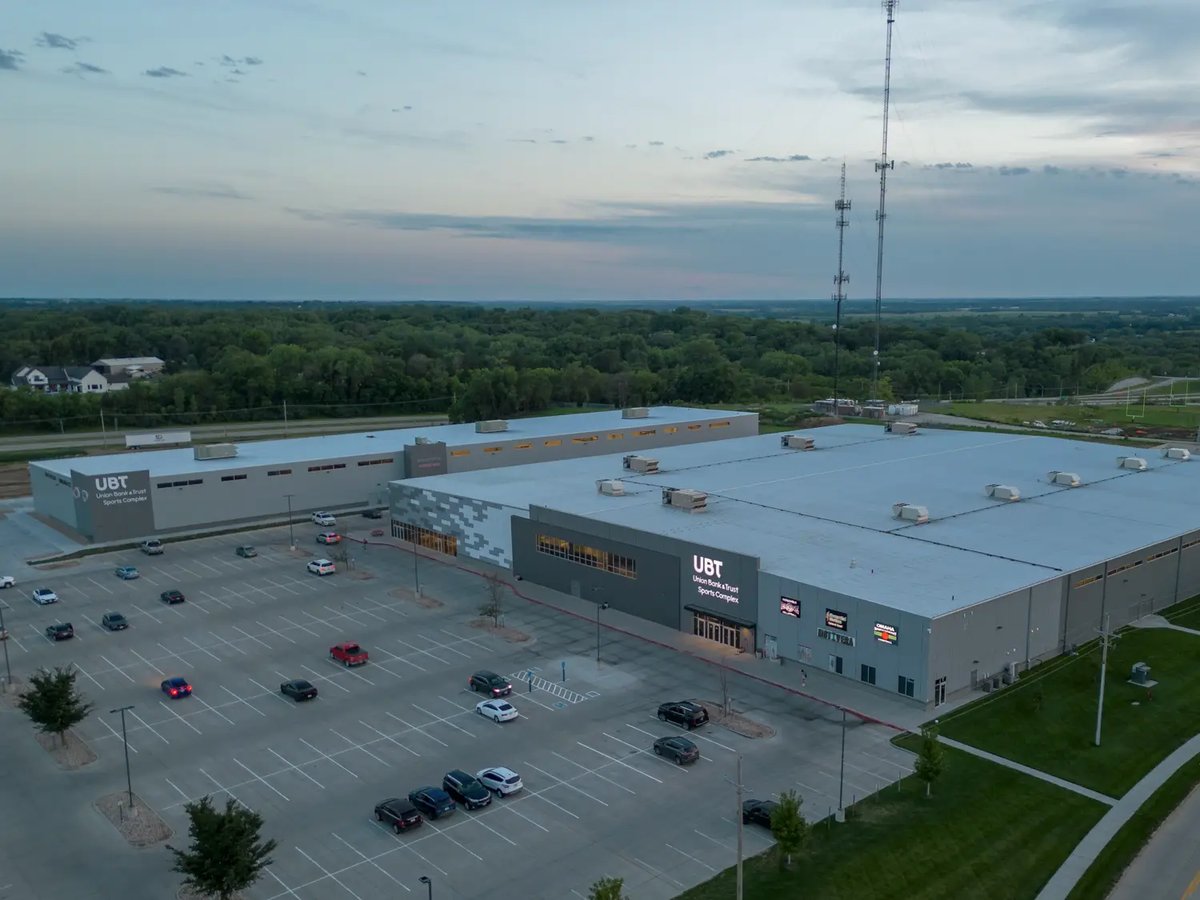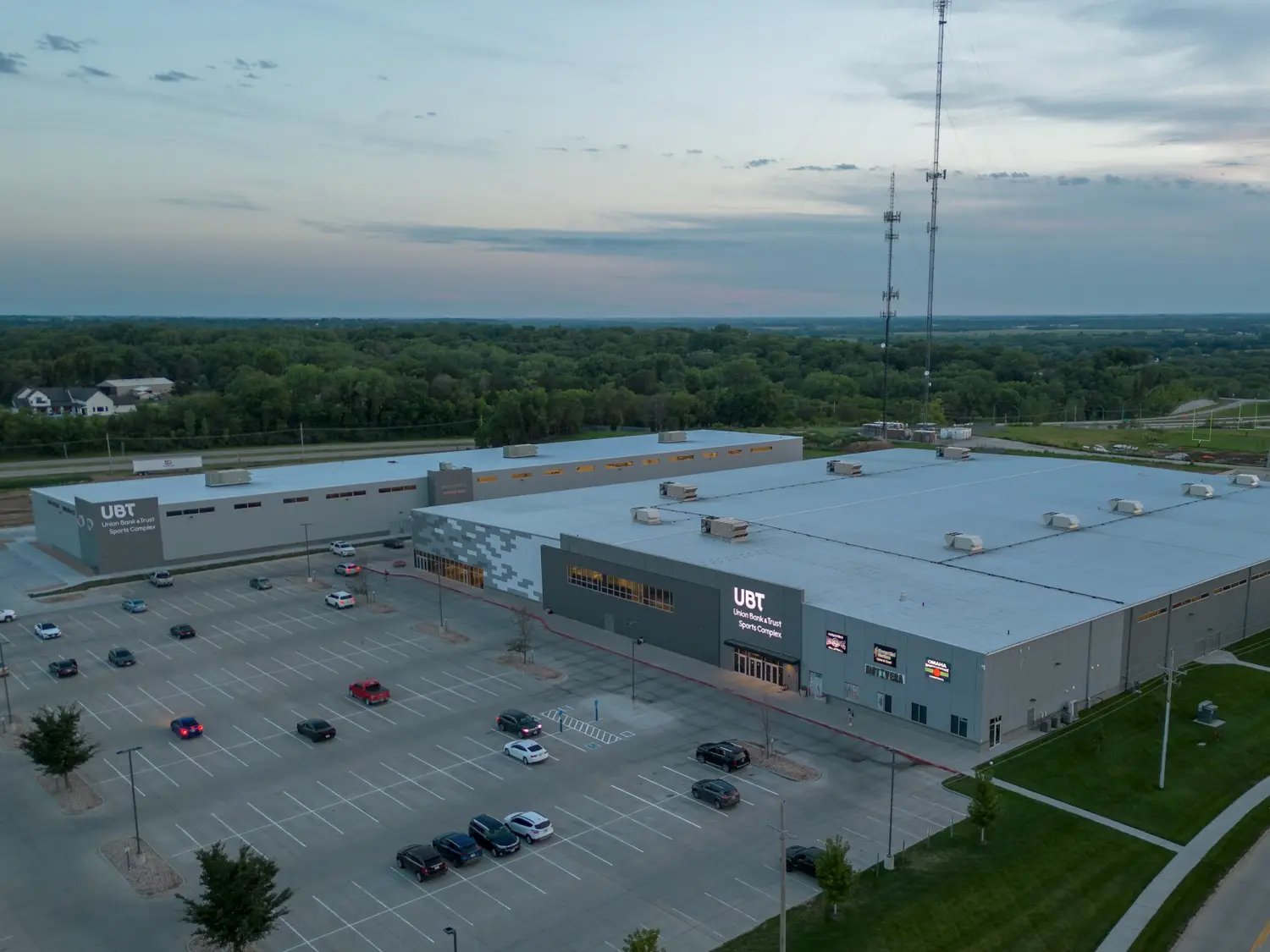 The UBT Sports Complex in Elkhorn is a massive sports facility used by many select sports teams. It's over 135,000 square feet and includes space for up to 30 pickleball courts.
The complex is host to the Nebraska Pickleball organization with ten indoor hardwood pickleball courts, year-round adult leagues, morning drop-in play, and clinics.
Kroc Center
The Salvation Army Kroc Center offers its members all kinds of sports, health, and fitness classes and events. However, at certain times of the year, non-members can drop in and pay a small fee to play at one of the community center's three indoor pickleball courts. You'll have to bring your own net, but the lines on the court are permanent!
West Hills Church
West Hills Church is another free option for pickleball players seeking a public court. The church offers three indoor hard courts with lighting and permanent lines. However, you will need to bring your own nets.
Smash Park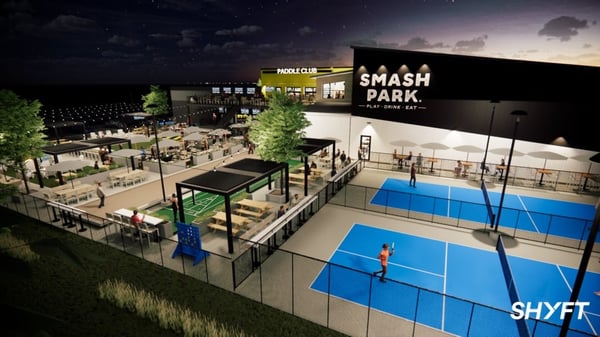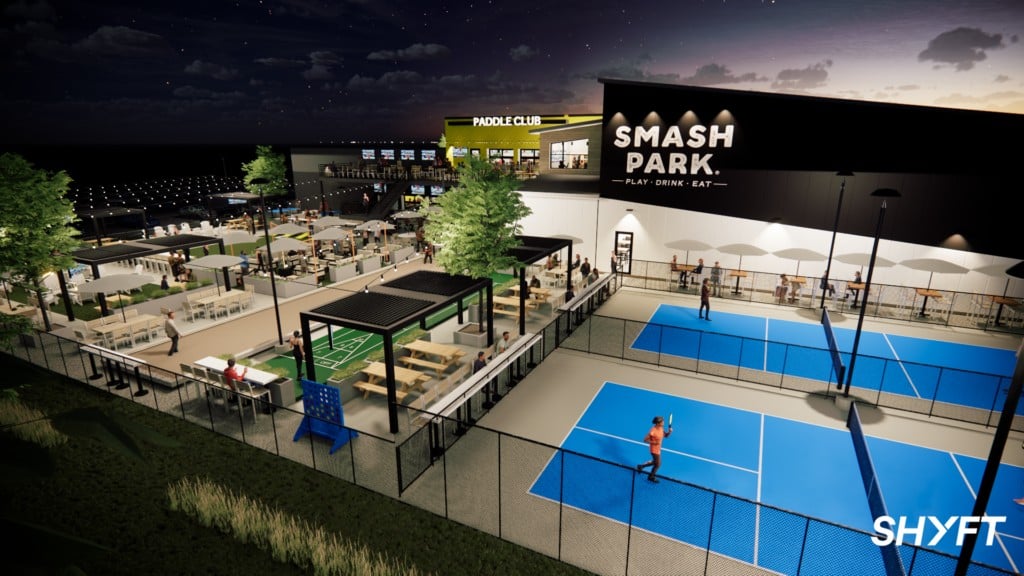 Last of all for publicly available courts, we have Smash Park, whose motto is "Play – Drink – Eat." With current locations in West Des Moines, IA, and Pella, IA, this entertainment center will be expanding its pickleball operations to La Vista in Spring 2024. While this forthcoming venue will offer games ranging from foosball and darts to cornhole and arcade machines, its pickleball play will definitely be its main attraction.
With plans for four indoor courts and two outdoor courts, Smash Park will be all about giving you a great pickleball experience year-round. Paying to reserve a court will allow an unlimited number of players to compete for up to three hours while they enjoy bar food and drink. Smash Park will also host leagues for players at least 21 years old.
Private Pickleball Courts
Happy Hollow Country Club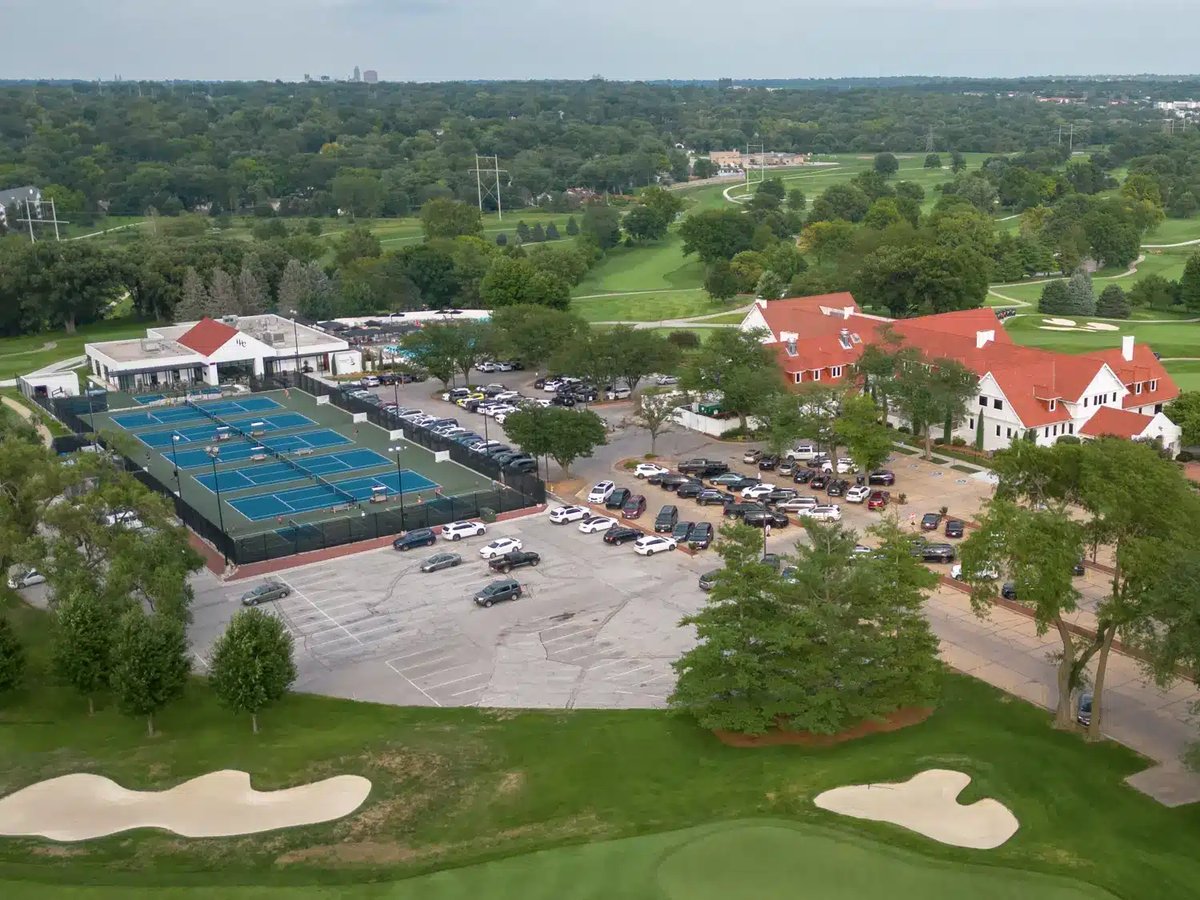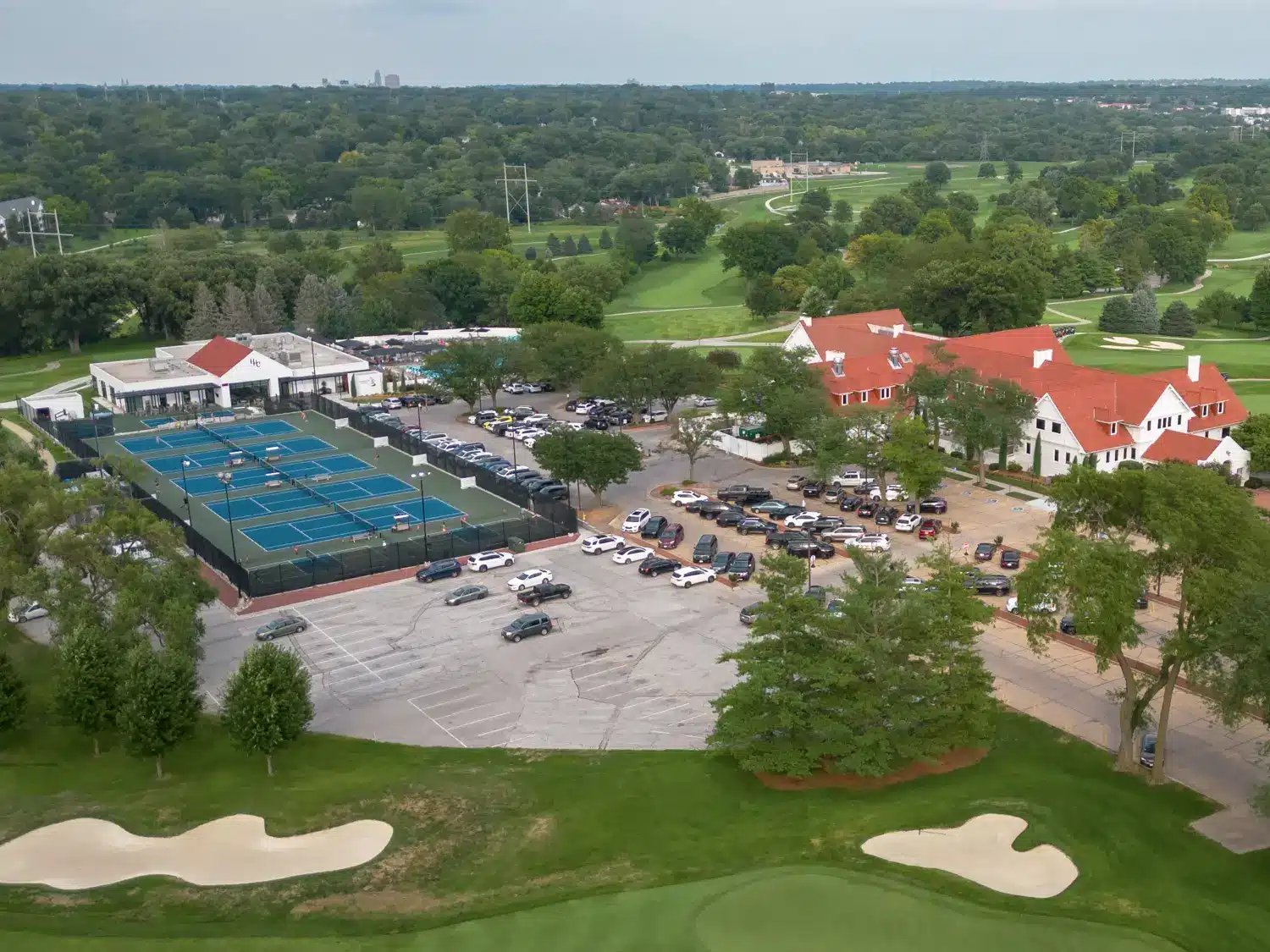 Omaha is home to several private pickleball courts, many of these at country clubs. This includes those located at the Happy Hollow Country Club. This exclusive club offers a well-maintained space to play and enjoy the game with fellow members and access to multiple bars and dining areas. The two permanent pickleball courts are sheltered in winter, so you can play year-round.
Florence
Unlike most of the other pickleball courts in the Omaha City Parks system, the three indoor hardwood courts at the Florence Community Center are for members only. If you enjoy private, well-lit indoor courts, this just might be the spot for you!
Shadow Ridge Country Club
Shadow Ridge Country Club offers its members access to outstanding pickleball courts and other amenities such as a Junior Olympic-sized pool and a slick fitness center. Emphasizing a friendly atmosphere, this club is an excellent choice for socializing and being active with like-minded pickleball enthusiasts.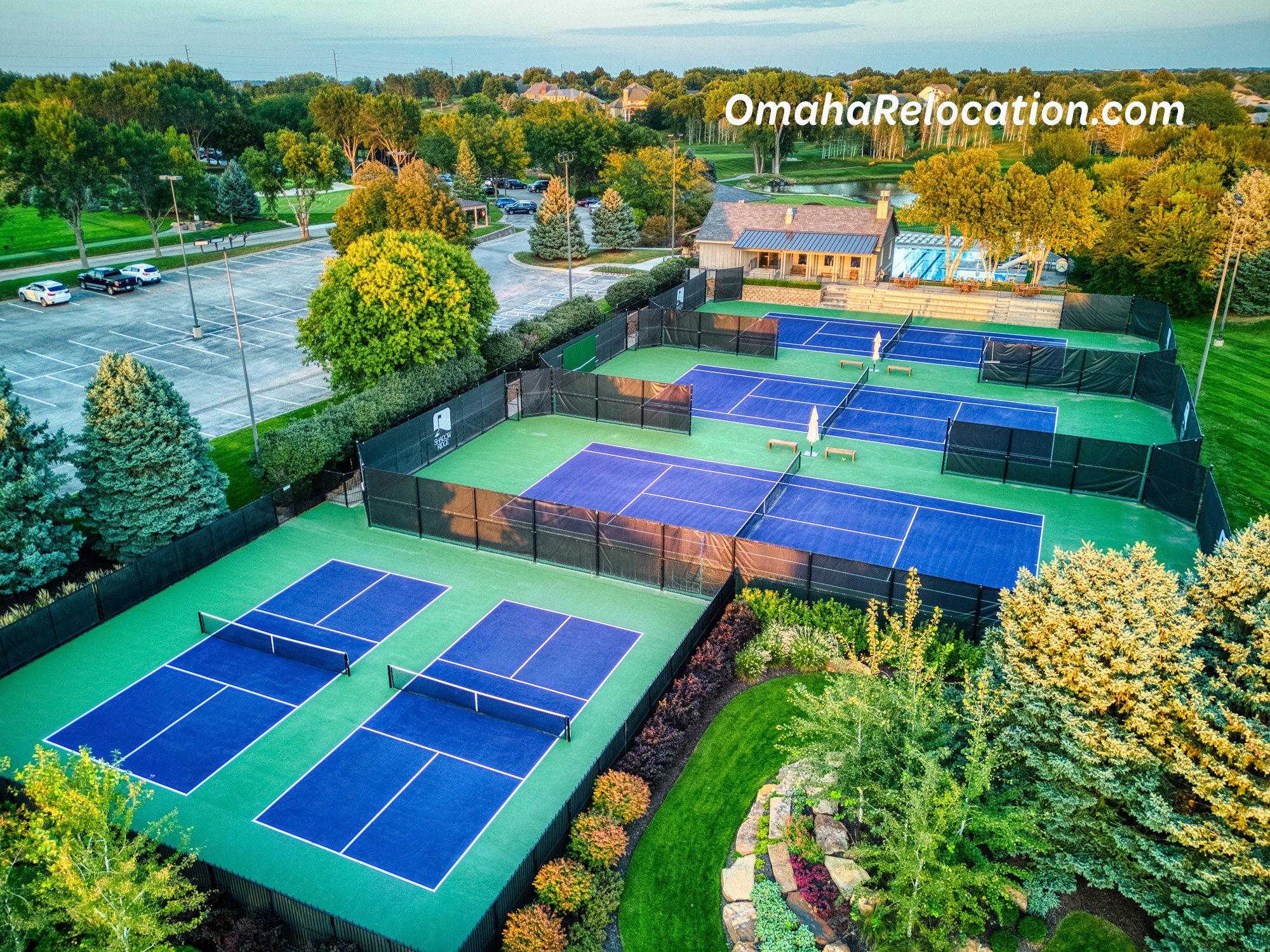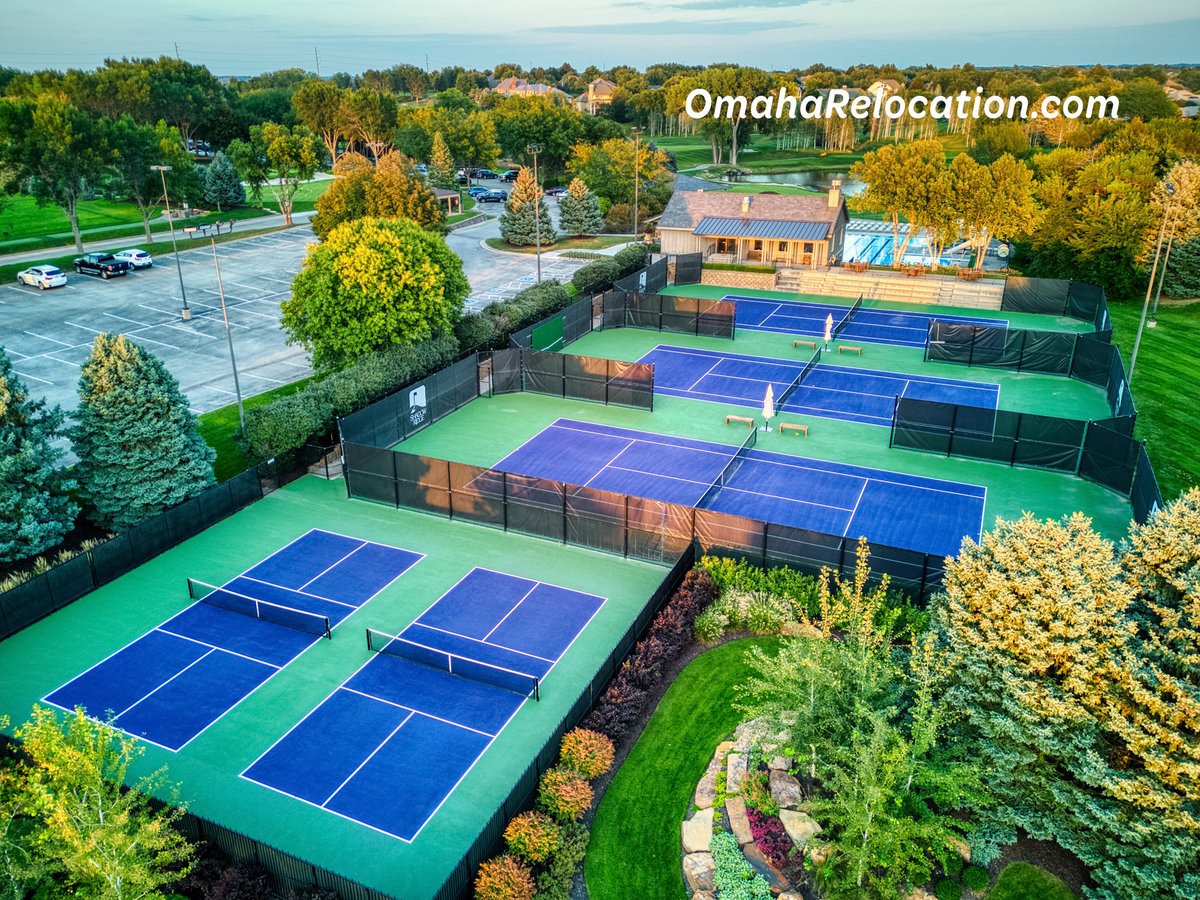 Jewish Community Center of Omaha
Lastly, the Jewish Community Center (JCC) of Omaha provides some private pickleball courts for its members. With a focus on promoting a healthy lifestyle, this community center encourages players to join in on the fun and improve their skills. The JCC hosts an annual "Kosher Pickle Tournament" for players at least 16 years old, plus skill lessons for individuals and groups.
Life Time Fitness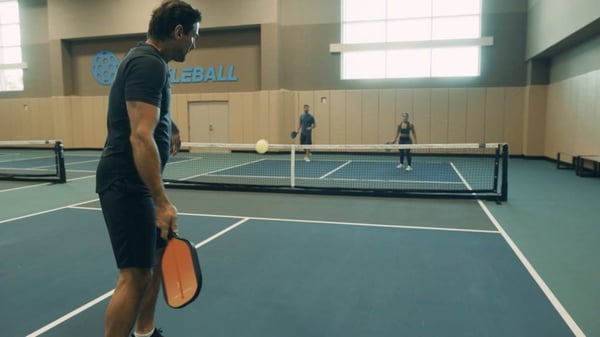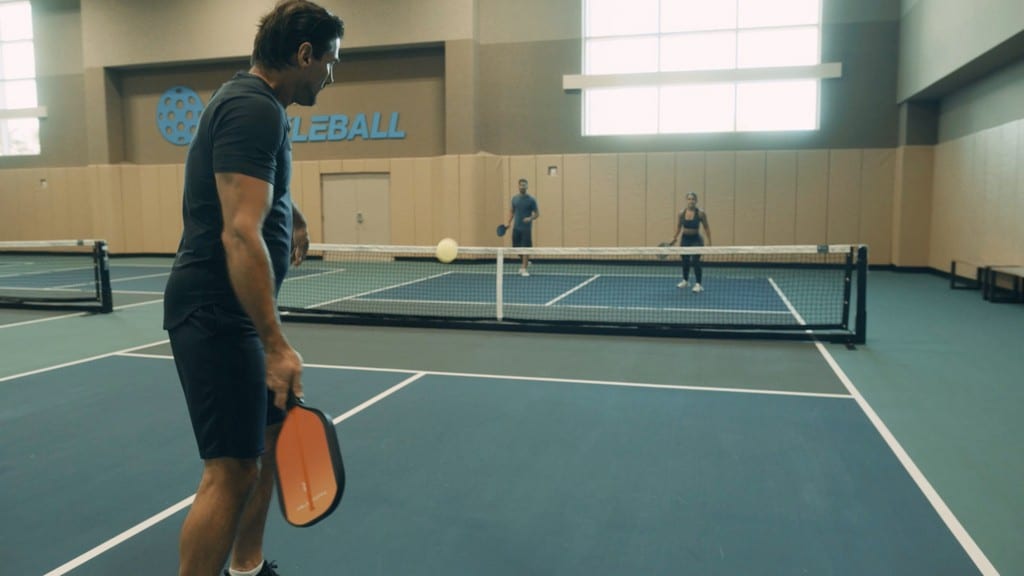 As part of their extensive fitness center, Life Time offers members the chance to practice their pickleball game at one of their multiple indoor and outdoor courts. The facility offers an "Intro to Pickleball" course for beginners, mixers, regular open play sessions, singles and doubles leagues, weekly drop-in skills clinics, private lessons, and multiple annual tournaments for players of various skill levels.
Genesis Health Clubs – Westroads
Members of this well-known Omaha fitness outlet can enjoy one of Genesis' eight indoor hard courts for pickleball play. While the Genesis facility offers plenty of amenities to its members and portable nets are available, you'll have to create your own lines if you want to play.
Pickleball Leagues and Groups
Pickleball Omaha
The Pickleball Omaha club welcomes players of all skill levels, from newer competitors to tournament-level players. They frequently offer hosted events, tournaments, and friendly games.
Parks and Recreation Programs
In addition, to open play on their courts, the Omaha City Parks system also operates five different pickleball leagues that range in skill level. Depending on the league you're interested in, you can enjoy competitive play at either Mockingbird Hills Community Center or Camelot Community Center.
With so many great options available for players of any skill level, there's no excuse for you not to get out there and start having a blast on the pickleball court!