Your Guide the Wildlife Safari Park near Omaha
I have helped many families moving to Omaha. Contact me if you have any questions about the Omaha area or need help buying a home.
If you love the idea of experiencing adventure from the comfort of your own car, you need to check out the Lee G. Simmons Conservation Park and Wildlife Safari!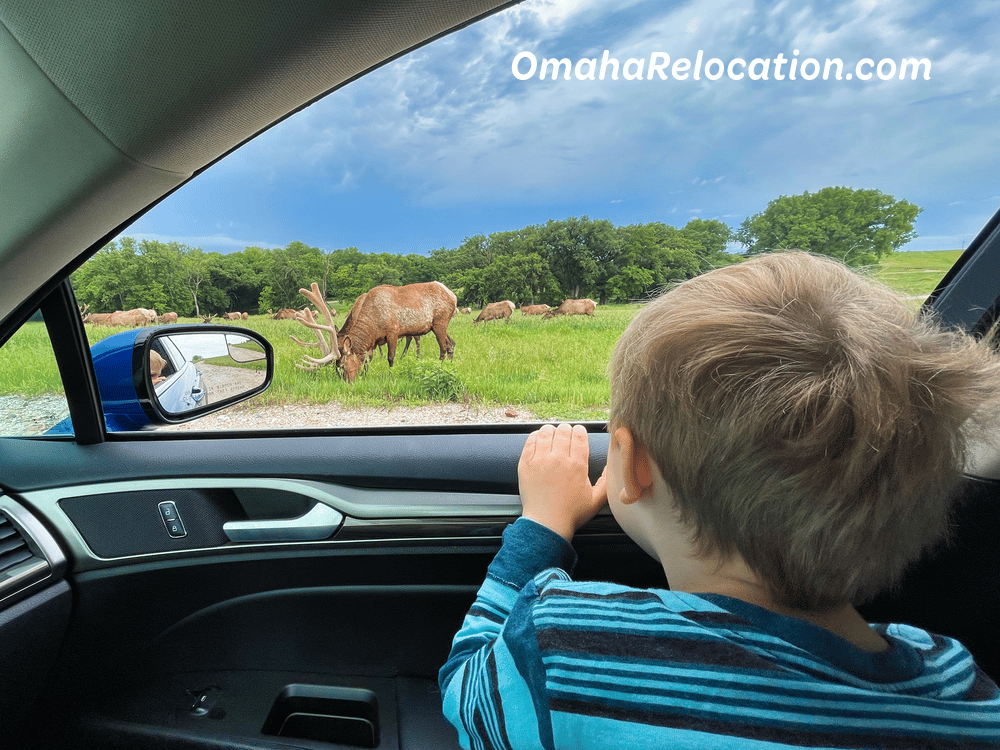 Located half an hour southwest of Omaha, in Ashland, NE, the Simmons Wildlife Safari Park is a local treasure that lets you get up close and personal with a variety of animals.
The park spans four miles of drive-through safari terrain, features two miles of hiking trails with multiple overlooks, and gives you the chance to see North American wildlife such as cranes, wolves, elk, and even bears!
Your Guide to the Wildlife Safari Park Near Omaha
A Brief Overview of the Simmons Conservation Park and Wildlife Safari
What's the Big Deal About the Safari Park?
The Simmons Wildlife Safari Park is affiliated with Omaha's Henry Doorly Zoo. Similar to its downtown Omaha ally, the Wildlife Safari Park is renowned nationwide. In fact, it recently came in first place for the 2022 USA Today 10Best Readers' Choice for Best Safari Park!
Needless to say, Wildlife Safari Park is an entertaining adventure. Not only that, but it also supports animal conservation. The park is a member of the Association of Zoos and Aquariums (AZA). The AZA is a nonprofit organization dedicated to accrediting zoos and aquariums that promote nature conservation, animal education, and patron recreation.
What to Bring to the Park
Feel free to bring your own food and water to the Wildlife Safari Park. You may decide to indulge in ice cream and a bagged snack at the visitor's center or at a park vending machine. Still, it won't hurt to have something on hand to chew or sip on.
Even though you'll spend most of the time inside of your vehicle, you should still bring sunscreen and bug spray, especially if you decide to go for a long hike.
Finally, bring a smartphone or camera for pictures, and keep your hands on the map they give you when you enter the park!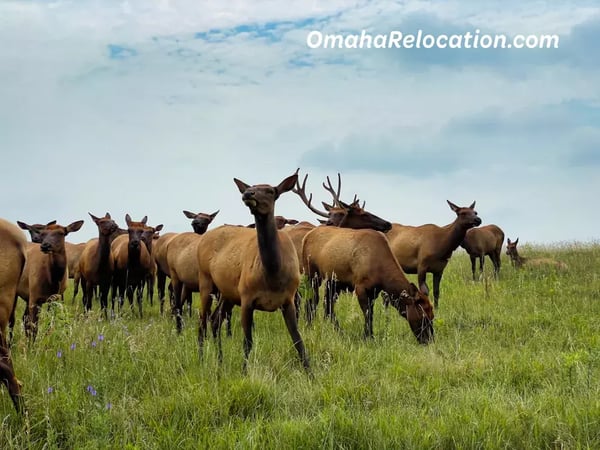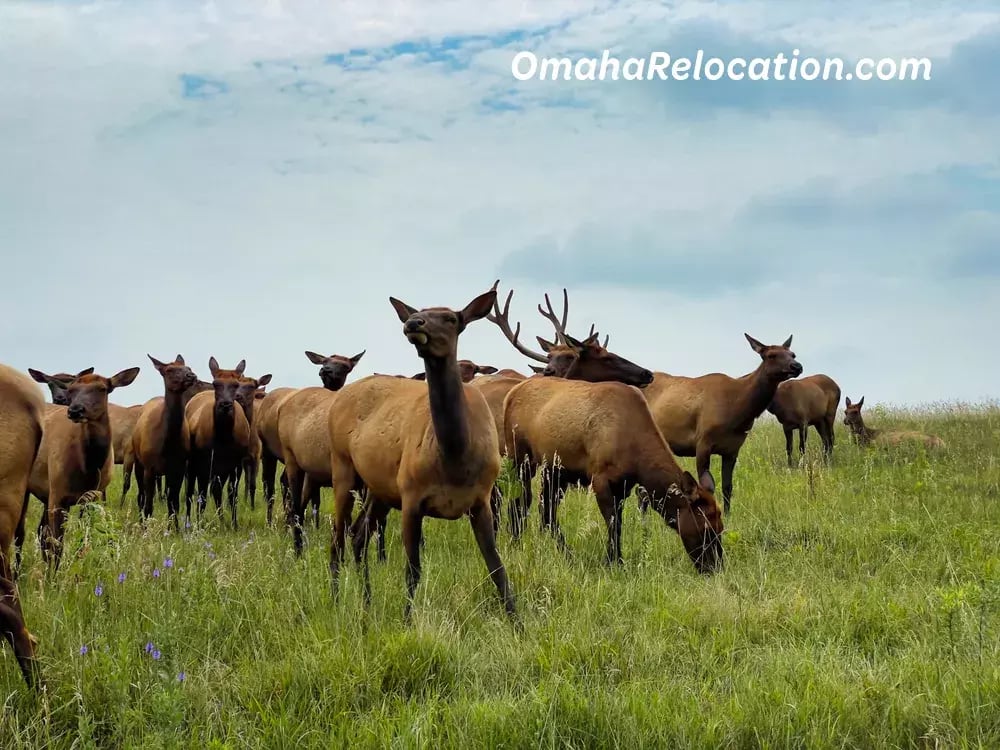 Getting to the Wildlife Safari Park
Directions to the Wildlife Safari Park
The Wildlife Safari Park is located directly off of Interstate 80 West near the Platte River. The park's official street address is 16406 292nd St, Ashland, NE 68003.
Your GPS will tell you to take I-80 W to Exit 426. This exit leads you to Nebraska Highway 66, which you will travel on southbound for about half a mile. A left turn onto northbound 292nd Street puts you within eyesight of the Wildlife Safari Park's main office.
Other Nearby Attractions
As this article will demonstrate, the Simmons Wildlife Safari Park offers more than enough entertainment for a day out with the family. However, if you're visiting the Ashland or the greater Omaha area and would like to see more attractions, there are things to see!
A couple Ashland area favorites include the Strategic Air Command and Aerospace Museum (aka the SAC Museum) or the Eugene T. Mahoney State Park. For more ideas of fun stuff to do with the family, check out my article "Things to Do in Omaha with Kids."
Hours for the Wildlife Safari Park
The Wildlife Safari Park is not open year-round. It can be enjoyed between the months of late March/early April and October every year. The park's current hours are 9am-5pm. Check out the sections below to learn the schedule for specific events and experiences.
Pricing and Membership
Individual Ticket Pricing for the Park
If you aren't interested in purchasing an annual membership and just want tickets for a single day at the Wildlife Safari Park, the main rates are listed below:
$12.00 for Adults (ages 12 and up)
$10.00 for Children (ages 3-11)
$11.00 for Seniors (ages 65 and up)
Free Admission for Children below 2 years of age
Apart from the baseline prices, the Omaha area Wildlife Safari Park also offers discounts for military servicemembers and their families:
$11.00 Military Adult (12 and over)
$9.00 Military Child (3-11)
$10.00 Military Senior (65 and over)
Group Admission Rates for the Simmons Wildlife Safari Park
If your child has a class, scouting troop, or daycare that is excited to explore this Omaha area safari adventure, the Simmons Park offers special pricing for schools and other large groups.
The school rate for field trips is available when the school or other educational facility is willing to cover its students' price of admission. The cost for individual students, whether in pre-kindergarten, college, or anywhere in between, is $4 per person. On top of that, school chaperones get to enter for free!
Field trips can be upgraded with bus tours and student workshops. More information on those specific programs can be found here.
The one caveat with the park's school pricing is that a School Group Registration form needs to be submitted to the Simmons Wildlife Safari Park well before the day of the visit. The online registration form can be found at this link.
If you're not with a school but still want to take advantage of a great group rate, the Wildlife Safari Park offers discounts for registered groups of at least 30 people. If you make a reservation by phone (402-738-6916) or email ([email protected]) at least two weeks before your visit, each group member can receive admission at the following rates:
$8.00 Adults (12 and above)
$6.00 Children (3-11)
$7.00 Seniors (65 and above)
You can also submit an online reservation request to the park's Marketing Department at this webpage.
Wildlife Safari Membership Pricing
Similar to Omaha's Henry Doorly Zoo, the Wildlife Safari Park offers annual membership rates for families. A single household membership provides admission for two adults and up to six children or grandchildren (age 20 and below).
You can currently purchase these yearlong memberships for $65. The Wildlife Safari Park does not currently offer the option of buying standalone memberships online. So, you'll have to call their Guest Services Department (402-944-WILD) or speak with the main office while at the park.
If you and your family are interested in exploring both Omaha's Henry Doorly Zoo and the Wildlife Safari Park, you can purchase a Safari Park membership as an add-on to a zoo membership pass by contacting the zoo's Guest Services Department (402-733-8401).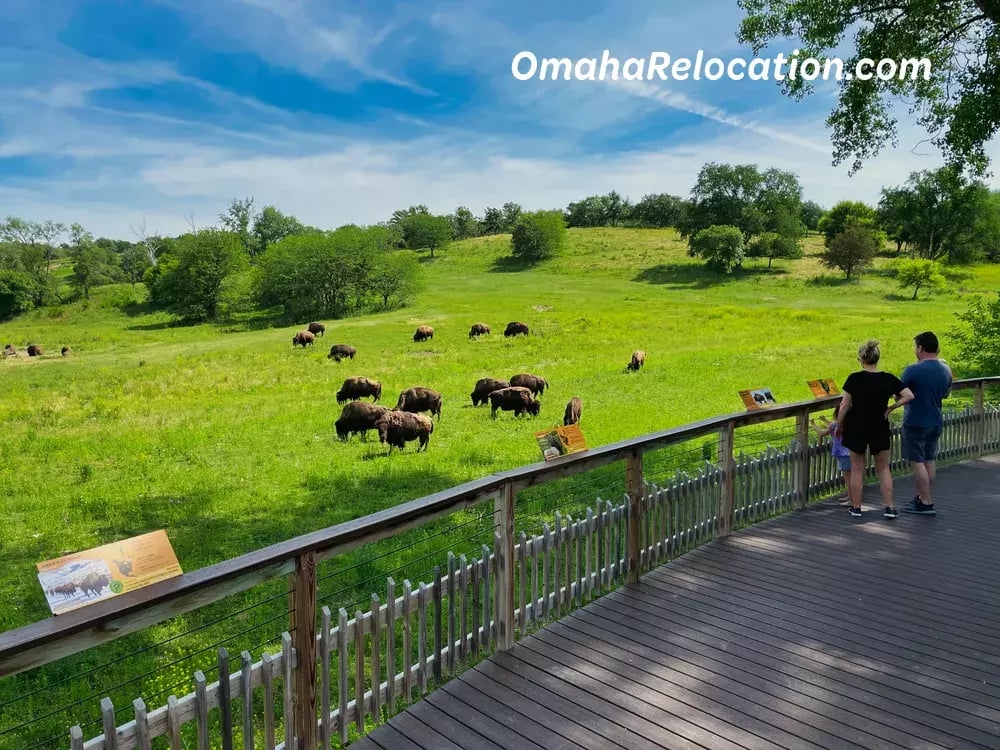 Exploring the Wildlife Safari Park
With 440 acres of land and four miles of drive-through road, the Omaha area Wildlife Safari Park offers a lot to see and do! The property has different habitats, such as water features, wooded areas, and open grassland. This handy official map summarizes the park and offers the major highlights. Check out the details below for more in-depth information:
Prairie Dog Town
The Simmons Wildlife Safari Park aims to educate and entertain even before you've started the safari! Be sure to check out the Prairie Dog Town habitat just outside of the visitor's center.
You can view these classic grassland critters burrowing and calling to each other inside their underground colony. So cool!
Elk Meadows
After leaving the visitor's center and peeking at the prairie dogs, you can follow the drive-through trail through the park. The starting exhibit is the Elk Meadows.
These American elk are an impressive species that begin growing their antlers in the spring. These antlers can grow up to five feet across and the same distance from front to back. In addition, these antlers, which are shed every year, are covered in a fuzzy layer called "velvet." Wow!
There are three designated viewing spots where you can pull over to snap a picture or admire the animals. If you don't get a print-worthy picture, don't worry! You can try again when you come back through.
The Elk Meadows exhibit stretches across both the coming and going sides of the drive-through trail. So, it's both the first and last exhibit at the park.
Deer Woods
The trail leads you next to Deer Woods. There, white-tailed deer enjoy a wooded ravine and nearly 10 acres of grassland all to themselves.
While these small deer have exceptional camouflage, they can be spotted by eagle-eyed visitors, especially when the deer move to the bottom of their ravine for some shade against the heat of summer.
Pelican Wetlands
You'll then pass through Deer Woods and cross over Pawnee Creek to find Pelican Wetlands. This exhibit houses waterfowl like the American white pelican, the blue- and green-winged teals, herons, ducks, and the American coot (better known as the mud hen).
These birds are far from alone in the Pelican Wetlands. Reptiles and amphibians such as turtles and frogs are also happy to call the exhibit home. You can spot these various critters from a designated viewing spot located near Pelican Point.
Wildlife Education Center
The next section of the safari park offers a break in the action. The Wildlife Education Center has plenty of parking for you and your family. There, you can take a breather with some amenities, including a gift shop, restrooms, and even a vending machine.
Once you've caught your breath, you can walk through the Education Center or check out the nearby owl aviary. If you want to explore on foot, you can embark on the Pawnee Creek Trailhead. Check out the "Hiking" sections below to find out more!
Finally, after you've satisfied your curiosity with everything that the Wildlife Education Center offers, you can hop back in your car and continue the safari!
Crane Meadow
Next up is Crane Meadow. This 12-acre exhibit features sandhill cranes, ducks, geese, and even trumpeter swans. These birds make their marshy home in an area that is dedicated to replicating western Nebraska's sandhills.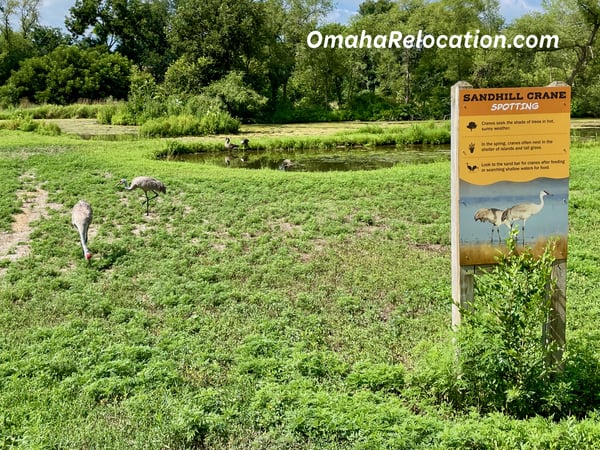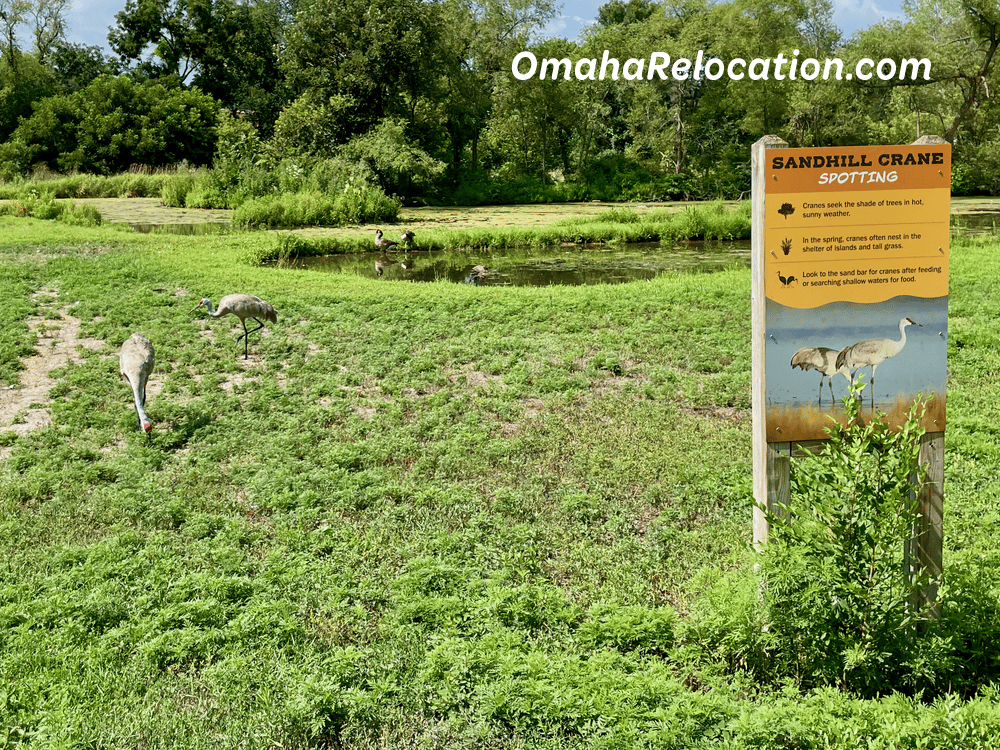 All of these lovely birds can be viewed from the Crane Meadow Viewing Tower, which puts you nearly three stories up above the water to give you a true bird's-eye view!
Bison Plains
As you continue down the trail, you'll come upon the 40-acre Bison Plans exhibit. Here a herd of massive American bison roam the land. Unrelated to the true buffalo, American bison are a truly unique species. The bison located at the Wildlife Safari Park stand up to six-and-a-half feet tall at the shoulder and can move their one-ton bodyweight up to 40 miles per hour!
Although they may sound intimidating, the bison are friendly when treated with kindness. They're often quite comfortable walking right up to your vehicle! You may even catch the herd cutting across the road in front of your car! It's an amazing sight.
The beginning of the Bison Plains section offers a lookout point called Bison Overlook. At this wheelchair-accessible platform, you can park your vehicle and admire a true-to-life bronze sculpture of a mother bison with a calf.
Meanwhile, kids can play and find learning opportunities in the new nature playground area. There is also a 600-square-foot viewing deck with an overlook of the majestic herd's habitat. The habitat itself is split evenly between flat, open grasslands and a more wooded area for the bison to enjoy.
Hiking to Wolf Canyon
Most of the Simmons Wildlife Park is a drive-through safari, but there's plenty of fun to be had if you want to stretch your legs! The Wildlife Safari Park offers two miles of hiking trails, with destinations like Wolf Canyon and Frog Lake.
Located about a quarter-mile hike away from the road, Wolf Canyon gives you an up-close look at wolves, bears, and other exciting animals.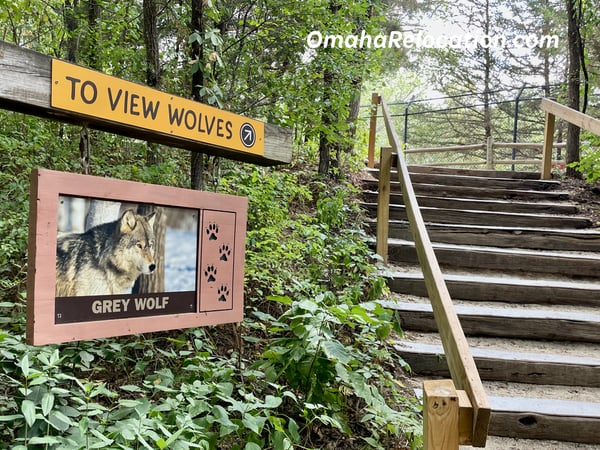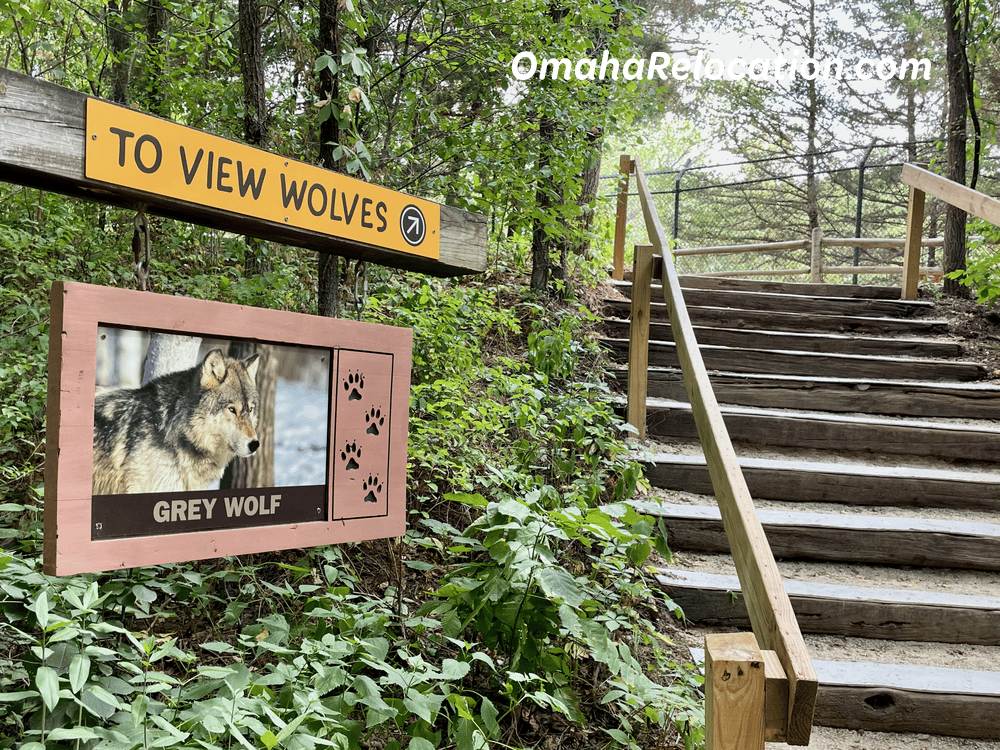 Hikers can look down at a pair of black bears named Cinnabuns and Licorice, whose cinnamon and black coats, respectively, match their adorable names. Like any black bear, these two are strong climbers, fast on their feet, and hungry for everything from fish to honey to nuts!
Of course, the area wouldn't be Wolf Canyon without canines, so a pack of gray wolves prowls behind a fenced-in area. These fearsome hunters receive regular training and twice-daily feeding. If they're extra well-behaved, these wolves might also earn a trout or hard-boiled egg! (Their favorite treats.)
Wolf Canyon offers a children's area called the Hands-On Corral. Here, families can enjoy a petting zoo with some farm animals, have lunch at a picnic table, or admire a classic 1956 John Deere Tractor. If you come in the late summer or early fall, you might even find a shed antler from one of the mighty elks!
Hiking to the Eagle Aviary
If you continue trekking on the hiking path, you'll come across the walk-in Eagle Aviary, which boasts both the iconic bald eagle and the whooping crane.
The bald eagle, which is a type of raptor, has been featured on the Great Seal of the United States since 1782. Inside the aviary, the eagle and its fellow animals enjoy a half-acre natural pond setting.
Other Hiking Sights
As for the trail itself, birdwatchers, photographers, and recreational hikers can all enjoy the sights along the way, including a gorgeous view of the Platte River. Keep your eyes open for quarries with fossilized rocks, too!
Posted trail maps let guests know the difficulty level for the various sections of trail. So, you don't have to worry about biting off more than you can chew. There are even trails that are moderate enough to take your small kids along!
Most of the trails at the Wildlife Safari Park start at the Hands-On Corral. Beginning hikers should use the Wolf Canyon Foot Trail. Anyone looking for more of a challenge should try the Frog Lake Trail.
Special Events and Activities
As if these varied exhibits weren't exciting enough, the Simmons Wildlife Safari Park will host special events and exclusive experiences for guests.
Picnics
Between April and October, you can make a 45-minute picnic reservation for between 40-240 people of all ages in either the late morning or early to mid-afternoon. This reservation costs $25 for each person who is at least three years old, while prices for kids two years of age and younger are $15.
On top of an admission to the park, each picnic guest also receives a catered meal (hamburger or hot dog, picnic-style side dish, chips, condiments, mini cones, and a summertime drink), with the option to upgrade to pulled pork, chicken, and/or soda pop for a few dollars more.
Most excitingly, for a flat fee of $100 per half hour, an Animal Ambassador will bring in an animal for an up-close encounter with the picnic group!
Cheetah and Tiger Backstage Safari Experiences
Viewing such a great variety of animals is awesome enough, but the Omaha area Wildlife Safari Park also offers behind-the-scenes experiences. These Backstage Experiences combine education, walking, and animal encounters for any guest at least 8 years old.
On alternating Saturday mornings between 10:30-11:30 (be sure to be at least 15 minutes early!), guests can pay $65 per person ($50 for members) to see both the park and a big cat exhibit. You and your guests can choose between the Cheetah Conservation Breeding Facility or the Tiger Conservation Breeding Facility.
Each of these facilities showcase the park's focus on animal care and nature conservation. The Cheetah Facility houses all but two of the Omaha Henry Doorly Zoo's cheetah population–20 cats in all! Here, you can learn about the zoo's participation in the plan to prevent the extinction of cheetahs. Guests can hear about the similar goals at the Tiger Facility, which can hold up to six adult tigers at a time.
Guided Bus Tours
Large groups may wish to explore the Simmons Wildlife Safari Park altogether at the same pace and in the same vehicle. Fortunately, the park offers both Step-on and Premium Safari Bus Tours. For either $125 per bus (Step-on) or $200 per bus (Premium), visitors can enjoy either a one- or two-hour personalized bus tour throughout the Wildlife Safari Park.
While both bus tours offer the chance to snap some solid animal pictures, only the Premium tour gives you the chance to hike with a guide onto the Pawnee Trail. This way, you won't miss out on the black bears, gray wolves, or other critters located off of the hiking trail.
Whichever bus you choose, both tour options are offered at 10am and 1pm on Mondays, Tuesdays, and Thursdays.
Animal Experiences
Between Memorial Day and Labor Day, the Simmons Wildlife Safari Park conducts daily 2pm Animal Experiences near the bear habitat. There, an Animal Ambassador will speak one-on-one with guests about animal care. And, they'll let you meet the animal of course!
Other animal feeding times at the park may vary. However, aiming for either 1:30pm or 3:00 pm should give you the best odds of catching the Animal Ambassadors ‌feeding the impressive animals.
Day Camps and Educational Programs
The Omaha area Wildlife Safari Park hosts a variety of changing classes, camps, and other opportunities. Currently, the park has bird and stargazing photography classes scheduled for July and August.
One Saturday each month from 10:30-11:30am, 3- and 4-year-olds can participate in the Early Learning Kids Klub (E.L.K. Klub). For $15 per child ($13 for members), each participant (along with an adult chaperone) gets a hands-on Nebraska wildlife education!
The scheduled dates for the E.L.K. Klub are:
April 2nd
May 7th
June 11th
July 9th
August 6th
September 3rd
October 1st
From time to time, pop-up classes will take place at the Wildlife Education Center. These $2, all-ages classes are advertised the day of on bulletin boards ‌throughout the park. So, keep an eye out! They host fun crafts and outdoorsy workshops that are a total blast if you can catch them.
If participating in the park's "Campouts" (see below), you'll get even more fun activities from their impressive instructors. You can expect activities like walking in a creek, exploring at night, and watching animal footage from a trail camera. Call the park's main office at 402-944-WILD (9453) to learn more.
Campouts
The safari park fun doesn't have to stop just because the lights are out!
Families, car campers, small groups, school groups, church groups, scout troops, and other large groups can sign up to camp out at the Simmons Wildlife Safari Park! The park offers three location options for campers.
The main campsite houses five tents of various sizes, plus a campfire pit for roasting s'mores or hot dogs. The Wildlife Education Center doubles as overnight lodging if any guest desires. This facility can also screen movies and even has space for a campfire. Lastly, the Car Camping program lets your family sleep in their cars or tent in the parking lot.
Whichever camping location you pick, the $45-per-person cost covers the overnight stay, next-day admission into the safari park, a guided hike in the evening, a campfire s'mores session, and opportunities to learn about animals and nature conservation.
The Wildlife Safari Park is another great way to experience the wonders of nature right here in the Omaha area!
I hope this article has piqued your interest in the adventurous opportunities ‌offered by the Wildlife Safari Park. The next time that you're visiting Omaha or Lincoln, your family can pop over to Ashland to experience gorgeous animal sights, fun hiking, and an unforgettable experience! I'll see you there!