Omaha's Henry Doorly Zoo and Aquarium – A Local's Guide 2023
I have helped many families moving to Omaha. Contact me if you have any questions about the Omaha area or need help buying a home.
The Omaha Henry Doorly Zoo and Aquarium is a world class attraction that teleports visitors to wildlife habitats from all over the world. Whether you want to explore colorful South American jungles, swampy Australian wetlands, or sunny African deserts—the Henry Doorly Zoo will take you there!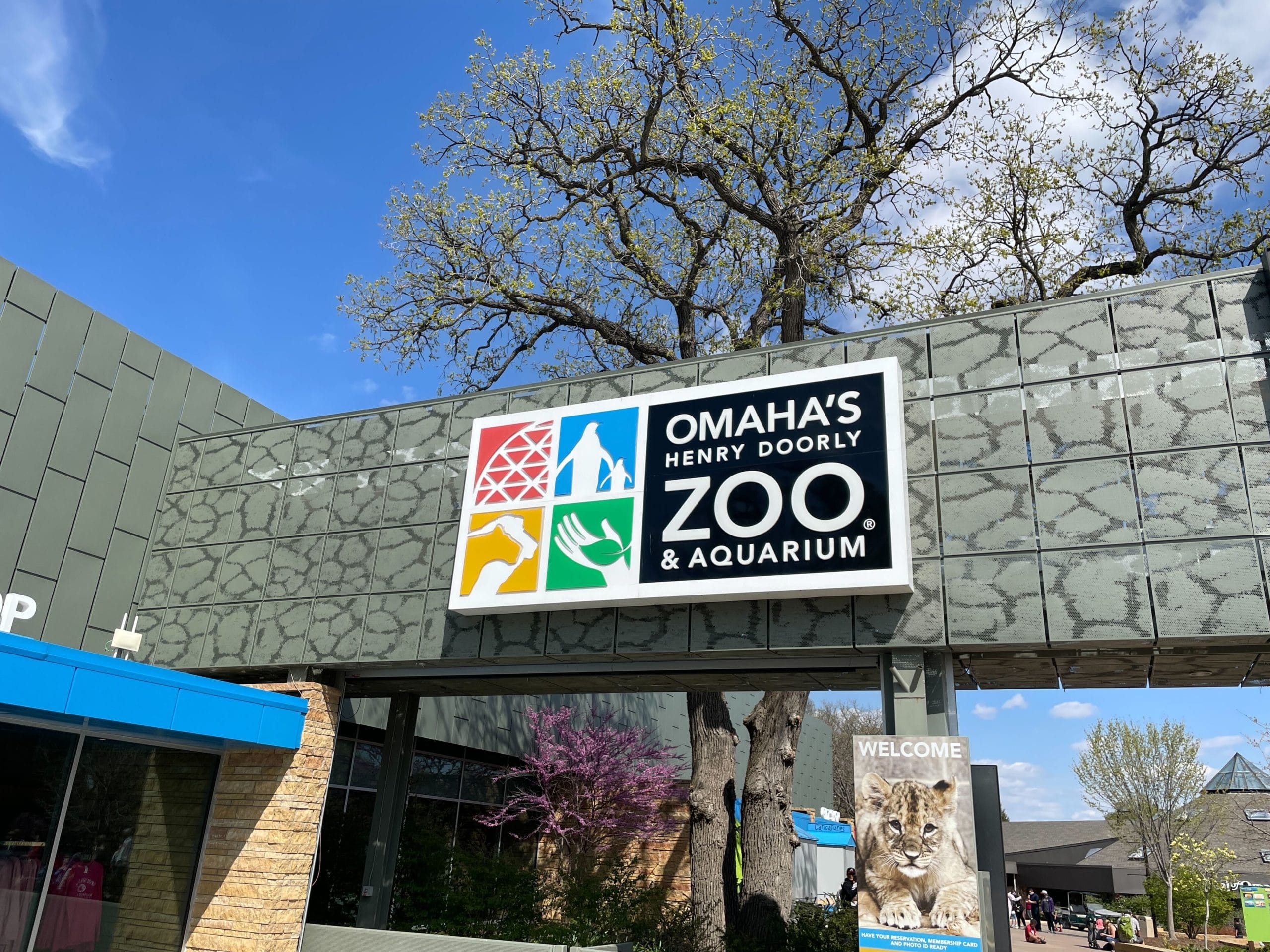 Omaha's Henry Doorly Zoo and Aquarium is one of the best zoos in the world. It has the worlds largest indoor rain forest and largest indoor desert. A visit to Omaha wouldn't be complete without a visit to the zoo.
Visiting the zoo for the first time can be a little intimidating. Since I have a 4-year-old, I've been here dozens of times over the past few years and I've learned a thing or two.
In this guide, I'll share with you tips on navigating the zoo, ways to save money, and exhibits you won't want to miss.
Visiting Omaha's Henry Doorly Zoo in 2023
COVID guidelines
As of this writing, Omaha's Henry Doorly Zoo does not have any COVID-related restrictions, such as a vaccine requirement or mask mandate. It is currently up to you whether or not to wear masks.
Specific items such as 3D glasses for showings at the Lozier IMAX Theater are individually sanitized between uses. Additionally, the Henry Doorly Zoo staff does a great job keeping the facility clean and tidy!
Items to Bring
One of the great things about the zoo is that you can bring your own food, which, really cuts down on the cost of the trip. So, grab a bag or cooler and pack it with plenty of snacks and your lunch for the day. It's an easy way to save a few bucks and avoid long lines at concessions stands.
The zoo even has several shaded locations throughout the complex that are perfect for a family picnic. Or, if you prefer, there are plenty of covered dining areas to sit at a table, grab a bite, and rest for a minute.
The zoo staff does ask that any outside beverages be non-alcoholic. Additionally, no glass containers are allowed.
Beyond food, what else should you bring? For any family with small children, strollers are a must! Don't forget this is a massive zoo, so there's a lot of walking required. Every major exhibit except for the Grewcock Butterfly and Insect Pavilion is stroller-friendly. And, there are stroller rentals available at the main entrance if you don't want to bring your own.
Additionally, if you are traveling to the zoo during the summer, warm-weather gear like sunscreen, hats, sunglasses, and water bottles are a must. In fact, you always should bring water bottles no matter the time of the year!
And don't forget comfortable shoes. You will be walking a lot.
A Brief History of Omaha's Henry Doorly Zoo
The first version of Omaha's Henry Doorly Zoo originally opened in 1894 under the name, "Riverview Park Zoo." By 1898, the zoo had 120 animals. Half a century later, in 1952, the Omaha Zoological Society was founded with the goal to improve the quality of the zoo.
This goal of making a world class zoo took shape thanks to a gift from Margaret Hitchcock Doorly, who donated three-quarters of a million dollars. She did this in memory of her late husband, Henry Doorly of the Omaha World-Herald, in 1963.
This donation, among other things, paid for over two miles of railroad track for transit throughout the zoo. This track is still used today for locomotive tours that circle the zoo. How cool?
Over fifty years later, in 2014, Omaha's Henry Doorly Zoo was named the "world's best zoo" by TripAdvisor. They awarded this title by studying millions of zoo reviews around the world. It was clear by the voice of the people that the Henry Doorly Zoo could not be beat!
In addition to offering top-notch, family-friendly wildlife entertainment, Omaha's Henry Doorly Zoo is also a leader in nature conservation. They're truly a leader in zoology, biology, and sustainability among experts worldwide!
The Location of Omaha's Henry Doorly Zoo
Getting to Omaha's Henry Doorly Zoo
The zoo's official address is 3701 S. 10th Street, Omaha, NE 68107. Located in the downtown section of Omaha, right off of Interstate 80 and just west of the Missouri River, Omaha's Henry Doorly Zoo can easily be reached by both in-town and out-of-state travelers.
Just head south off of Exit 454 for 13th St on I-80, then turn east onto either Bob Gibson Boulevard or Bert Murphy Avenue. Both will take you directly to the free parking areas on zoo property.
Since parts of I-80 are often under construction, give yourself extra time to travel to the zoo. This is a full-day excursion, so you won't want to miss out on a minute of zoo fun sitting in traffic or taking a lengthy detour.
Things to Do Near Omaha's Henry Doorly Zoo
While the zoo has certainly more than enough excitement to occupy an entire day's worth of activity (if not more!), you may be staying overnight in the area and have the urge to explore! Luckily, there are dozens of things to do in the area surrounding the Omaha Henry Doorly Zoo.
Located about 5-10 minutes northeast of the zoo, the Lauritzen Gardens feature fabulous botanical displays. They also host events like concert series, indoor Shakespeare productions, and recreational classes and programs for both kids and adults.
At the south end of the Lauritzen Gardens complex, you can enter Kenefick Park and experience the nostalgic history of Union Pacific locomotives. Two of the trains are even preserved in a pavilion inside the park and just north of the interstate.
Another historic sight is the Durham Museum that's housed inside the historic Union Station. It's located about 10 minutes north of Omaha's Henry Doorly Zoo. The Durham Museum features traveling exhibits, as well as permanent features like railcars, model trains, and the multimillion-dollar Byron Reed Collection of coins, books, and currency.
Just west of the zoo and south of the interstate, you and your family can walk a trail, have a picnic on the green, go golfing, or romp around the playground at Spring Lake Park.
Finally, about 10 minutes southwest of the zoo, you can explore El Museo Latino. This museum celebrates the local history and culture of Omaha's well-established Latin American population. El Museo Latino even offers classes in visual and performing arts for both kids and adults. As you can see, there is plenty to do in Omaha!
Lodging Near Omaha's Henry Doorly Zoo
As a fairly large metropolis, Omaha offers dozens of hotels around its downtown section, which encompasses the Henry Doorly Zoo. The official Visit Omaha website has a handy guide for hotels in the Omaha area.
Some standout recommendations for lodging include the Omaha Marriott Downtown at the Capitol District, the Peregrine Omaha Downtown, the Hotel Deco, and the Magnolia Hotel. Budget-friendly accommodations include the Homewood Suites by Hilton, the Holiday Inn Omaha Downtown (this one has a waterpark), and the Hilton Garden Inn.
Parking at Omaha's Henry Doorly Zoo
Parking at the Henry Doorly Zoo is a cinch! The zoo offers multiple sizeable parking lots with free parking immediately as you enter the zoo eastbound from South 13th Street. The largest of these lots features a preserved patch of land from the former Omaha Rosenblatt Stadium in the center. So, if you have a baseball lover, bring a bat and ball for a pre-zoo family ball game!
Whichever of the lots you choose to park in, it is then only a brief, five-minute walk to either of the zoo's two entrances. These entrances are on the westernmost edge of the zoo itself.
The main entrance is located at the south end of the zoo complex, nearer to Bert Murphy Avenue. The secondary entrance, meanwhile, is located closer to the north end of the zoo, nearer to Bob Gibson Boulevard.
When is Omaha's Henry Doorly Zoo Open?
Hours of Operation
The Henry Doorly Zoo thrives during the summer. Once you have a ticket or membership (see section below), you can enter the zoo complex any time between 9am and 5pm between April and October. If you're still inside the zoo at five in the afternoon, no worries! Every building except the Lied Jungle will stay open until 6pm.
The zoo shortens its hours in the offseason, from November to March. During those colder months, the zoo complex is only open between 10am and 4pm. Again, most of the buildings remaining open for an hour afterward.
Best Seasons to Visit the Zoo
Summer is the biggest time of year for Omaha's Henry Doorly Zoo! Hundreds of people flock to the zoo every day during this busy season, and every exhibit is open unless under construction.
If you're worried about Nebraska's hot summers, don't be! There are indoor exhibits all around the zoo, so you can always find air-conditioning if it gets too warm. (Many would say that the indoor exhibits are the best parts anyhow!) Additionally, there are misters set up on long walkways to keep everyone cool.
While winter may seem like a less ideal time to enjoy the zoo, it does offer a few benefits. There are even plenty of locals that prefer it! In this season, there are smaller crowds and higher levels of activity from some animals. Obviously, a few of the outdoor exhibits are closed at this time of year, but there is still plenty to enjoy!
Pricing and Membership
Admission to the Henry Doorly Zoo will cost more than a trip to a roadside attraction. But, most people agree that the unique sights and unforgettable experiences make the ticket price well worth it.
Tickets
You can buy tickets to the zoo up to eight days ahead of time. Tickets can be purchased online directly from the Henry Doorly Zoo website. Or, you can buy tickets at the zoo entrance.
Here are the ticket prices for May to December:
Adults (ages 12 and over): $29.95
Children (ages 3-11): $22.95
Seniors (65 and over): $28.95
Children (2 and under): FREE
Military Adult (12 and over): $28.95
Military Child (ages 3-11): $21.95
Entrance costs in March, April, October, and November are $5 less than the prices listed above. And, during the really cold months from December to February prices are $6-$7 cheaper.
It's tough to see the Omaha Henry Doorly Zoo and Aquarium in one day. So, if you're planning to come an extra day, grab your ticket for day two when you buy admission for your first visit. You'll get your second consecutive day at a reduced rate between May 31 and September 6! These are those prices:
Adults (ages 12 and over): $13.95
Children (ages 3-11): $10.45
Seniors (65 and over): $13.45
Children (2 and under): FREE
Military Adult (12 and over): $12.95
Military Child (ages 3-11): $9.45
Reciprocal Zoo Admissions
If you're visiting Omaha's Henry Doorly Zoo from out of town and have a membership at a different zoo or aquarium, you might be eligible for a reduced ticket rate. Be sure to check!
Association of Zoos & Aquariums Reciprocity Program is an organization of partnered zoos that let their members share benefits including free or reduced ticket prices. This chart lists the members of the AZA and what your rate will be at the Henry Doorly Zoo! Who knew one membership could give you so much? So cool!
Memberships
Speaking of memberships, you can sign up for various memberships directly on the Henry Doorly Zoo website.
The zoo offers annual memberships for individual patrons, dual members (such as married couples), entire households (two adults and up to six children under the age of 21), grandparents (two adults and up to six children under the age of 21), and active and retired military service members (including couples with children).
You can also find add-on options for nannies and babysitters, plus-ones, and plus-twos. Additionally, you can grab a pass to the Wildlife Safari Park in Ashland, NE (about 30 minutes from the zoo) for a small extra fee. The Safari Park is open from April to October.
Membership gives you more than unlimited zoo visits. You can enter the Lozier Theater for free, gain access to the Member Day event, and receive discounts on rides, concessions, and events. And, don't forget about the AZA Reciprocity Program for discount admission to other zoos. Really, this inexpensive zoo membership goes a long way!
Forms of Payment
With the exception of personal checks, Omaha's Henry Doorly Zoo accepts all common forms of payment. This includes cash, major credit cards, Apple Pay, Samsung Pay, cashier and traveler's checks, business-type checks, and even money orders.
The zoo does accept personal checks for membership purchases at the front entrance. Once inside the zoo, all the above forms of payment, except for personal checks and money orders, can be used for concessions, attractions, and other additional purchases.
Major Exhibits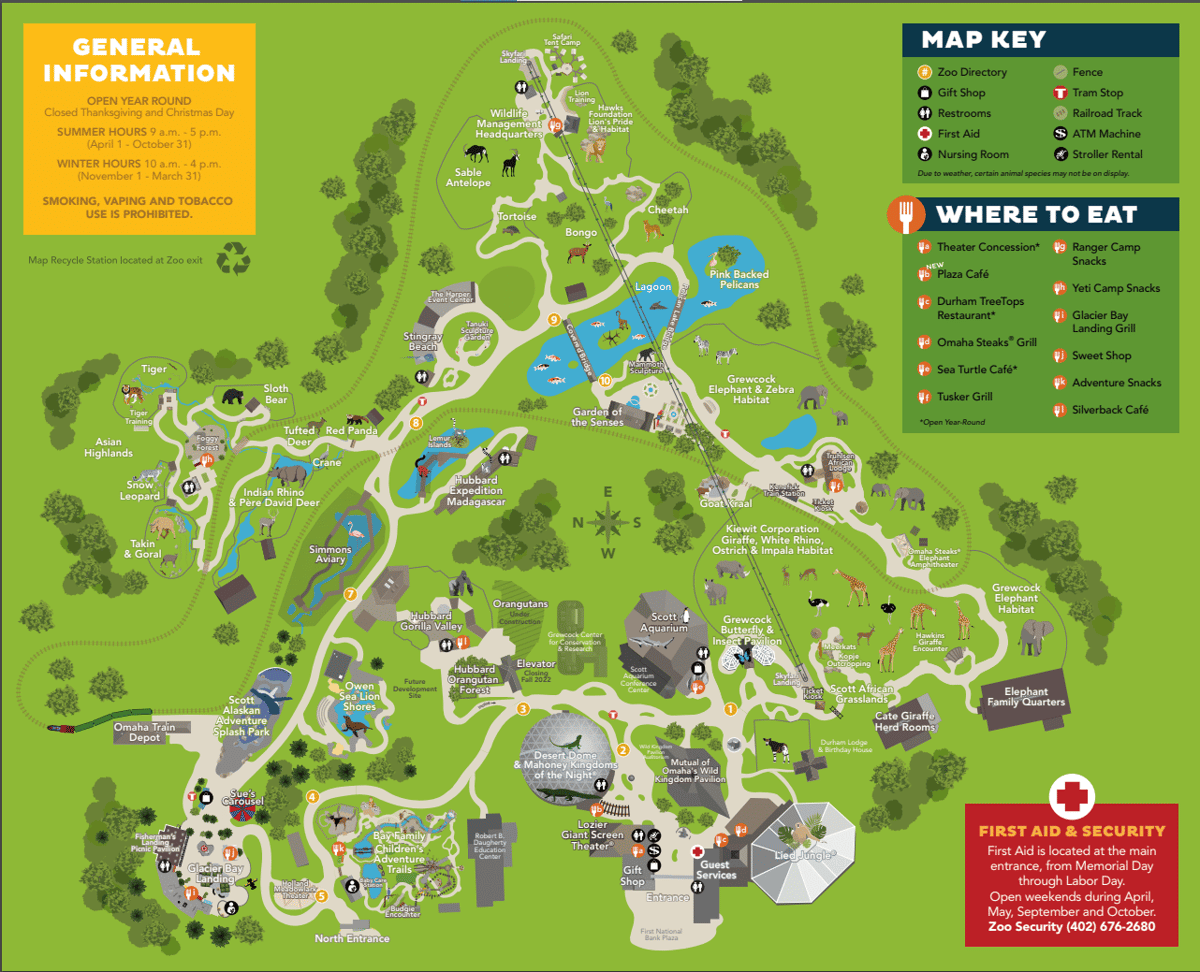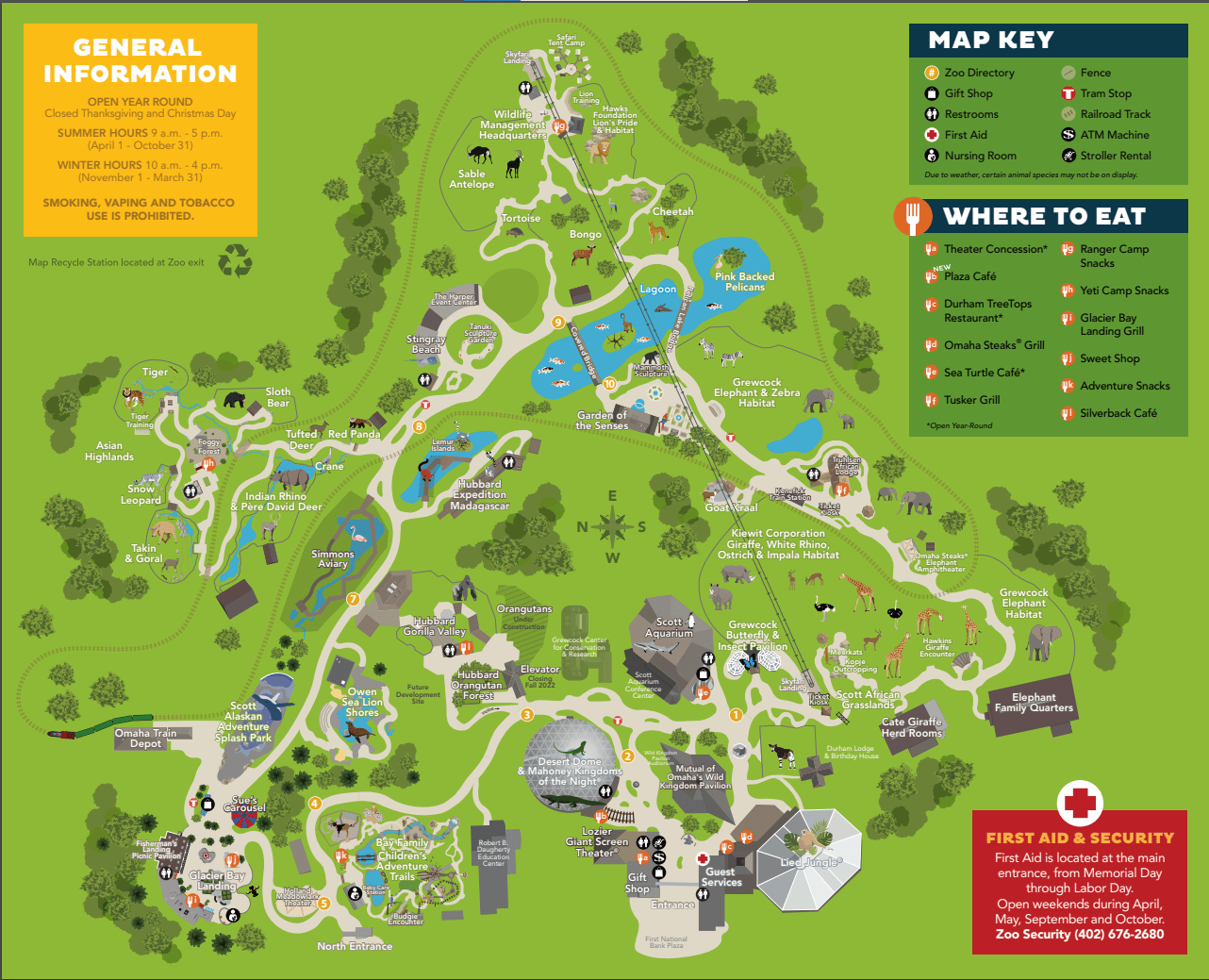 As this official map shows, Omaha's Henry Doorly Zoo offers an extensive array of exciting animal exhibits, wild creature features, and fun, interactive attractions.
Each of the major exhibits we described below:
Just inside the main entrance lies the Lied Jungle, a 1.5-acre rainforest-based exhibit inside of a nearly six-story building. The Lied Jungle features a multilevel trail, a 50-foot-tall waterfall, and a rope bridge.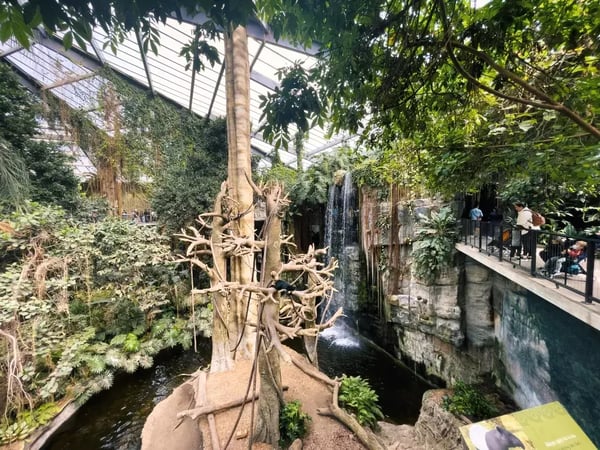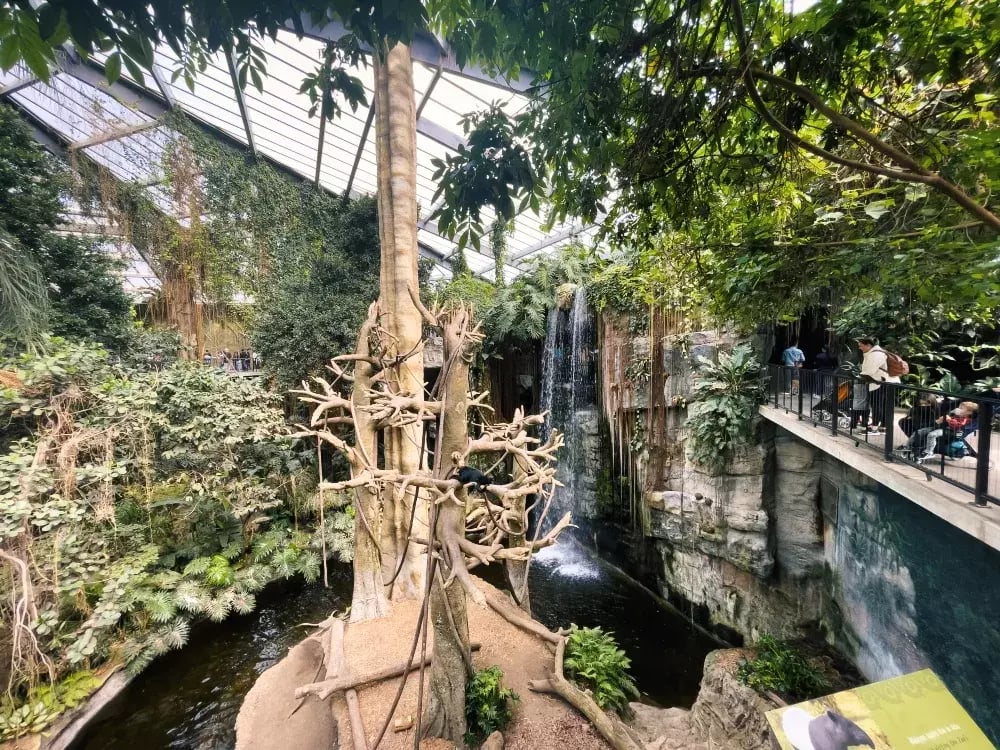 The Lied Jungle models rainforests from Africa, Asia, and South America. And, its animals include monkeys, hippos, macaws, tapirs, gibbons, otters, flying foxes, pythons, and anacondas.
Straight ahead of the main zoo entrance, visitors can enter the Wild Kingdom Pavilion. The pavilion houses reptiles, bugs, and other small animals for a bite size version of what the rest of the zoo offers. Think of the pavilion as a zoo preview!
At nearly an acre, the Henry Doorly Zoo Desert Dome is the largest indoor desert in the world. Its distinctive dome structure, similar to EPCOT's Spaceship Earth attraction, is the largest of its kind with 1,760 windows!
The Desert Dome mimics real-world desert environments across the 42,000 square feet interior. It represents habitats from coastal southern Africa's Namib Desert, Australia's Red Center, and the American Southwest's Sonoran Desert.
An eye-catching 55-foot-tall mountain in the center of the exhibit divides the three desert regions of the Desert Dome. Central Mountain itself is home to multiple desert plants, like succulents, mesquite trees, and the endangered Namibian Welwitshcia plant.
Inside this whimsical zoo exhibit are bat-eared foxes, mongooses, yellow cobras, rattlesnakes, monitor lizards, bobcats, owls, roadrunners, ocelots, white-nosed coatis, and kookaburras, to name a few. You can even catch a glimpse of newly hatched reptiles and amphibians in a sunroom!
Beneath the Desert Dome is the Mahoney Kingdoms of the Night attraction. It's the largest nocturnal zoo exhibit in the world.
There are tons of incredible structures inside the Kingdoms of the Night. There's a dry bat cave, a wet cave of other critters, a diorama of Africa, and a massive canyon. The wet cave features both stalactites and stalagmites, as well as a 16-foot-deep pit housing blind cave fish.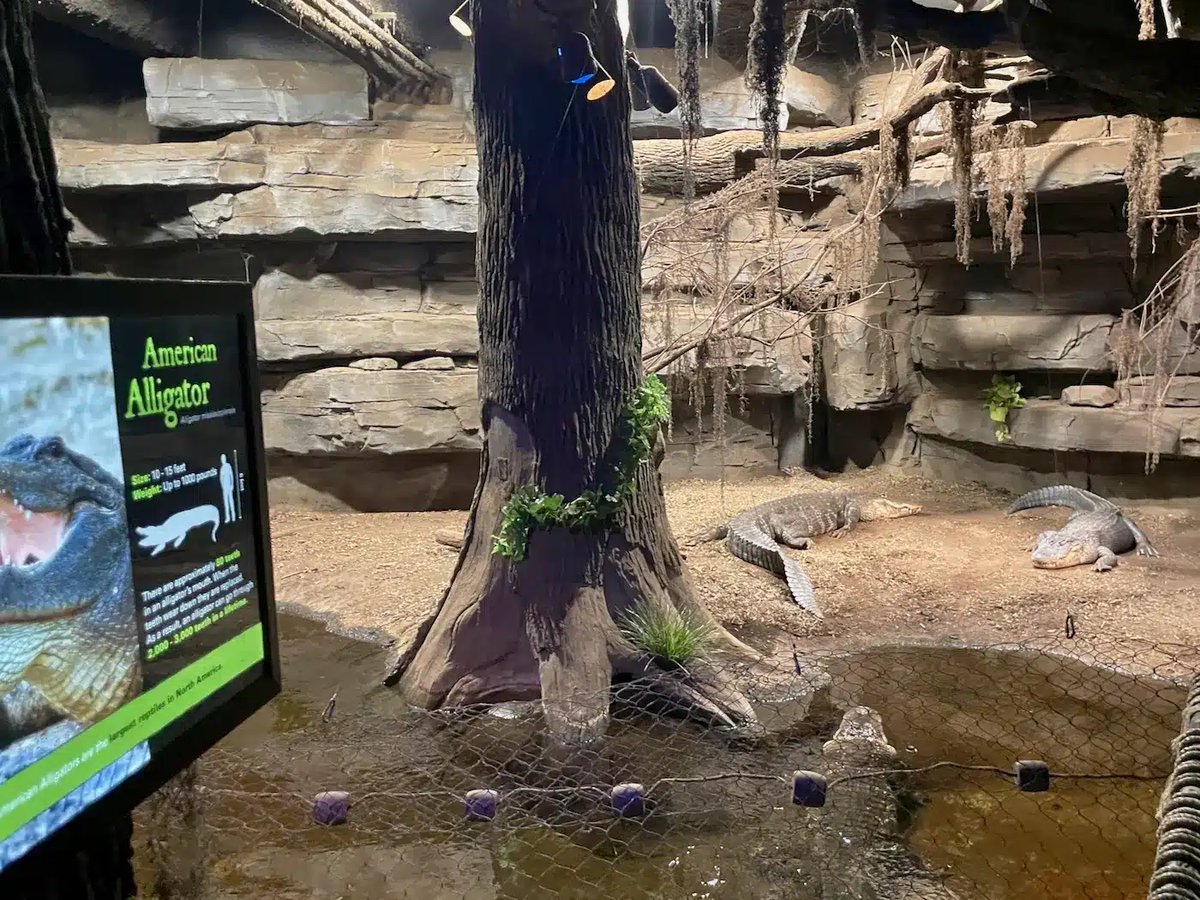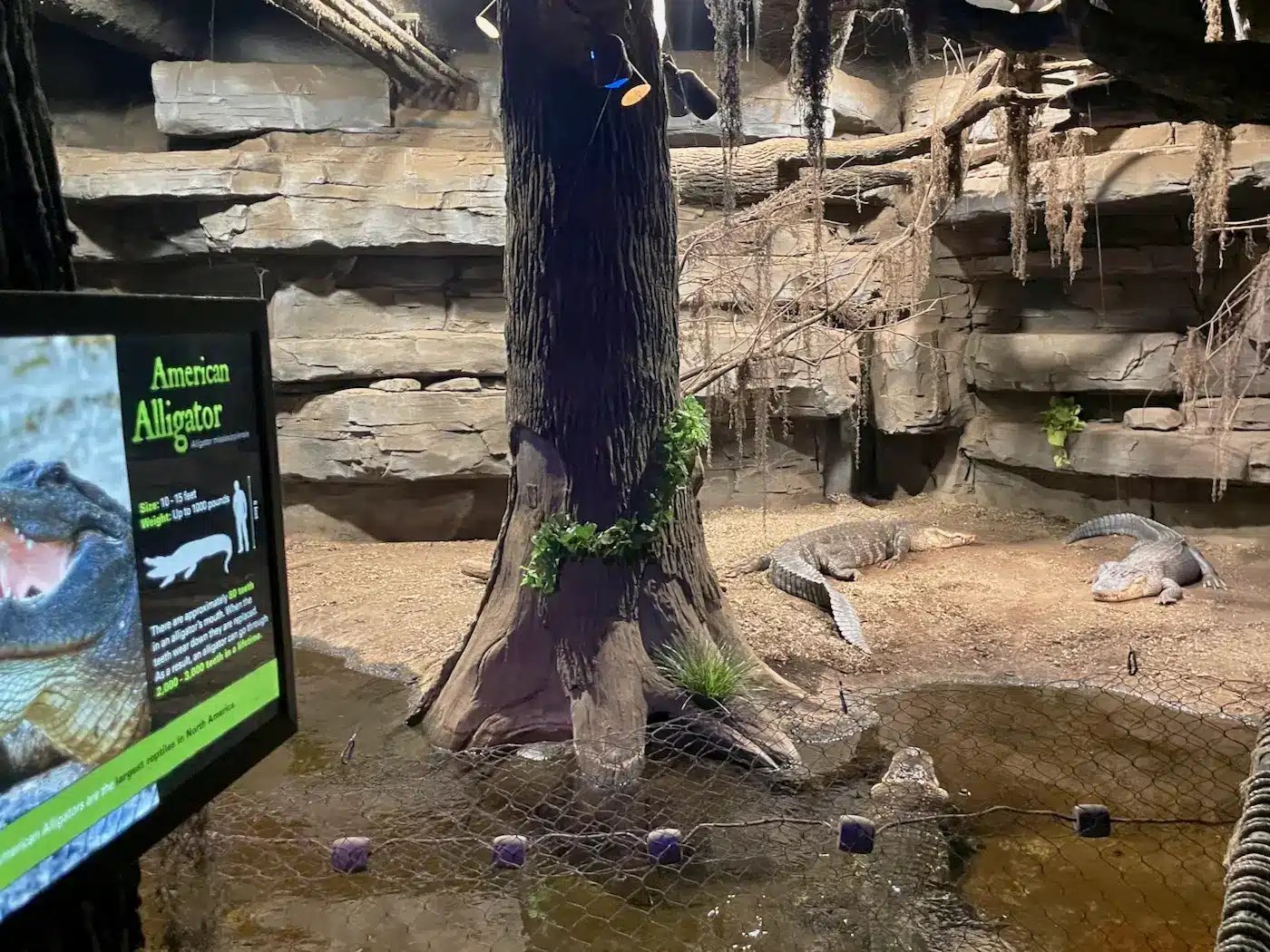 Kingdoms of the Night also features the world's largest indoor swamp, which spans a quarter-acre and contains beavers, alligators, and other swamp critters. Other animals in the Kingdoms of the Night include aardvarks, porcupines, naked mole rats, various types of bats, snapping turtles, crocodiles, night monkeys, armadillos, and wallabies.
At the Hubbard primate exhibits, you can come face-to-face with mighty apes and agile monkeys! These two related exhibits feature various kinds of monkeys, apes, and birds. The Hubbard Gorilla Valley is home to massive Western lowland gorillas, as well as monkeys, hornbills, and egrets.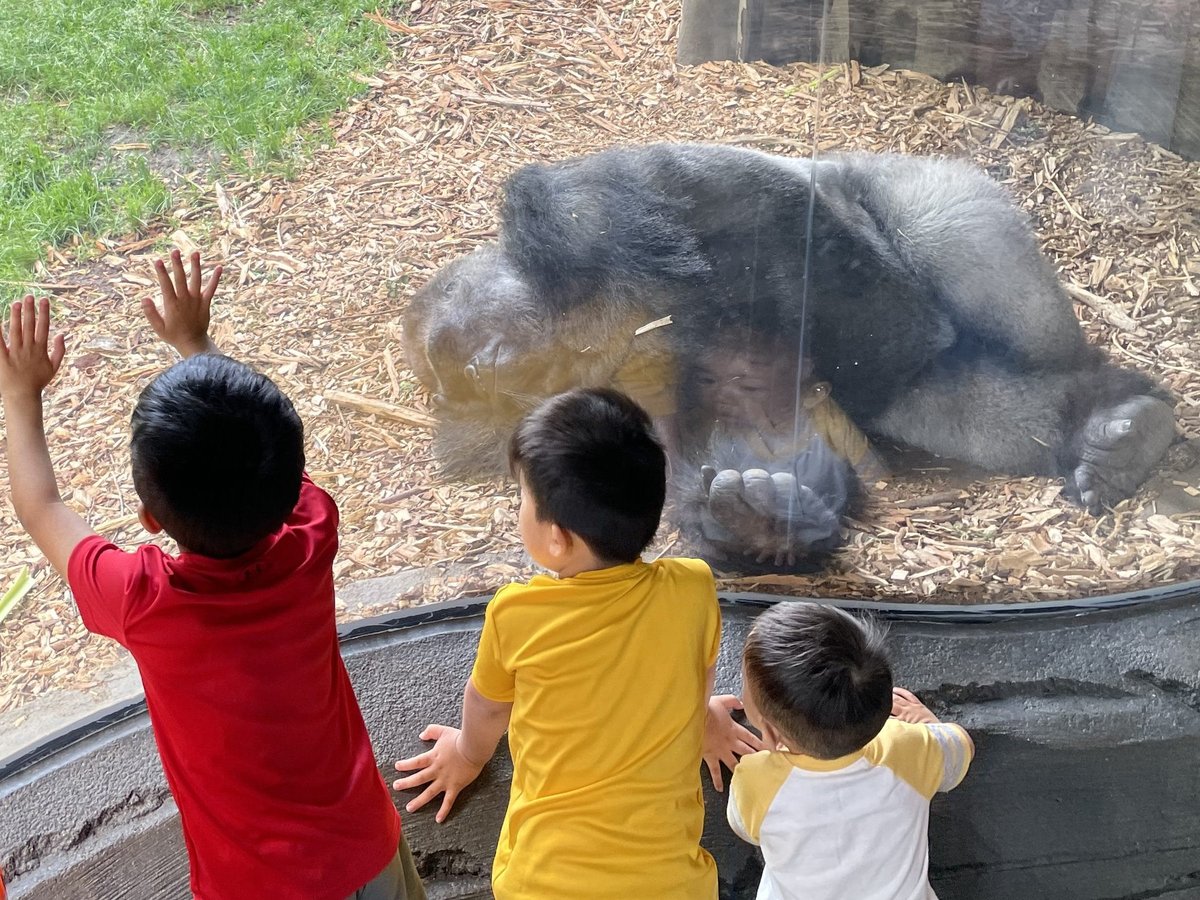 The Gorilla Valley also includes a fun Children's Play Area with bronze gorilla sculptures to play around. Meanwhile, the Hubbard Orangutan Forest houses Bornean orangutans, Tonkin leaf monkeys, and gibbons. And, let's not forget the 20-foot-tall waterfall!
As of June 2022, the Orangutan Forest is closed due to nearby construction.
The Children's Adventure Trails offers five acres' worth of interactive learning experiences and activities. From crossing the creek in a raft to crawling through prairie dog tunnels, kids will have a blast physically exploring nature and learning about the environment. They can also play with goats, splash around in the river, or run around on the grassy field!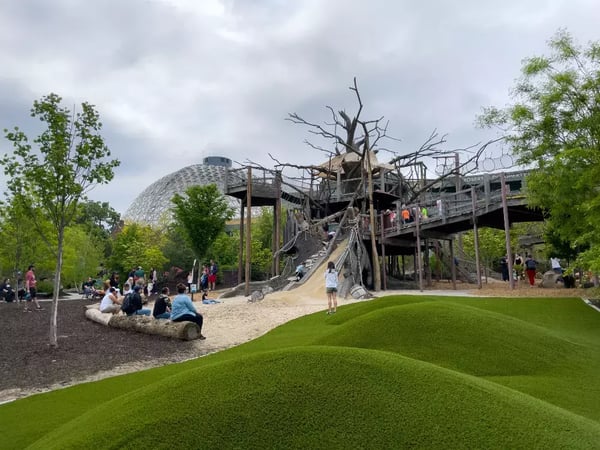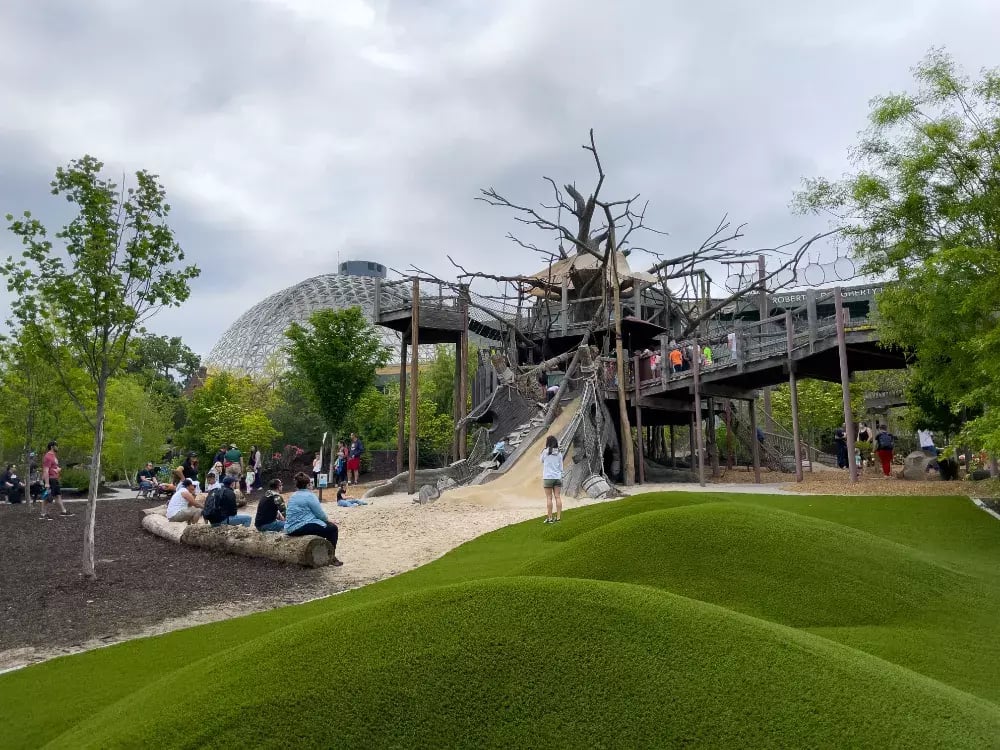 The centerpiece of the Children's Adventure Trails area is the Treehouse, which stands nearly 40 feet tall! It has slides, climbing nets, and bridges galore. While your child runs from activity to activity, expert zoo employees will be nearby to provide exciting animal encounters and guidance through the trails!
As you exit the Bay Family Children's Adventure Trails to the west, you can take the opportunity to watch a program at the Holland Meadowlark Theater. The 400-seat theater has accommodations for guests with strollers and wheelchairs.
Throughout the day the theater holds animal discovery interactive presentations as well as The Birds of Flight Program. This program is an engaging presentation highlighting 35 different birds, their habitat, and our ongoing responsibility to conserve these sacred species.
The Owen Sea Lion Shores features a pool that contains 275,000 gallons of saltwater and houses California sea lions and harbor seals. This habitat also includes an underwater kelp forest and wave pools.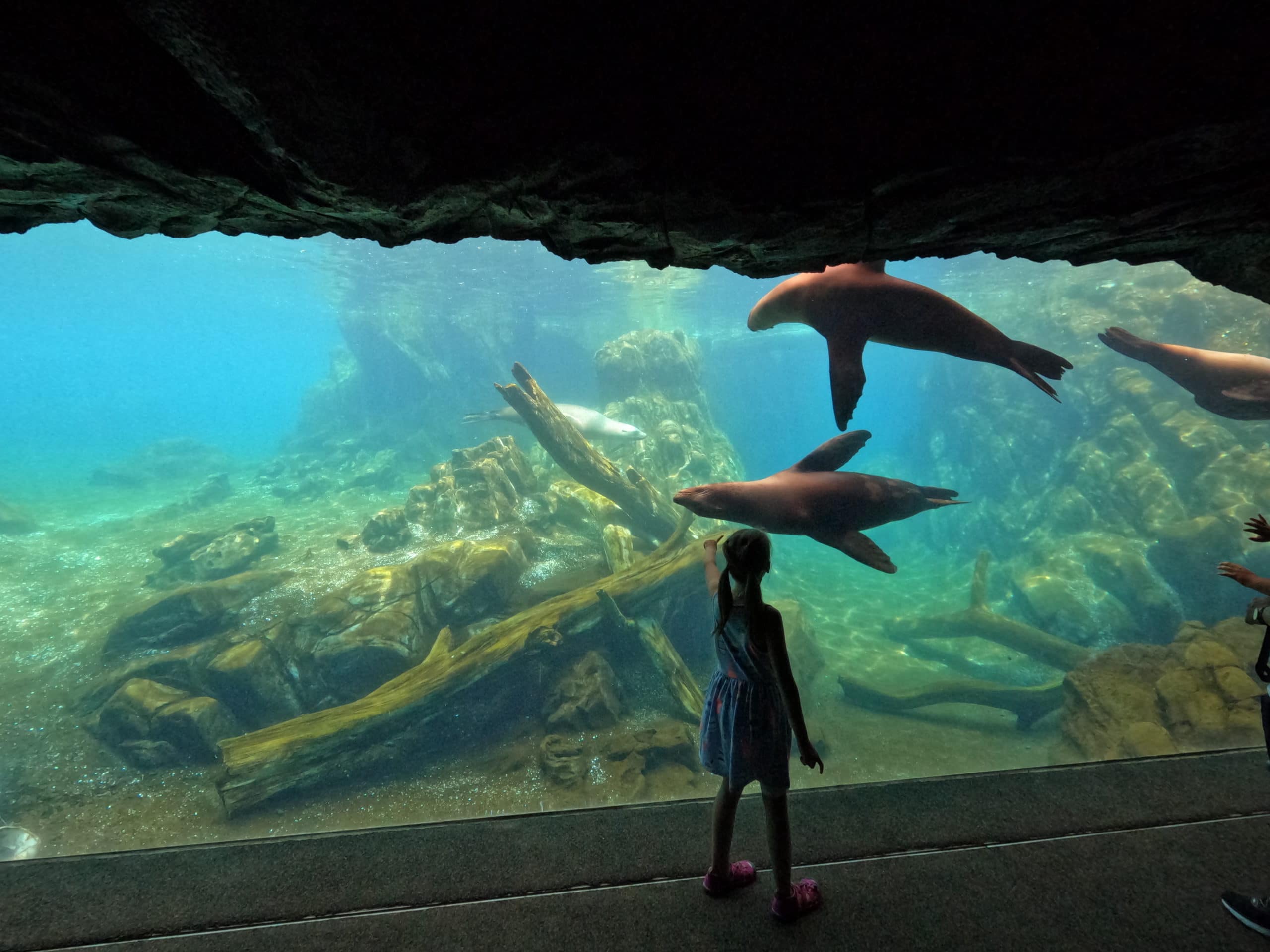 These gorgeous sea-dwellers can be viewed through a 40-foot-long window. A visitor might catch a harbor seal chasing after fish or a sea lion sunning itself on a rock. This new exhibit offers an up-close-and-personal look at these adorable sea creatures.
The Simmons Aviary is temporarily closed, but when it is open, this 1.3-acre exhibit features a boardwalk, elevated walkways, and the chance to see a wide variety of exotic birds. These include cranes, ibises, egrets, spoonbills, ducks, swans, and storks.
The Simmons Aviary is one of the largest aviaries that allows for open flight. And, it even has a separate habitat for its nearly three dozen flamingos. Talk about a good spot for birdwatching!
The Hubbard Expedition Madagascar exhibit focuses on the unique biodiversity of the island nation. Omaha's Henry Doorly Zoo team has devoted years to conservation work in Madagascar. And, the exhibit showcases the fruits of that labor with animals such as lemurs, Malagasy giant rats, and radiated tortoises.
From the foothills of India to the towering Himalayas, Asia offers a whole new world of natural beauty. The Asian Highlands is eight acres of indoor and outdoor wonders that recreate the landscape and habitat of this gorgeous continent.
As you walk past an entrance modeled after Himalayan ruins, you will see red pandas, white-naped cranes, tufted deer, and sloth bears. Deeper into the exhibit, you'll find Himalayan marmots, Bengal monitors, Amur tigers, snow leopards, takin, goral, Indian rhinos, and Pere David's deer.
Near the end of the exhibit, you'll find a guest services area called Yeti Camp. They've got restrooms, concessions, and gift shop to rest up and recharge before heading to the next exhibit.
With 25 new buildings and structures across an impressive 28 acres, the African Grasslands is Omaha's Henry Doorly Zoo's largest single project.
The area has been carefully constructed to reflect African geography. You can see an outcropping of meerkats, hyraxes, and monitors when you first enter. And, the giraffes and white rhinos are just around the corner.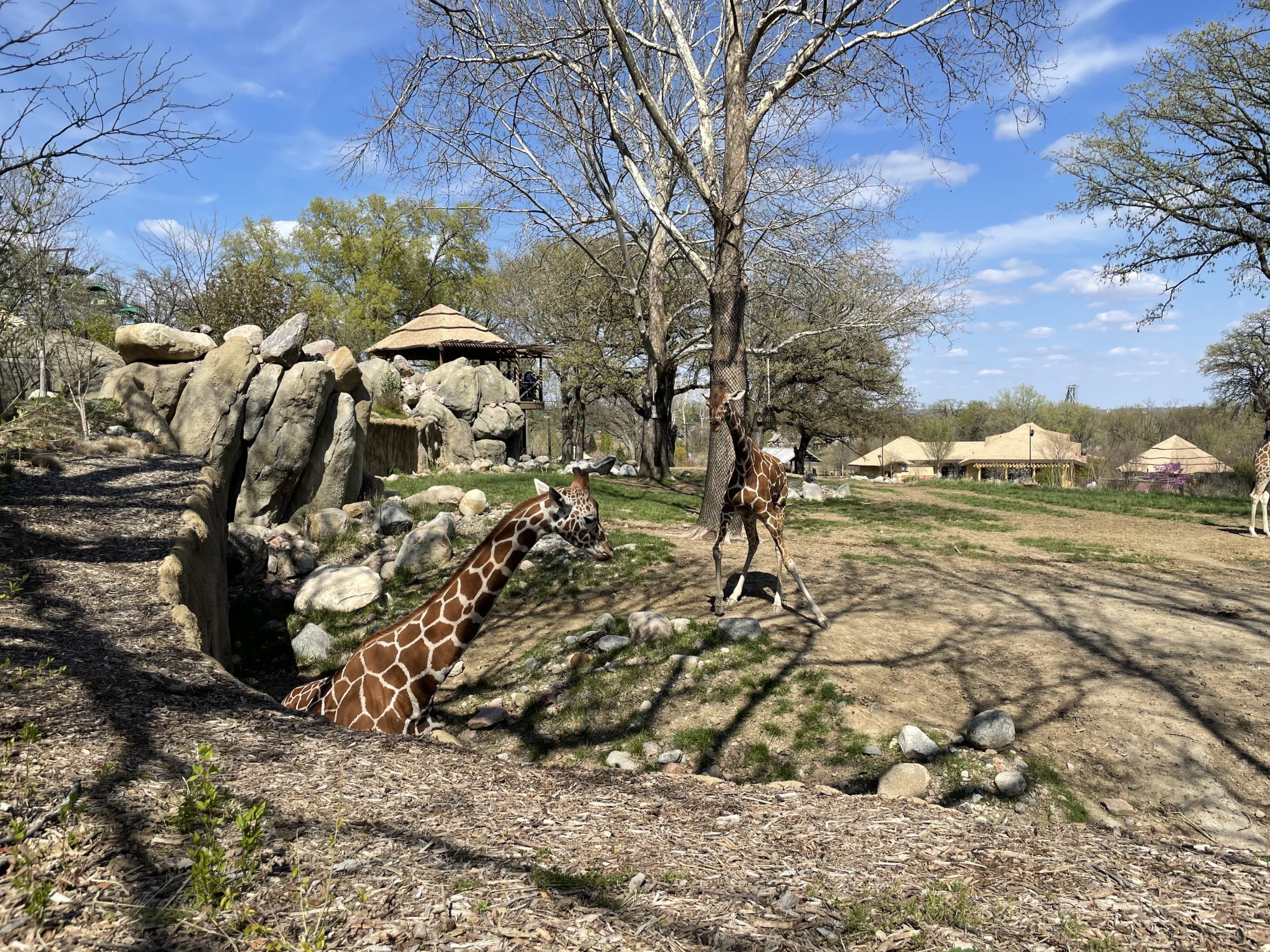 The Hawkins Giraffe Encounter gives visitors a chance to see the giraffes and help feed them at various times throughout the day. Additionally, they have elephants and plains zebras housed in a 30,000-square-foot herd room. The zoo currently has eight endangered African elephants, including two baby elephants. Their names are Eugenia and Sonny. They were born in early 2022!
You'll also see African pygmy goats, pink-backed pelicans, cheetahs, a pride of lions, sable antelope, and white rhinos. The pelicans can be viewed while crossing a bridge over a lagoon.
And, you can see the lions up close through a unique vehicle. A Land Rover has been cut in half and placed on opposite sides of safety glass. So, kiddos can pretend to cruise while watching prowling lions. Wow!
The African Grasslands area also showcases 14-foot-tall bronze sculpture of a Nebraska Columbian mammoth, which lived in Nebraska thousands of years ago. Restrooms and concessions are available at the nearby Truhlsen African Lodge.
If you need a bite, The Tusker Grill offers some exotic menu items, including South African boerewors sausage. Get a bite, see some cool animals, and experience the wonder of the African grasslands!
The Lagoon cuts between the two halves of the African Grasslands. It houses monkeys, pelicans, and koi! You can even pay to feed the koi from a covered bridge crossing the body of water.
While the Garden of the Senses isn't just visually impressive, it ignites all the senses! The garden has over 250 species of beautiful and aromatic trees, perennial plants, flowers, and herbs. While you walk through, the macaws, parrots, and cockatoos chirp and sing overhead. You can expect your senses to be engaged in this magical oasis!
Designed to look like an insect when seen from an aerial view, the 14,000-square-foot Grewcock Butterly and Insect Pavilion has waterfalls, vegetation, a water lily pool, and more! The Insect Zoo houses beetles, centipedes, scorpions, spiders, and ants.
There is also a Chrysalis Hatching Room where you can see worms and caterpillars cuddled in their caccoons. You might even catch one bursting from it's chrysalis and showing its new wings!
The beauties of underwater life are on full display in Omaha's Henry Doorly Zoo's aquarium. The Scott Aquarium contains over 1.2 million gallons of water and is one of the largest in-zoo aquariums in the world.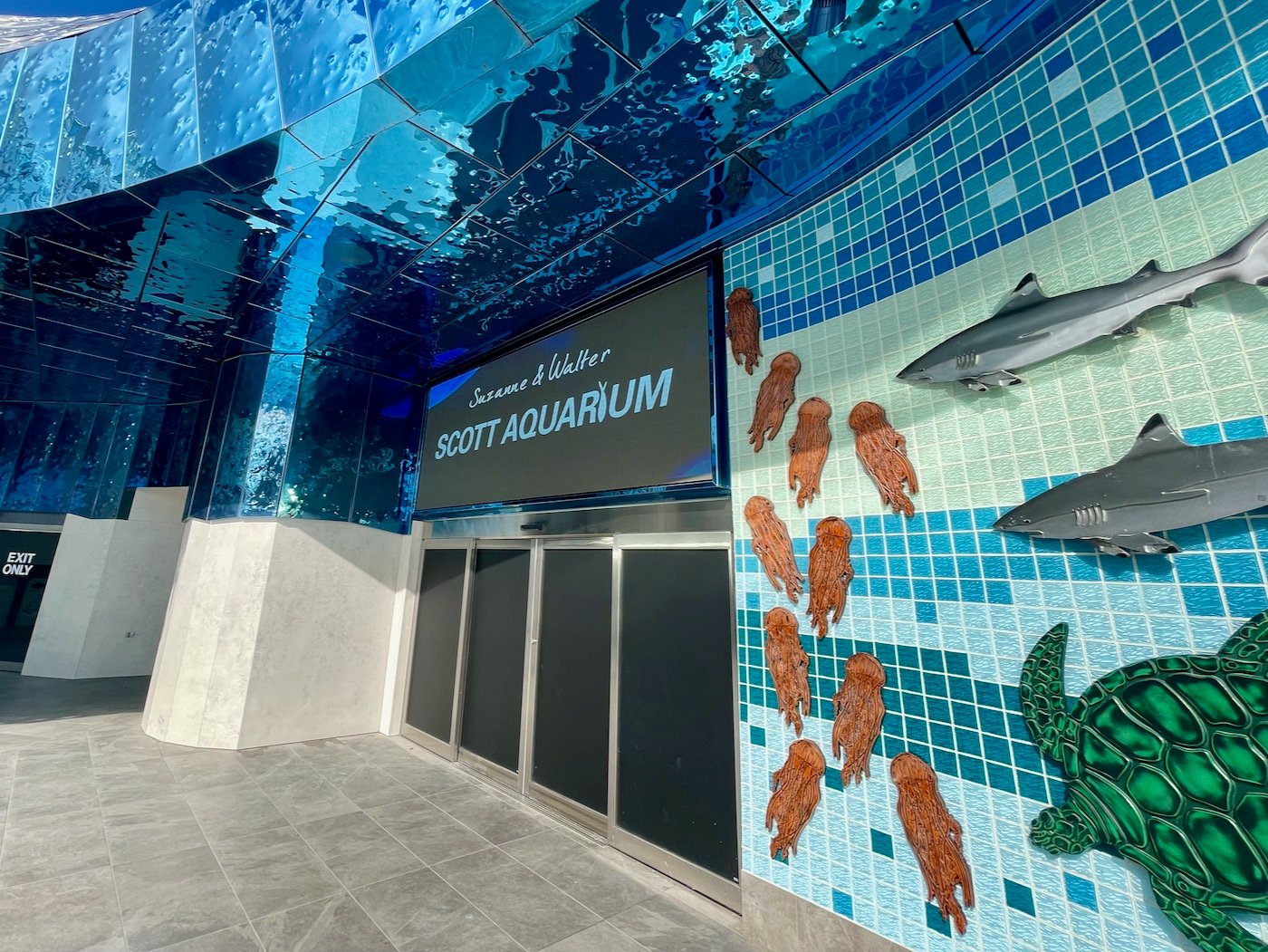 One of the most notable features of the aquarium is its 70-foot-long shark tunnel. It's quite a sight to see the underside of a shark or stingray as it swims above your walkway! Yikes!
The Scott Aquarium also has a dedicated penguin area, complete with Antarctic structures and a diving area for both penguins and puffins. Other notable undersea animals at the aquarium include, moray eels, sea turtles, jellyfish, octopi, and even a toucan.
Additional Attractions
Obviously, the epic exhibits and exotic animals are the main reason you'll want to check out Omaha's Henry Doorly Zoo. However, there are plenty of other fun attractions to fill your day as you journey through the zoo.
The Lozier Theater features a massive, 41-feet by 75-feet projector screen that can show either 2D or 4K 3D animal documentary films. You'll be immersed in these incredible movies not only because of the incredible visuals but because of the QSC brand stadium audio system!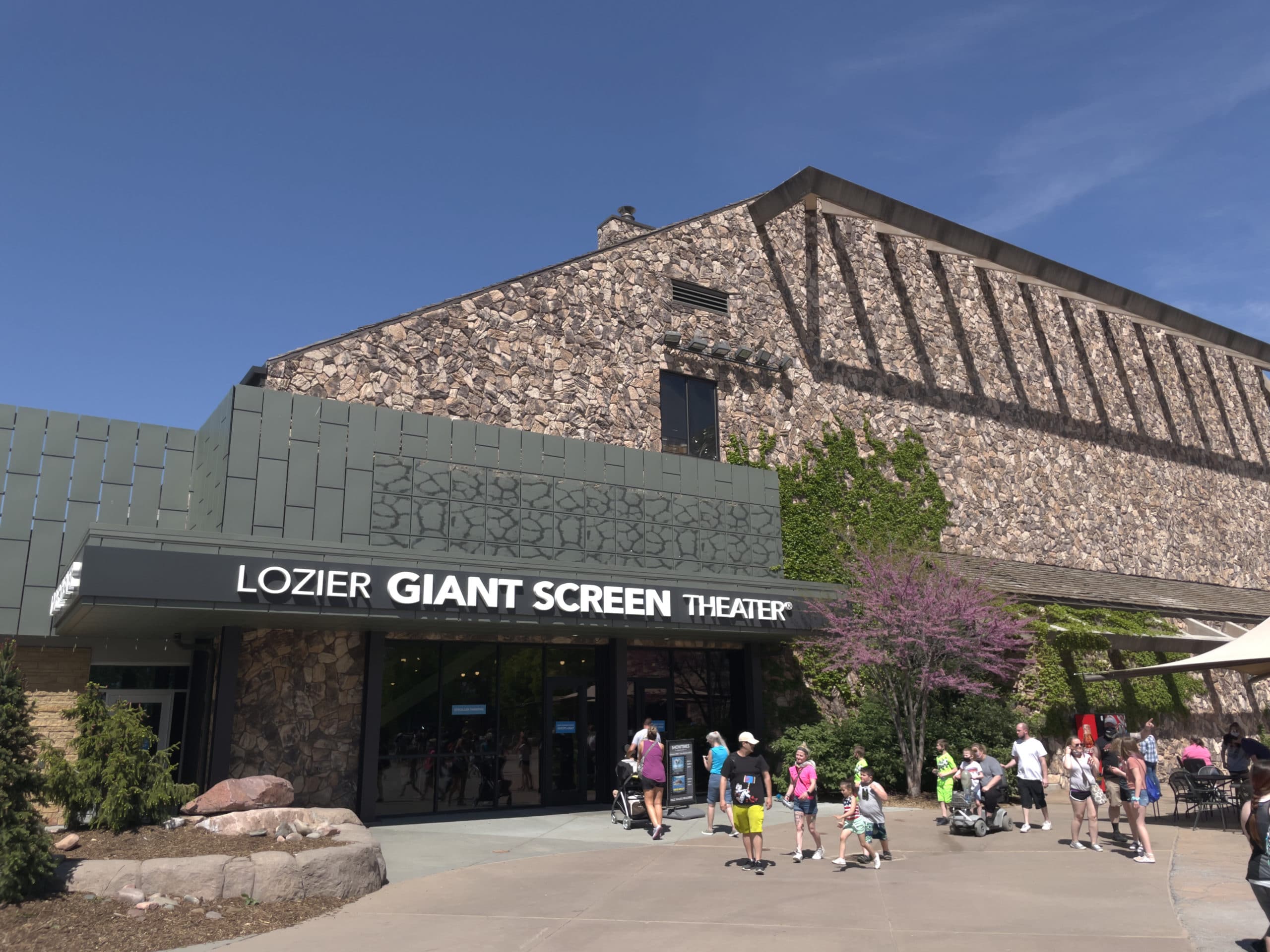 Shows run all throughout the day. The current feature presentations including Wings Over Water 2D, a film about the Sandhill Crane, the Yellow Warbler, and the Mallard Duck birds. And, Antarctica 2D, a film showcasing new footage of many of the coldest continent's aboveground and underwater wildlife.
Admission to the Lozier IMAX Theater is included in any Omaha Henry Doorly Zoo membership. If you don't want to purchase a membership but still want to see a movie on the giant screen, you can purchase a single-day ticket with admittance to one film for a combo rate.
For a mere $4 per person, you and your children can enjoy a ride on Sue's Wildlife Carousel. It's a classic merry-go-round with handmade replicas of wild animals you will find throughout the zoo.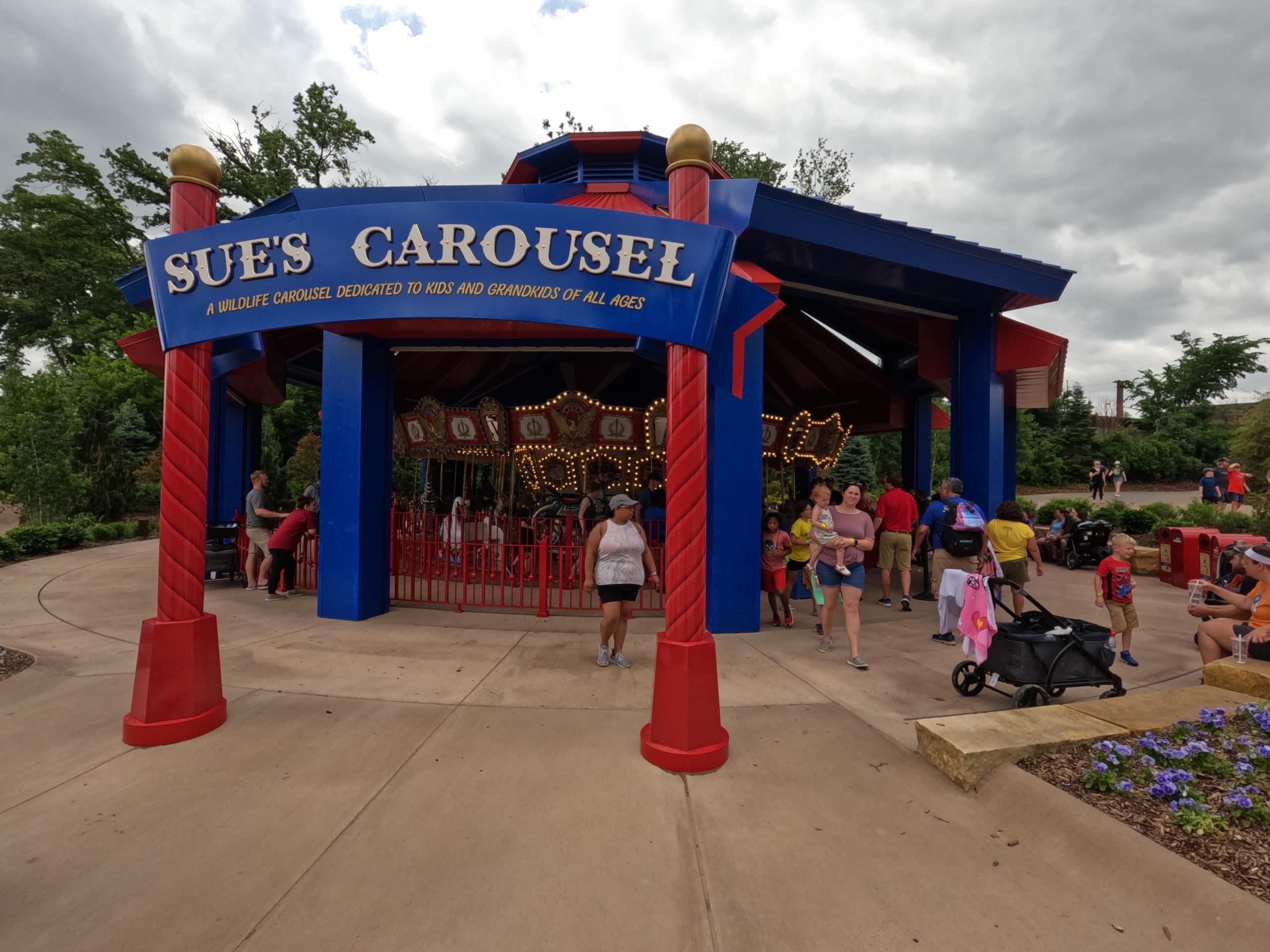 Over 30 animals decorate this family-fun ride, each covered in shiny enamel and bringing a sense of whimsy to everyone who passes by. Weather permitting, you can catch a ride on Sue's Carousel at the zoo any time between 10am and 4pm.
One of the newer additions to Omaha's Henry Doorly Zoo is Stingray Beach. It's an interactive attraction that lets kids and adults watch stingrays up close as they roam their 80-foot-long pool. You can also feel and even feed the sea critters!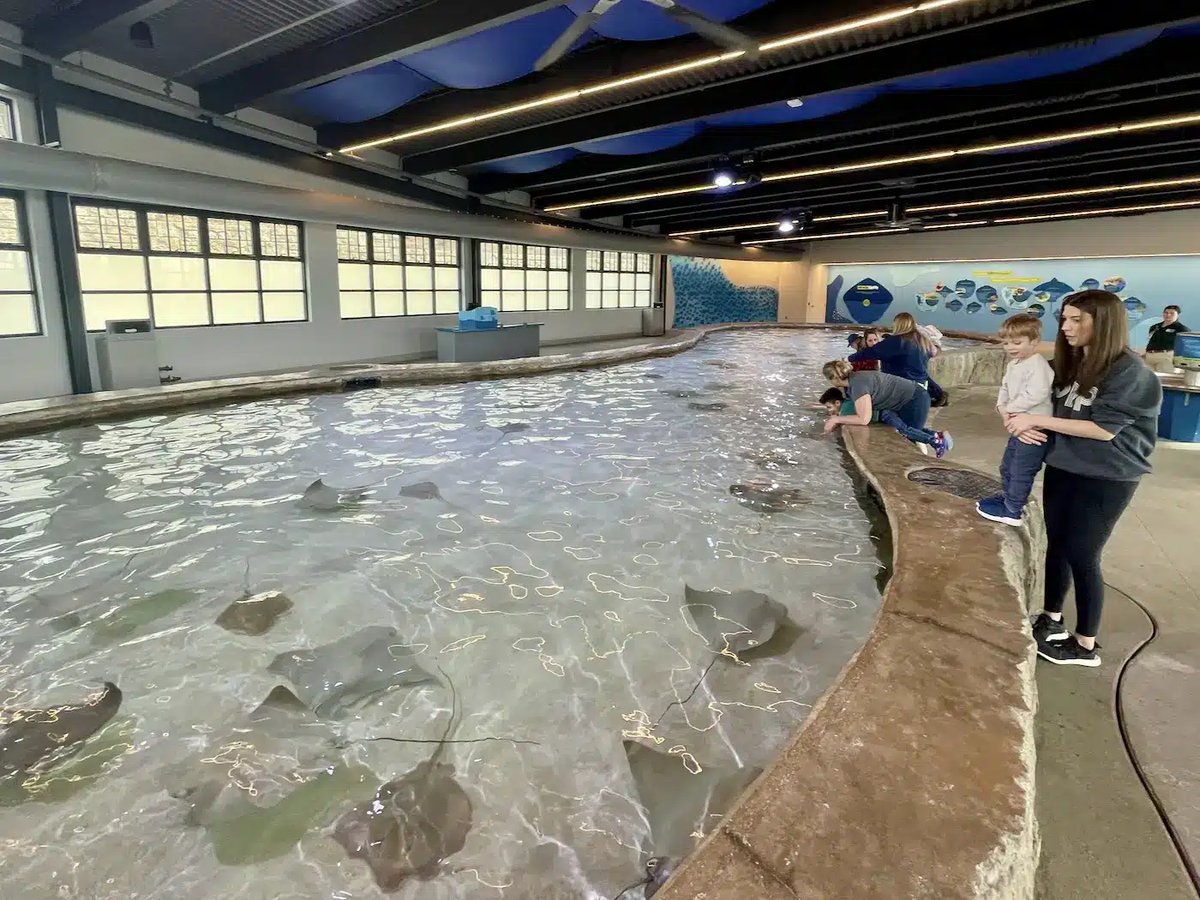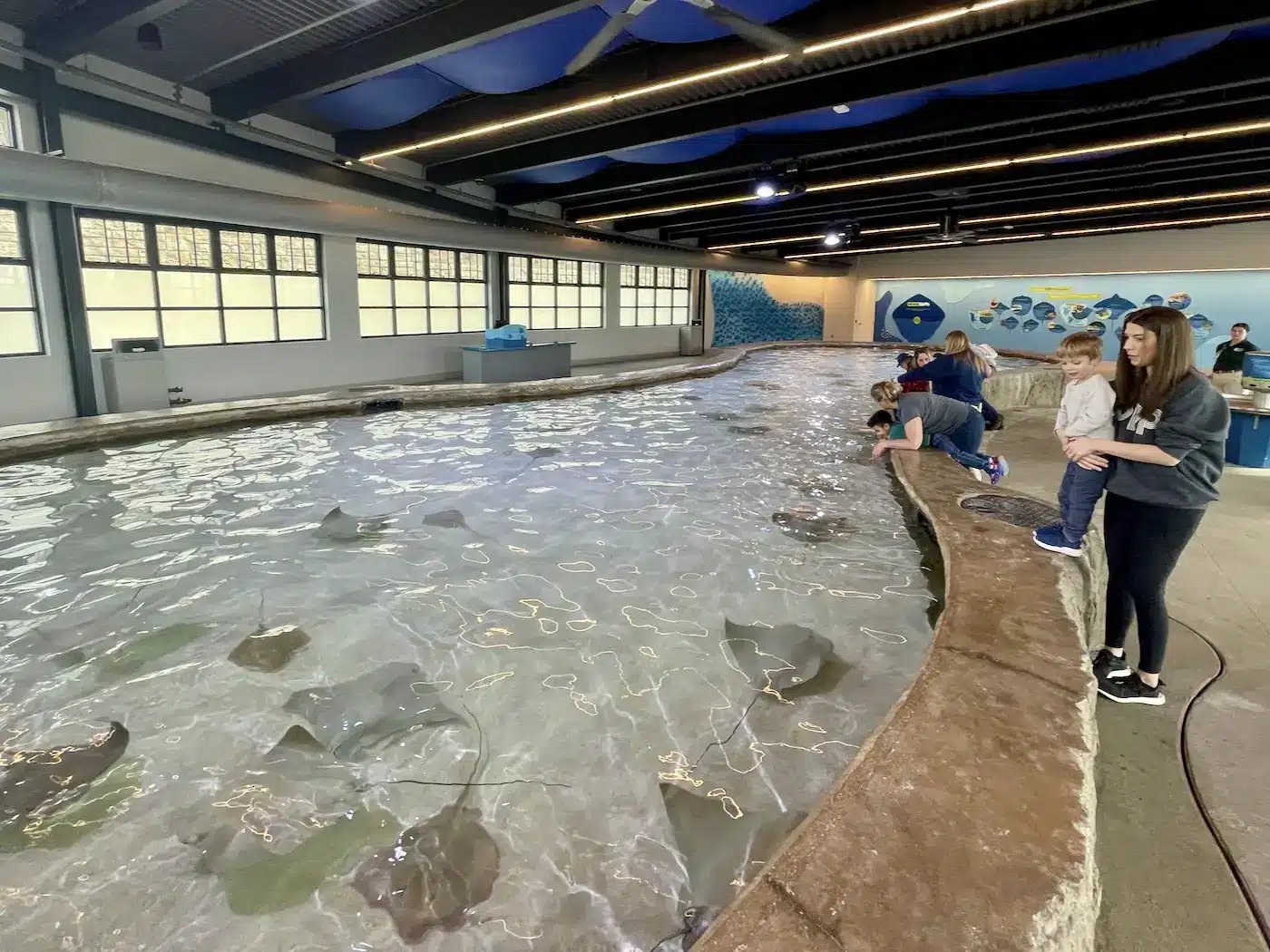 Expert animal guides occupy the exhibit throughout the day. So, you and your kiddos can ask any question you can imagine about stingray behaviors, diet, and lifestyle.
It's important to note, you will have to pay extra for Stingray Beach. Non-members pay $5 for access to Stingray Beach, while zoo members pay $4.
All of this running around in the summer heat may leave you longing for a cool breeze or gush of water. If so, you're in luck! The Alaskan Adventure splashpad attraction, located near Sue's Wildlife Carousel, offers a variety of sprinklers, splashes, and mists.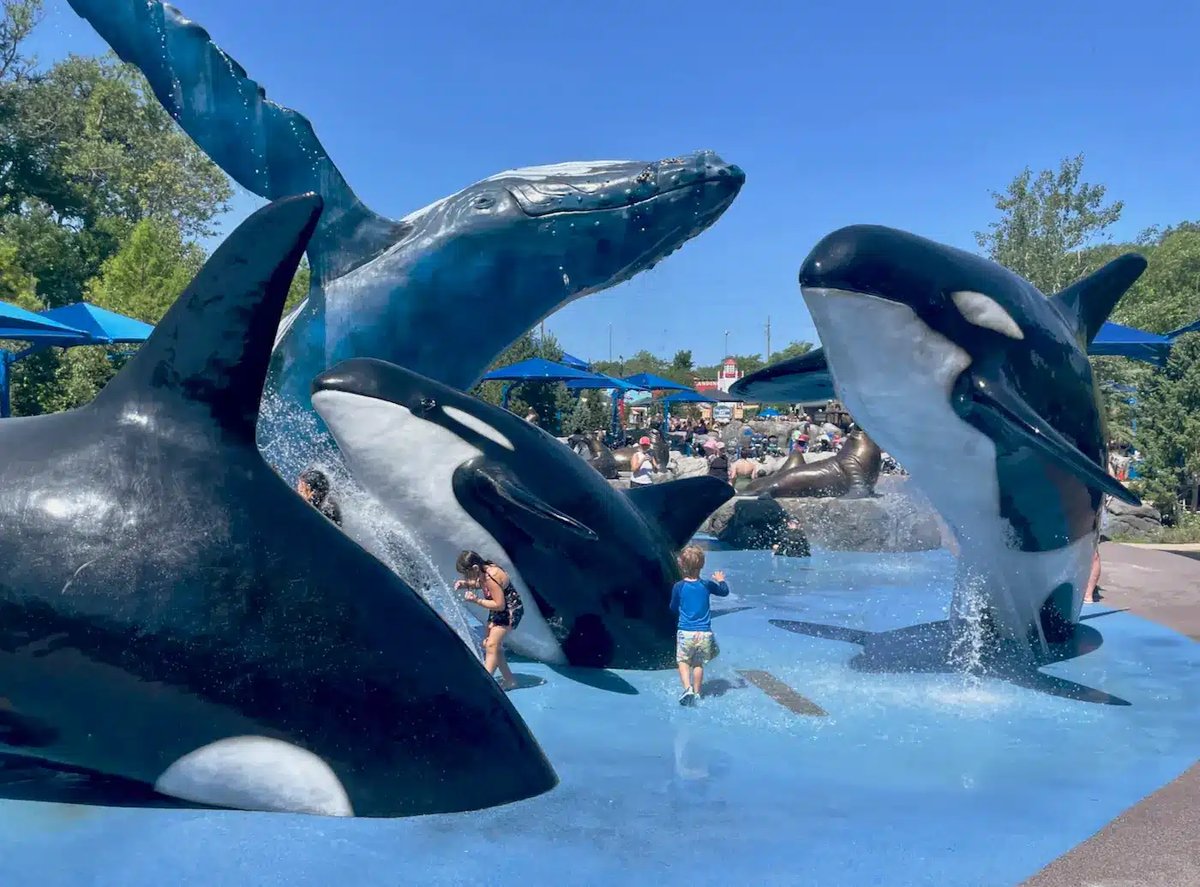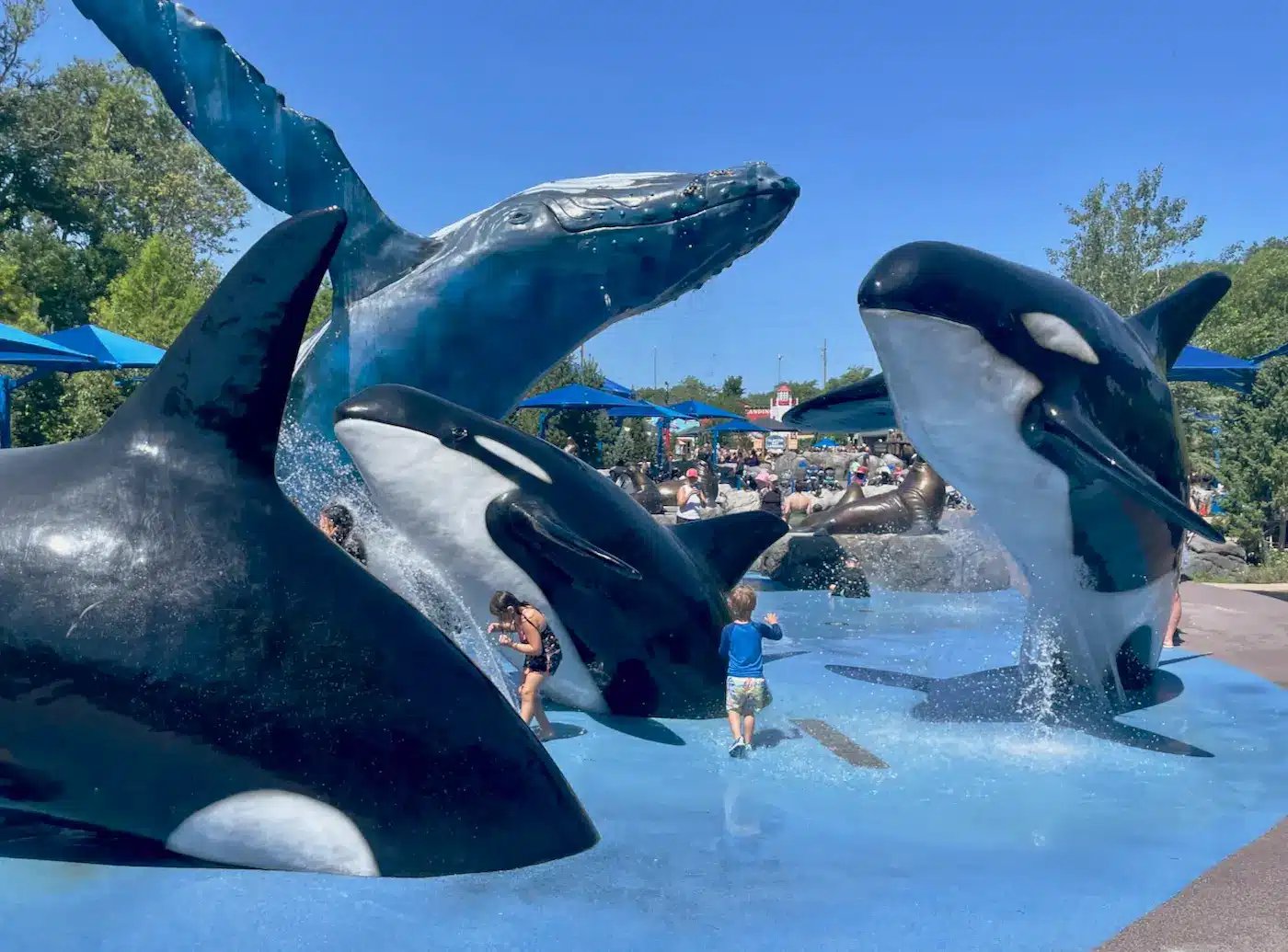 These aren't just simple water fountains. The pavilion is filled with more than 75 bronze sculptures of humpback whales, jumping salmon, sea lions, orcas, puffins, and bears. And, the water pumps make it look like these animals are splashing around their natural habitat!
This is one fun attraction that's included with admission to the zoo. Kids are free to play in the Alaskan Adventure area for as long as they like (or at least as long as their parents can put up with!). Once they're done splashing around, there is a convenient changing area located nearby! What a great way to cool off on a hot zoo day!
Rides and Transit
Not surprisingly, walking is the most common way to get around Omaha's Henry Doorly Zoo. However, the zoo does offer a few fun alternatives when it comes to transportation. As long as the weather is friendly, you can take either a train or a tram around the zoo.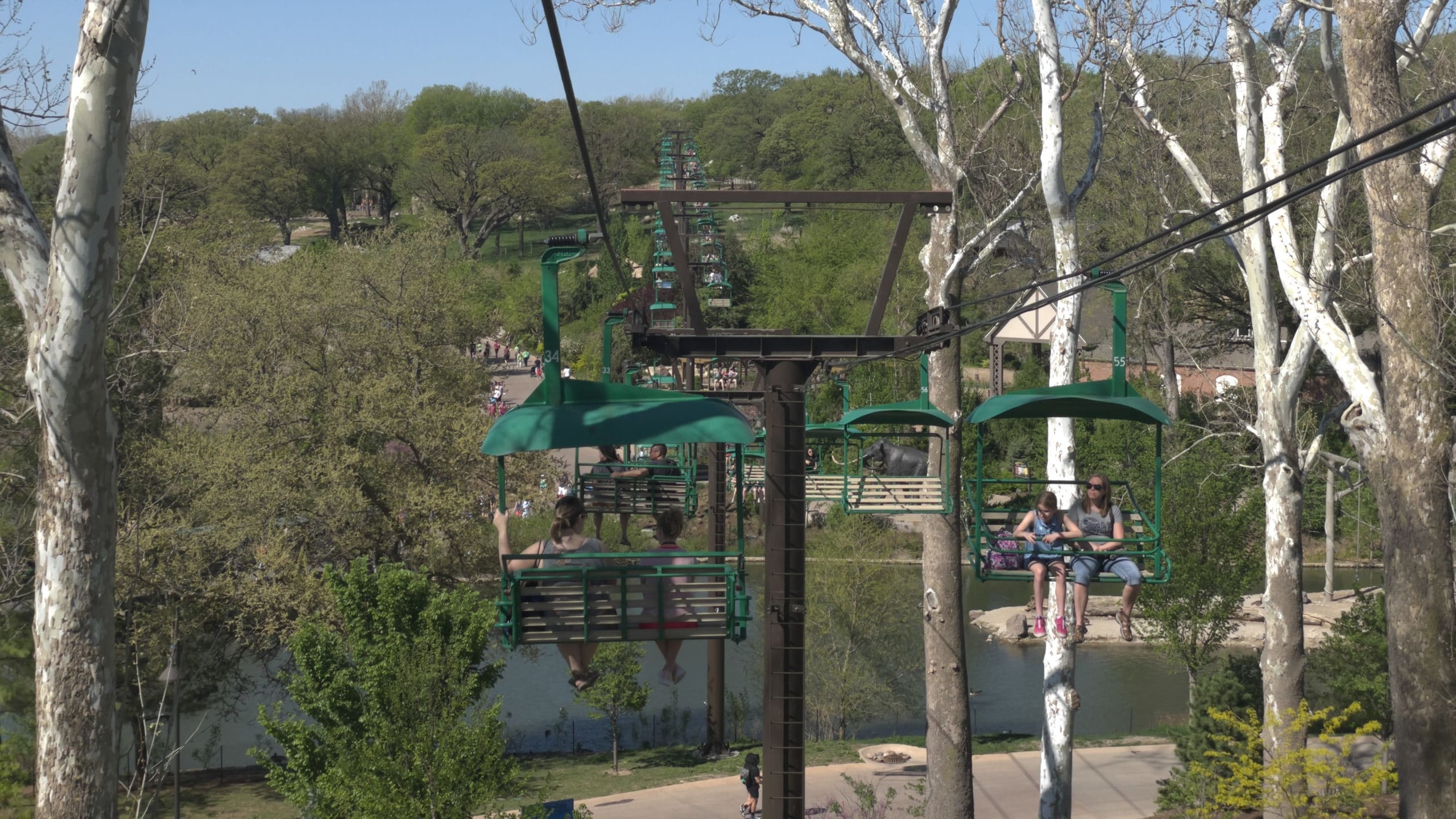 If you're feeling really wild, Omaha's Henry Doorly Zoo operates an aerial chairlift called the Skyfari! This wild open-air ski lift takes riders from one end of the park to the other and gives them a gorgeous view of several exhibits. Currently, the Skyfari is closed for the season.
Omaha's Henry Doorly Zoo is encircled by 2.5 miles of railway track, which runs a loop around the vast park. For $7 per person, you can take a round-trip train ride through the zoo. Or, you can enjoy a one-way ride for half the price. Plus, kids two years old and under get to ride for free!
Visitors can board one of the zoo's steam locomotives at two separate stops. You can jump on at the Omaha Depot, which is in the same area as Sue's Wildlife Carousel. Or, you can join the fun at the African Lodge located at the other end of the park.
Try not to do a double-take when you hear a clanging bell and see a streetcar rolling past. You're not in San Francisco, but you can still take a tram to get around!
This trackless ride follows the walkways tracing the zoo. It makes stops at the Desert Dome, the elephant yard, the sea lion playground, and Sue's Wildlife Carousel.
For either $1.25 per person for a one-way ride or $5 for a round-trip journey, you can give your feet a rest while still soaking in the colorful sights and sounds of the zoo.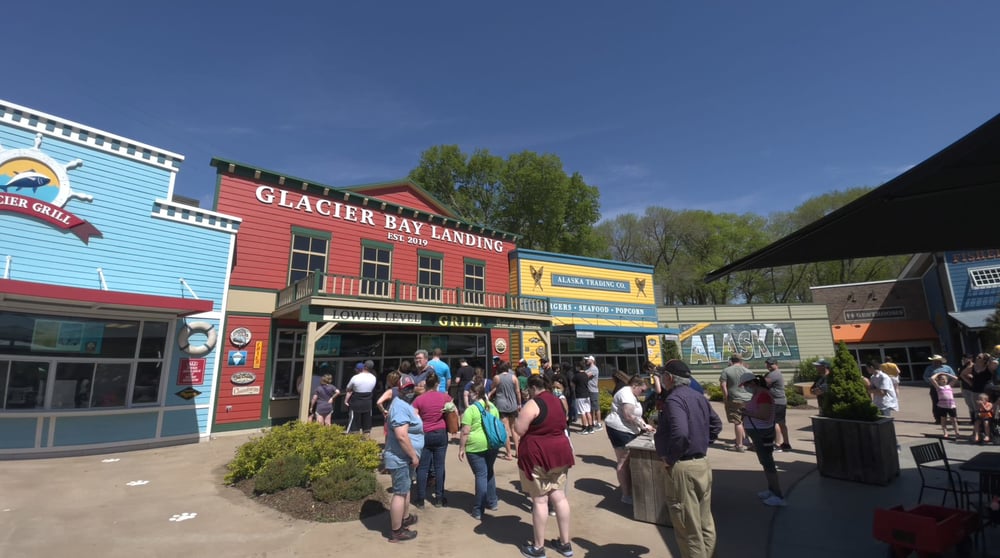 Concessions
Beating the heat and running around a 160-acre zoo complex sure can work up an appetite! Fortunately, Omaha's Henry Doorly Zoo features tons of dedicated concession areas and cafes. Here are all the places you can stop and grab a bite:
Plaza Cafe – This is a new outdoor cafe opening soon! It's in front of the Desert Dome, and will feature a shaded area to grab food and take a break!
Durham Treetops Restaurant – This restaurant is most similar to a college cafeteria. There are lots of kid-friendly food options like peanut butter and jelly sandwiches, chicken strips, and tacos. But, they also serve gourmet Omaha Steaks burgers. While you eat, you can sit in the cool indoor dining area that overlooks the Lied Jungle!
Omaha Steaks Grill – Just outside the Lied Jungle, there is the Omaha Steaks Grill. They sell the world-famous Omaha Steaks burgers and hot dogs!
Sea Turtle Cafe – This is another outdoor dining option, and it's right next to the Scott Aquarium. Grab pizza, hot dogs, or ice cream before heading into the exhibit to see the zoo's incredible marine life.
Tusker Grill – Just outside the African Lodge is the Tusker Grill! They serve traditional concessions as well as elephant-sized pretzels and cookies.
Glacier Bay Landing – This area is part of the Alaskan Adventure splashpad! It features a lighthouse climbing gym and shaded dining. You can grab traditional concessions, or get Alaskan specials like the cod sandwich or the crab cake slider.
Silverback Cafe – If you're hanging out at the Hubbard Gorilla Valley, you can grab concessions, eat, and rest right outside the complex.
And More – There are lots more smaller concessions areas to grab a drink or treat. You can even buy a specialty cup for cheap refills throughout the day.
Accessibility
For those that need special accommodations, the zoo offers several programs and facilities. Take a look at the services the Henry Doorly Zoo offers:
Nursing Mothers
Nursing mothers are, of course, allowed to nurse wherever they like. If you'd like a private area to nurse or pump, there is a "baby care center" in Aventure Trails and a "mother's den" in Glacier Bay Landing.
There are also private family restrooms at the zoo's main entrance, Expedition Madagascar, the Sea Lion Pavilion, and the African Grasslands. So, there are lots of places to take care of nurse and care for baby!
Wheelchair
The zoo is completely wheelchair accessible. You are welcome to bring your own wheelchair or motorized rider. There are also motorized wheelchairs and manual wheelchairs for rent at the main gift shop near the main zoo entrance.
Autism Action Partnership
The Henry Doorly Zoo has joined forces with Autism Action Partnership to create a better zoo experience for autistic visitors. There is a mobile app called "Omaha Zoo 4 All" that helps families with sensory needs plan their visit and enjoy the full experience of the zoo.
The app includes sensory guides, a custom scheduler, a relaxing matching game, and more! Most importantly, the app has a sensory-friendly map that helps families find quiet spaces, low-light zones, high-touch areas, and good places to run around!
Autism Action Partnership also provides sensory kits at the main entrance. Inside are headphones, sunglasses, a sand timer, and fidget items. These items are sanitized after every use, of course!
Special Events and Activities
Some of these events, such as Backstage Experiences and Golf Cart Tours, need to be reserved before the day you plan to visit the zoo.
Returning from a COVID hiatus, backstage experiences offer a sneak peek into the inner workings of Omaha's Henry Doorly Zoo. For $65 per person ($50 for zoo members), participants can follow along on a backstage tour to select exhibits at the zoo.
Whether you want to watch the feeding of a 15-foot-tall giraffe, explore the backstage world of the massive aquarium and shark tunnel, or watch employees work in the new sea lion exhibit, these backstage experiences offer visitors a whole new look at the world of one of the country's biggest zoos!
We get it. Walking the entire area of the massive Henry Doorly Zoo can be a big ask. This is especially true if you have kids on the younger side. Fortunately, Omaha's premier zoo offers golf cart tours from April to October, with stops at some favorite zoo exhibits.
These golf cart tours don't completely eliminate walking from your zoo experience. But, they will give you and your family plenty of breathers throughout the day. Plus, you can catch a behind-the-scenes look at some of the most exciting exhibits during your visit!
Like backstage experiences, golf cart tours cost $65 per person, or a reduced rate of $50 for zoo members. Kids under the age of two can enjoy golf cart tours for free.
Have you ever wanted to sleep overnight at the zoo? Well, Omaha's Henry Doorly Zoo offers just that opportunity. Families can purchase tickets for the Family Sleeping Bag Safaris for about $50. This gives you the chance to sleep overnight in the Scott Aquarium, the Wild Kingdom Pavilion, or even the African Lodge.
If you prefer tenting, you can select a Family Sleeping Bag Safari that falls on a date scheduled for the Lied Jungle or the Desert Dome.
The more expensive option is the Safari Tent Camp, which allows visitors to tent overnight near the lion enclosure in the African Grasslands exhibit!
The Omaha's Henry Doorly Zoo has more than enough animal fun, outdoor excitement, and exotic adventures to keep you and your family entertained next time you're in Nebraska!
The Omaha Henry Doorly Zoo is a truly incredible American experience on par with Disneyland or one of our many national parks. No where in the world can you experience the culture, wildlife, and landscapes of so many regions in just one place. If you're up for a true adventure, visit the Henry Doorly Zoo and Aquarium for an unforgettable day!
Frequently Asked Questions
Last Updated on August 8, 2023 by Ryan Renner