Millard Public Schools
I have helped many families moving to Omaha. Contact me if you have any questions about the Omaha area or need help buying a home.
Now the State of Nebraska's third largest school district, Millard Public Schools began with a single school in a small town setting. This suburban school district sits in Southwest Omaha, formed when several rural school districts consolidated into one.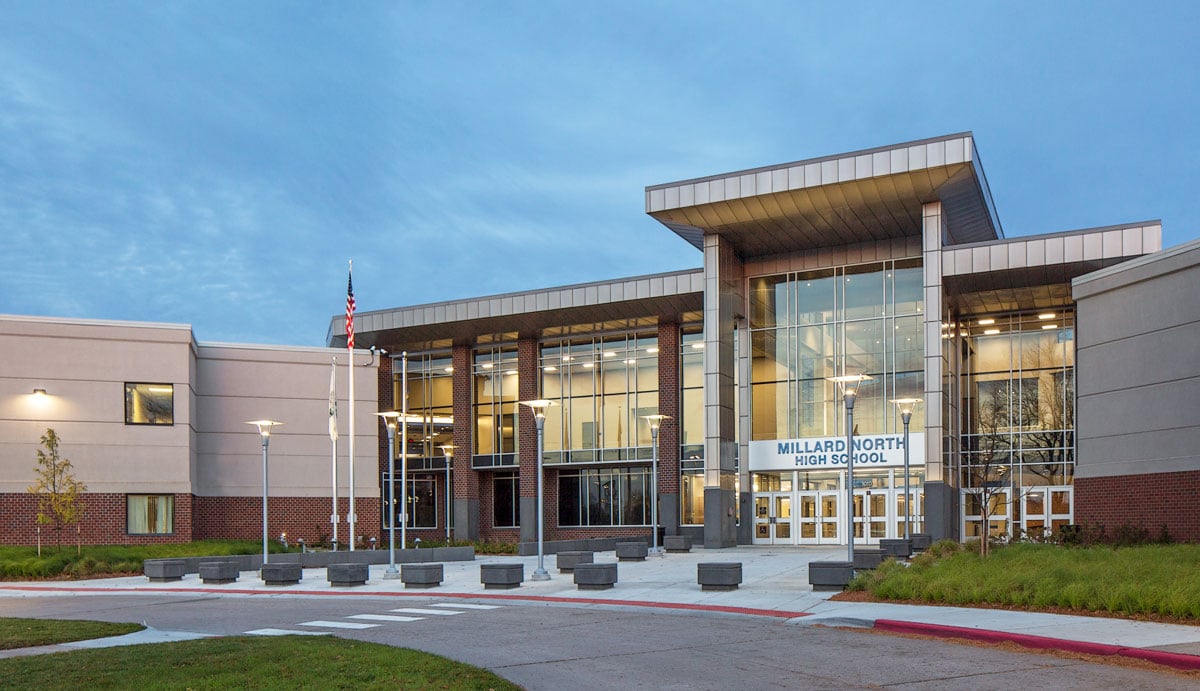 Millard Public Schools now includes 25 elementary schools, six middle schools, three traditional high schools and one alternative school.
The award-winning district is home to several Blue Ribbon Schools, with a top-rated music program and a technologically driven learning environment.
Millard North High School was the first in the state to offer the prestigious International Baccalaureate program. The high schools also provide for enrollment in Career Academies and Junior ROTC. An Early College Program allows high school students to earn an Associates of Arts Degree from Metropolitan Community College, while at the same time completing high school coursework.
"Millard" is sometimes mispronounced by non-locals. I created a pronunciation page to help pronounce "Millard" and other Omaha-specific words.
Boundary Map
List of Schools
Elementary Schools
Regular Schedule: 8:20am-3:20pm
Ackerman Elementary School
Aldrich Elementary School
Black Elk Elementary School
Bryan Elementary School
Cody Elementary School
Cottonwood Elementary School
Ezra Elementary School
Grace Abbott Elementary School
Harvey Oaks Elementary School
Hitchcock Elementary School
Holling Heights Elementary School
J Sterling Morton Elementary School
Montclair Elementary School
Neihardt Elementary School
Norris Elementary School
Reagan Elementary School
Reeder Elementary School
Norman Rockwell Elementary School
Rohwer Elementary School
Sandoz Elementary School
Upchurch Elementary School
Walt Disney Elementary School
Wheeler Elementary School
Willowdale Elementary School
Willa Cather Elementary School
Middle Schools
Regular Schedule: 7:45am-3pm
Andersen Middle School
Beadle Middle School
Kiewit Middle School
Millard Central Middle School
Millard North Middle School
Russell Middle School
High Schools
Regular Schedule: 8am-1:38pm
Horizon High School
Millard North High School
Millard South High School
Millard West High School
Young Adult Program
Rankings
Millard North High School is ranked #5 as the top high school in Nebraska, according to US News and World Report.
Niche.com gives the school district an A+ rating.
District Information
District Superintendent: Dr. Jim Sutfin
District Enrollment:
Approximately 24,000 students
High School Enrollment:
Millard North High School: Approximately 2,500 students
Millard South High School: Approximately 2,300 students
Millard West High School: Approximately 2,500 students
District Office:
Millard Public Schools
5606 South 147th Street
Omaha, NE 68137
402-715-8200
**Enroll online
Attendance areas/boundaries
Preschool options:
Millard Public Schools Traditional Preschool
Montessori Preschool
Kindergarten
**Must be age 5 on or before July 31 of current year
**Other requirements
**All-day classes in each school
Accredited:
Nebraska State Department of Education
AdvancED (high schools)