Public Transportation in Omaha
I have helped many families moving to Omaha. Contact me if you have any questions about the Omaha area or need help buying a home.
Omaha is a spread-out city that can be easy to navigate, but very difficult to get around if you do not have a vehicle. Neighborhoods tend to be very spread out, which can make it difficult to get to the nearest bus stop. However, there are forms of public transportation in Omaha, and it is an issue that the city council has been trying to address for a few years.
Metro Area Transit (MAT)
MAT is the main form, and basically, the only form of public transportation in Omaha. There are three different segments of MAT buses: Bus, ORBT, and MOBY.
Bus
There are over 2,000 MAT bus stops across Omaha. The times vary on when lines start and finish. For the most part, the earliest buses start their routes around 5:00 AM. The latest buses end their routes around 11:00 PM. There are 27 different bus routes in the Omaha area. To learn more about those, you can click here.
Currently, all K-12 students are allowed to ride the bus for free. For students going to UNO, Creighton, or Metro, bus passes might be available. MAT also has park and ride services. Finally, there is an option to ride your bike to a stop and then take it on with you or attach it to the back of the bus.
Here is a map of all the routes in the Omaha metropolitan area from MAT's website. If you have any questions about bus routes, you can contact Metro Area Transit at 402-341-0800 or go to their website at ometro.com.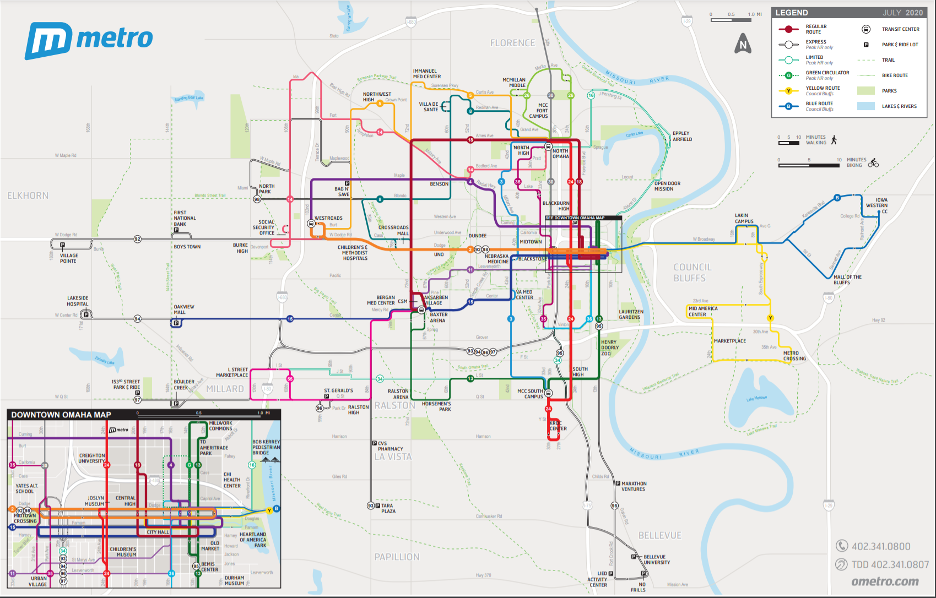 ORBT
The ORBT bus system is a rapid transit system that was put into place in November 2020. ORBT is the orange route on the map. It runs across an 8-mile course from downtown Omaha to Westroads Mall along Dodge Street.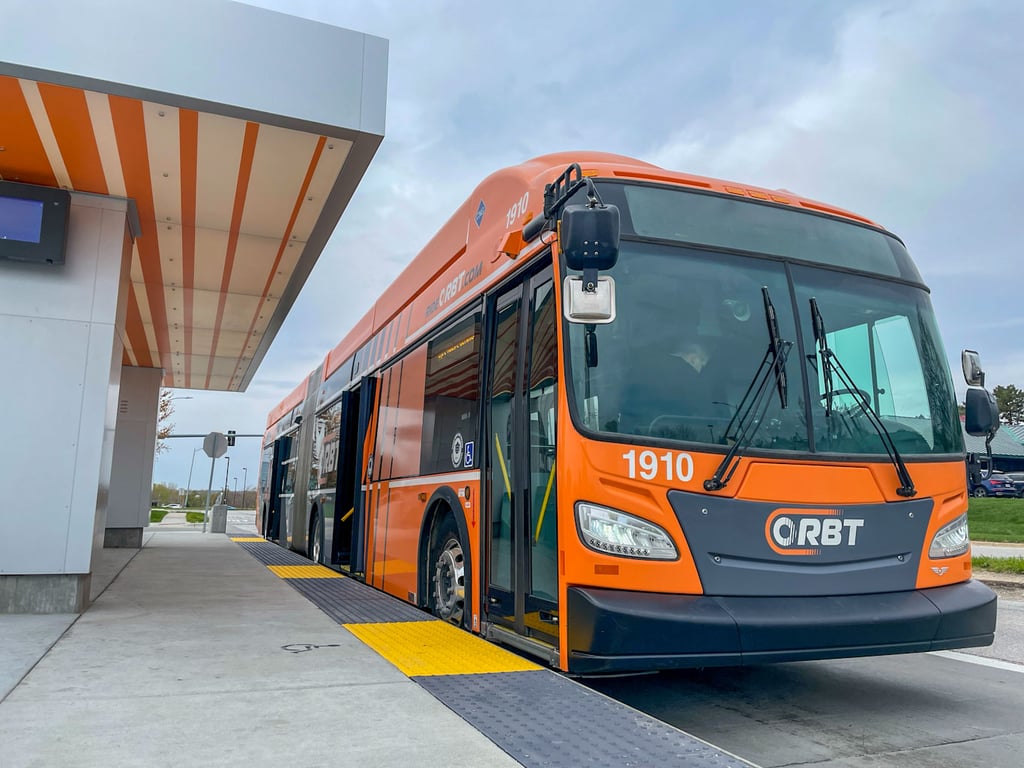 There are 27 ORBT bus stops along the route, 23 full ORBT stations and 4 ORBT bus stops. There is a park and ride location at the Westroads Transit Center (1099 N 102nd Street).
ORBT will take you through some of the busiest spots in Omaha. If you are planning on going out somewhere downtown or in midtown, ORBT could be a good tool to use to get down there without a vehicle.
ORBT runs from 4:25 AM on weekdays to midnight. Saturdays is 4:55 AM to midnight. Sundays is 5:55 AM to 9:40 PM.
Riding ORBT will cost $1.25, but there are unlimited ride options. And K-12 students ride for free.
For more information about the ORBT route, you can go here.
MOBY
Finally, there is the MOBY bus system. The MOBY system is a "ADA complementary paratransit service for people who cannot access our conventional, fixed-route bus network due to a disability or disabling health condition" (MAT, n.d.).
Basically, you register with MOBY in order to use the service. Rides cost $2.50, and they will pick you up at your house. MOBY trips have to be made at least a day in advance, and you can schedule them up to two weeks prior.
You can schedule trips between 6:00 AM-7:00 PM on weekdays. 7:30 AM-7:00 PM on Saturdays, and 7:30 AM-6:00 PM on Sundays. In order to schedule a trip, you can call 402-341-0800. MOBY will pick up within ¾ of a mile outside of any of the normal fixed routes. MOBY will limit routes in an area depending on volume.
Conclusion
At this time, MAT buses are the only public transportation options in Omaha. Some of the universities or other parts of town have bike share stations and car sharing services, but they cost money. The introduction of the ORBT system was the first time Omaha has addressed the issue of public transportation in decades.
This is hopefully a sign of expanding the options of public transportation. I do list public transportation as one of the reasons you may not want to move to Omaha.
Ultimately, a vehicle is suggested if you are moving to Omaha. If you have any other questions about transportation or finding homes in areas near MAT routes, feel free to contact me.