Guide to Eppley Airfield
I have helped many families moving to Omaha. Contact me if you have any questions about the Omaha area or need help buying a home.
Eppley Airfield (OMA) is an airport located in Omaha, Nebraska. It has two main terminals, north and south, and a central terminal for ground transportation. In this article, you will find all the information you need to know to have a successful flying experience!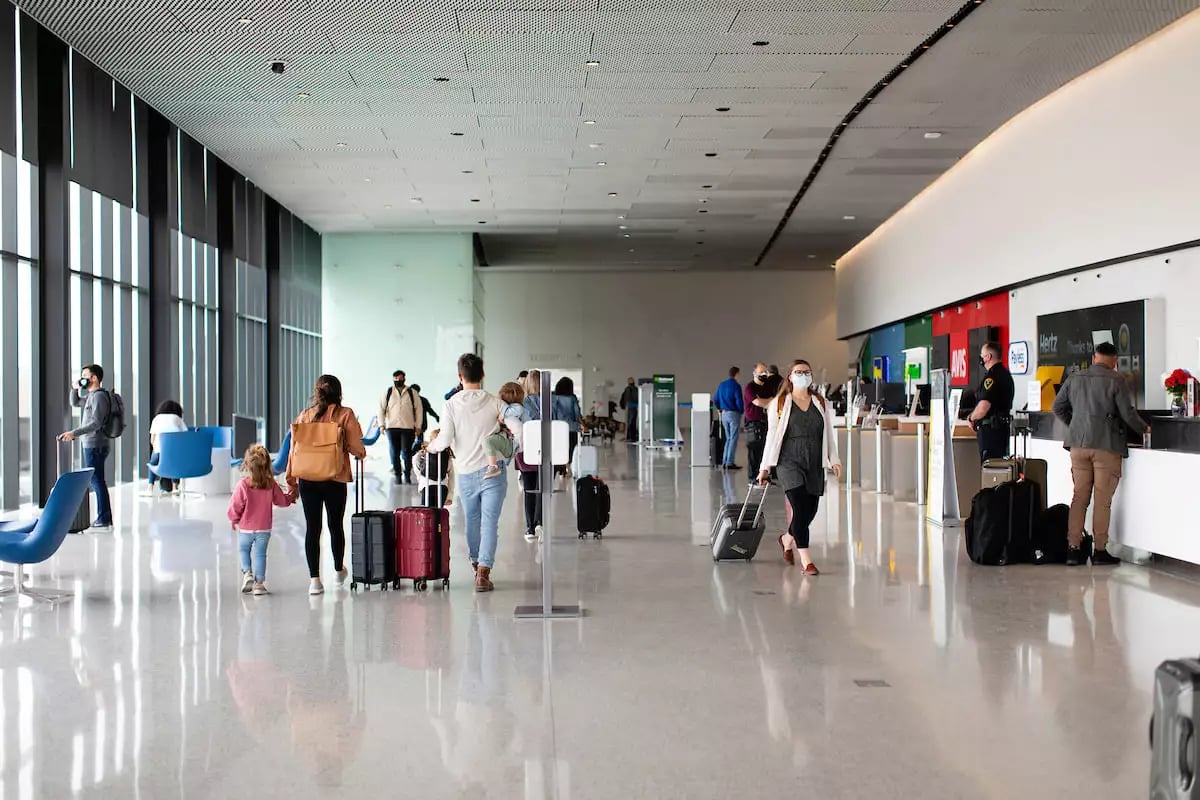 Eppley Airfield is located at 4501 Abbott Dr, just outside of Carter Lake, IA in Omaha. It is located 3 miles northeast of downtown Omaha.
Airlines
The airlines are split up between Concourse A and Concourse B. The central terminal is where you check-in and claim your bags.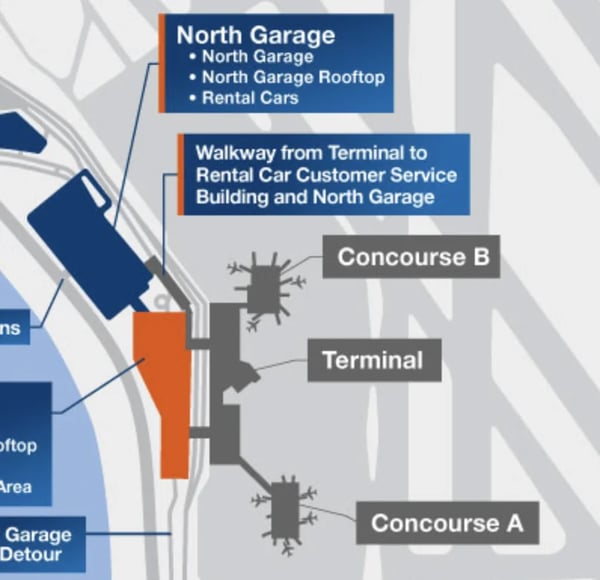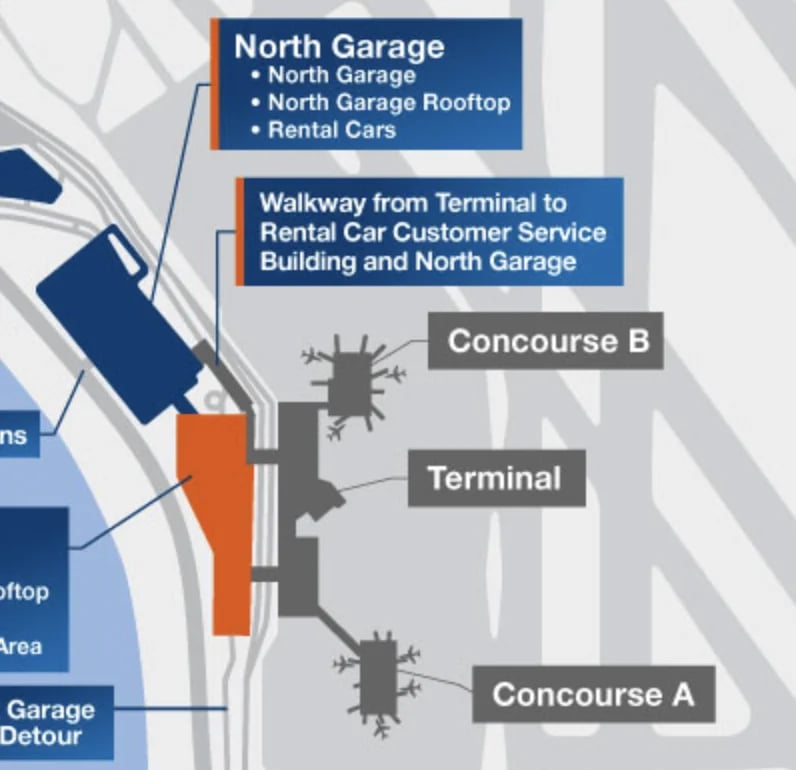 Concourse A (South Terminal)
Concourse A is located on the south side of the airport. The airlines that fly out of there are as follows:
Alaska Airlines
Alaska Airlines is open daily from 1-3 PM. Their main flight is to Seattle, but they also have seasonal flights directly to Portland.
Alaska Airlines allows one carry-on and a personal item on their flights for free. They allow checked baggage. The first one costs only $30, and the second one costs $40. There are weight and size limits. You can also join the Alaska Mileage Plan if you are planning to use their flights to the Pacific Northwest often.
Frontier Airlines
Frontier Airlines opens two hours before their first departure of the day. They close 45 minutes after their last departure. They have three direct flights (one seasonal).
Frontier offers bags and carry-ons, but prices may vary by flight. There are weight and size limits. If a bag does not comply, an additional $75 fee will be charged. They have a Frontier Miles Frequent Flyer Program.
American Airlines
American Airlines are open between 3:45 AM to 7:00 PM. They have several direct flights daily, and they are one of the most active airlines at Eppley.
American maps out their bag charges online here. The first bag costs $30 for most flights. Many bags cost $40. American Airlines also has a rewards program named the AAdvantage program. You can accumulate miles in order to earn rewards.
Delta Airlines
Delta Airlines is open between 4:00 AM and 7:30 PM. They have seven different direct flights out of Eppley Airfield. They also have several links to international flights.
For most trips, the first bag is $30. The second checked bag is $40. You are allowed a carry-on. Delta also has a miles program called SkyMiles. You get extra perks once you reach Medallion status.
Concourse B (North Terminal)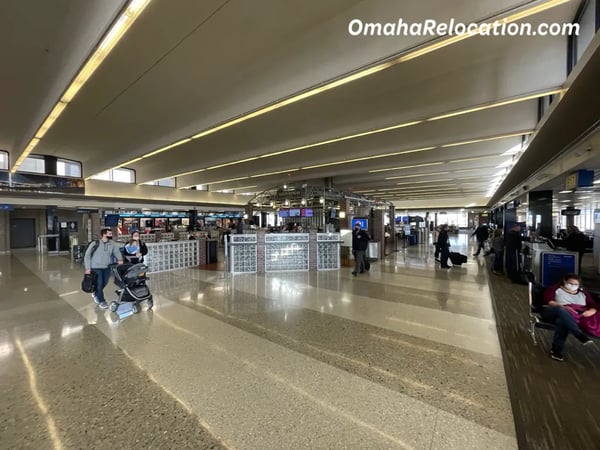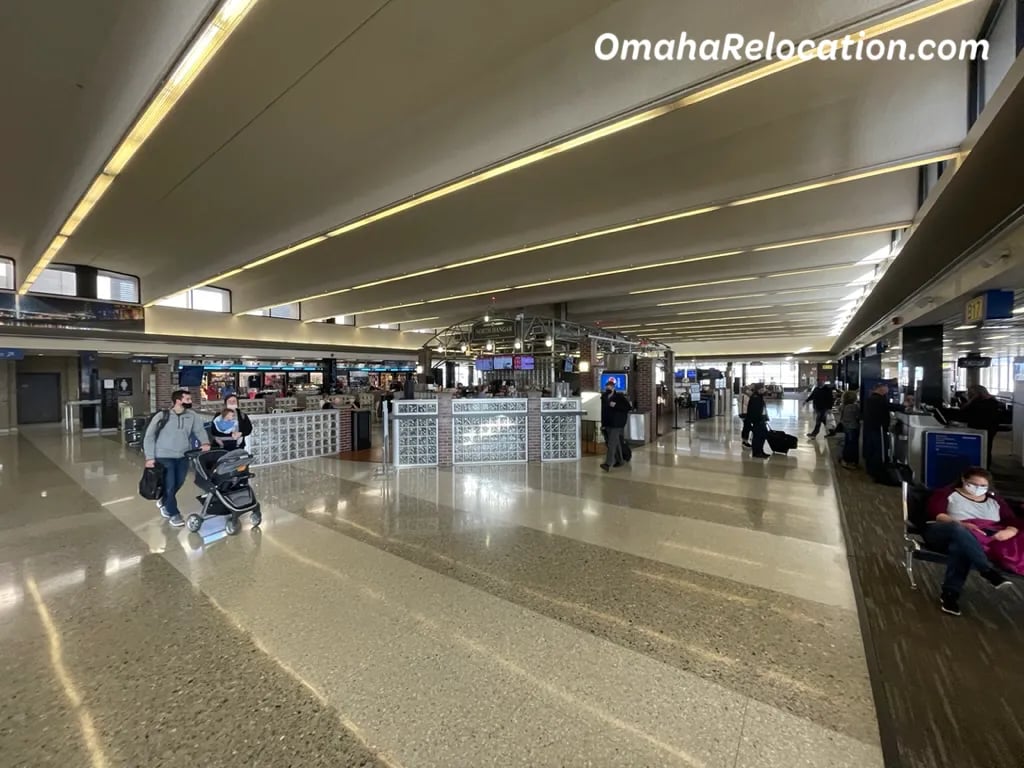 Concourse B is located on the north side of the airport. The airlines that fly out of there are as follows:
Allegiant Air
Allegiant Air opens its doors two hours before the first departure of the day. They close one hour after the last departure. They have multiple direct flights.
People are allowed one personal item on each flight. However, they charge for carry-on bags and checked bags. They also have vacation packages to help you save money.
Southwest Airlines
Southwest Airlines opens its doors ninety minutes before their fire departure. They close fifteen minutes after their last departure. They have the most direct flights out of Eppley Airfield with eleven.
Southwest allows your first two checked bags for free. They also allow a free carry-on and personal item. They do have fees for oversized bags. Southwest also has a Rapid Rewards program that allows people to get points to save up for different rewards.
United Airlines
United Airlines is open every day from 4:00 AM to 7:00 PM. They have several direct flights.
For the most part, United Airlines charges $35 for a person's first standard checked bag. The second one is $45, and any additional cost $150 per bag. United has a MileagePlus program that allows loyal customers to redeem flights, upgrades, and other gifts.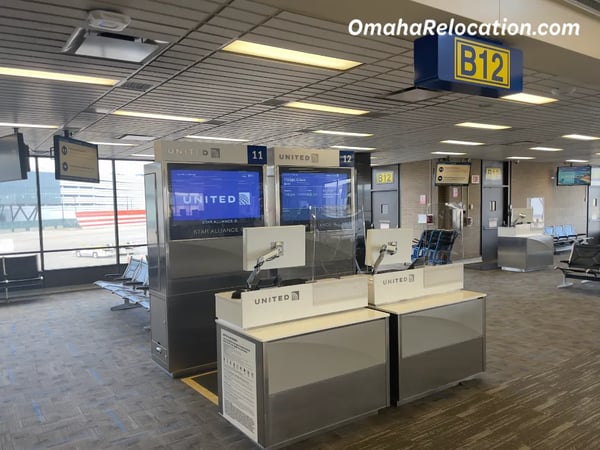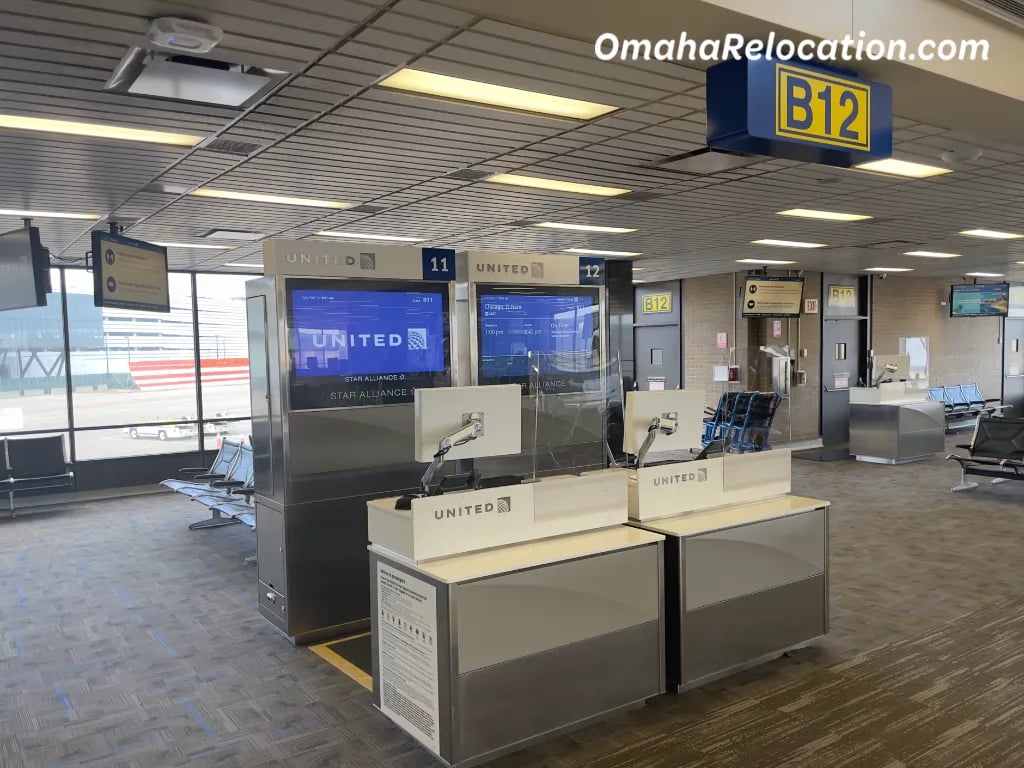 Direct Flights
Here is a list of direct flights out of Eppley.
* some flights are seasonal
Atlanta, GA
Delta Airlines (ATL)
Southwest Airlines (ATL)
Charlotte, NC
American Airlines (CLT)
Chicago, IL
American Airlines (ORD)
Southwest Airlines (MDW)
United Airlines (ORD)
Dallas, TX
Southwest Airlines (DAL)
Southwest Airlines (DEN)
United Airlines (DEN)
Denver, CO
Frontier Airlines (DEN)
Destin, FL
Allegiant Air (VPS)*
Detroit, MI
Delta Airlines (DTW)
Houston, TX
Southwest Airlines (HOU)
United Airlines (IAH)
Las Vegas, NV
Allegiant Air (LAS)
Frontier Airlines (LAS)
Southwest Airlines (LAS)
Los Angeles, CA
Allegiant Air (LAX)*
American Airlines (LAX)
Delta Airlines (LAX)
Miami, FL
American Airlines (MIA)*
Minneapolis, MN
Delta Airlines (MSP)
Nashville, TN
Southwest Airlines (BNA)*
New York City, NY
Delta Airlines (LGA)
United Airlines (Newark-EWR)
Orlando, FL
Allegiant Air (Sanford-SFB)
Frontier Airlines (MCO)*
Philadelphia, PA
American Airlines (PHL)
Phoenix, AZ
Allegiant Air (Mesa-AZA)
American Airlines (PHX)
Southwest Airlines (PHX)
Portland, OR
Alaska Airlines (PDX)*
Punta Gorda, FL
Allegiant Air (PGD)*
Salt Lake City, UT
Delta Airlines (SLC)
San Diego, CA
Southwest Airlines (SAN)
San Francisco, CA
United Airlines (SFO)
Seattle, WA
Alaska Airlines (SEA)
St. Louis, MO
Southwest Airlines (STL)
St. Petersburg, FL
Allegiant Air (PIE)
Washington, DC
Delta Airlines (DCA)
Southwest Airlines (DCA)
Pros of Eppley Airfield
There are multiple benefits to flying into or out of Eppley Airfield.
Small
Eppley Airfield is not an international airport. Therefore, it is very easy to navigate. There are only two terminals, so it is pretty easy to find gates. When being picked up, there is a pickup lane that people use. All of the doors are labeled with the airline, so it's convenient for drop off and pickup.
Quick
Eppley Airfield asks that people arrive ninety minutes before their flight. Normally, the check-in process is fairly quick. Bags come out quickly, allowing people to get in and out of the airport easily.
Due to the lack of international flights it allows for shorter lines and a quicker process.
Access to Hotels and Parking
There is a parking garage located just west of the airport, across the street. Rates are fairly cheap, adding up to a weekly rate of $112-$182. There are several hotels in the area with shuttle services. Finally, the airport is open 24 hours, so you can choose to rest there overnight as well.
Cons of Eppley Airfield
Although Eppley is a great airport, there are some downfalls. Some of the strengths of Eppley are also its weaknesses.
Lack of International and Direct Flights
Because Eppley Airfield is not an international airport, travelers have to make a stop during their international travel. Also, Eppley Airfield lacks direct flights to many major cities in the United States.
Because of this, people have to make stops on what would be considered a routine flight.
Food
There is a food court in the north terminal that is filled with fast food options. However, when compared to some of the nation's finest airports, some might find it lacking. They do have great places like Blimpie Sandwiches, KFC, Godfather's, and Scooter's. But most of the restaurants close by 6:00 or 7:00 PM. Scooter's is the only one that is open 24/7.
Godfather's, Eat Fit Go, and North Hangar are open in the north terminal until the last flight leaves.
Helpful Tips
When traveling, it is always important to know the ins and outs beforehand. Here are a few tips and tricks to help you travel easier while going through OMA.
Show up ninety minutes early before your departure time.
Look at our guide around the airport.
Remove any metal objects or electronic devices before going through screening.
The busiest times at Eppley are between 5:00 AM to 7:00 AM and 4:00 PM to 6:00 PM
Don't leave your items unattended.
There is a cell phone lot to help with pick up, charging a phone, or ordering an Uber.
You cannot park or wait on the terminal drive. It's for drop off only.
Always have your ID with you.
Check TSA guidelines.
Get information about bag sizes, schedule, accommodations, and pickup/drop off before you arrive at Eppley.
Using an itinerary or safety location with your friends or family in case someone gets loss is a great idea.
Have your boarding pass ready.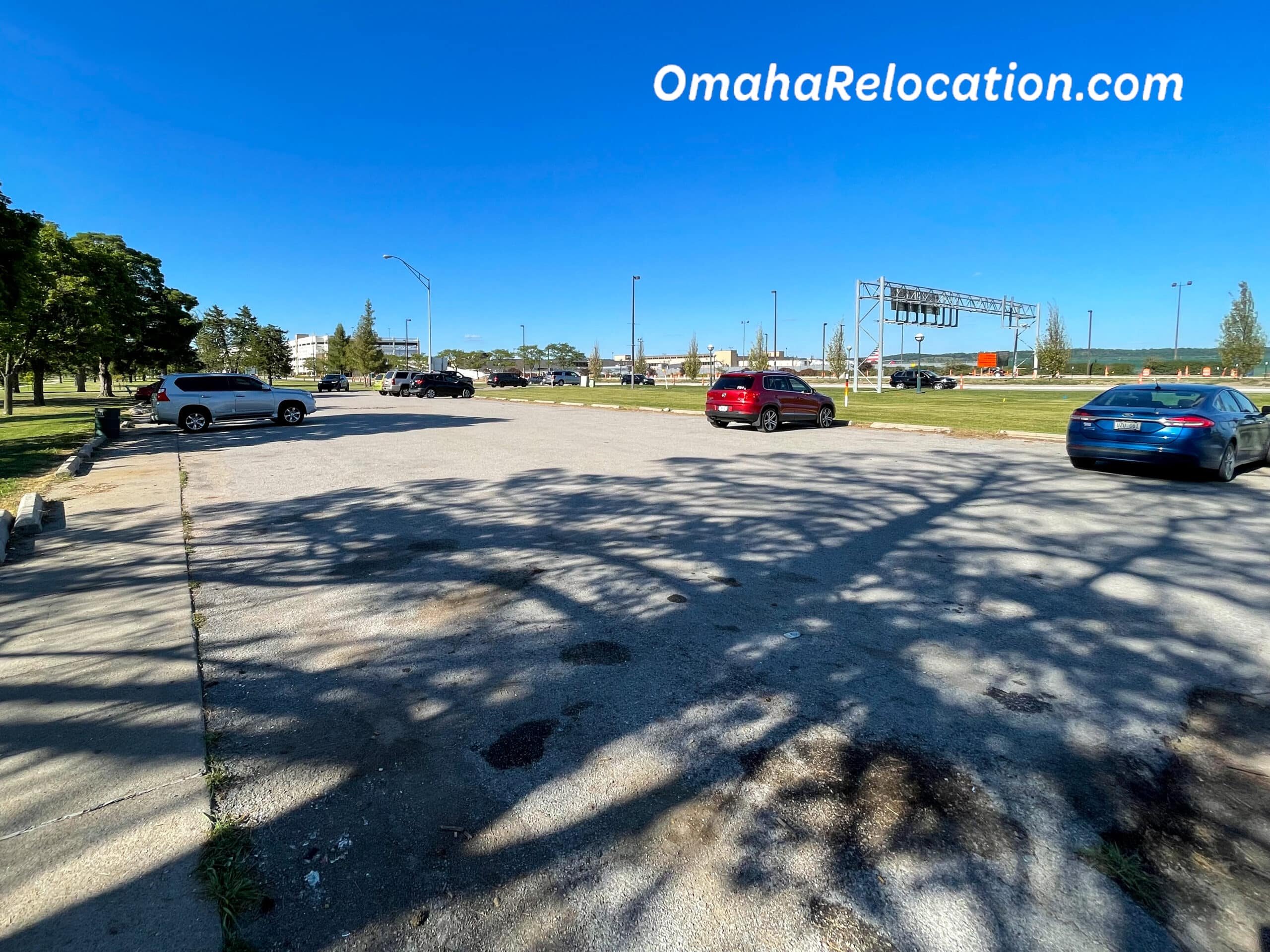 Guide Around the Airport
Eppley Airfield is simple to navigate. There are multiple parking garages located just west of the airport. The drop-off lane is in between the garages and the main terminal. There is a food court towards the north central side of the airport. Both gates have some fast-food options. There is a gift shop as well.
The main terminal (central terminal) houses ground transportation services. This is where someone can rent a car for the weekend.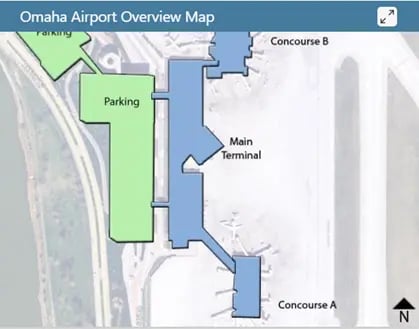 To get to Concourse B (North Terminal), you will take a left when you enter the building. Follow the hallway, and you should be able to navigate to your gate. The north terminal houses flights with Allegiant, Southwest, and United. You can find your gate located on the map below.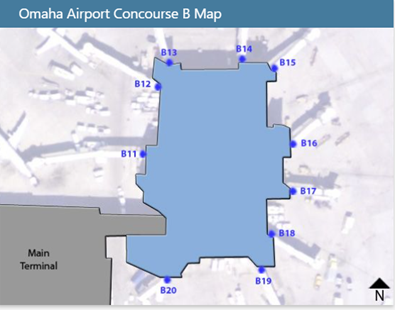 If you need to go to Concourse A, the south terminal, you will take a right when you enter the building. For this one, you will have to walk a little further down a long hallway, but it is easy to find. The south terminal houses Alaska, Frontier, American, and Delta. You can find your gate on the map located below.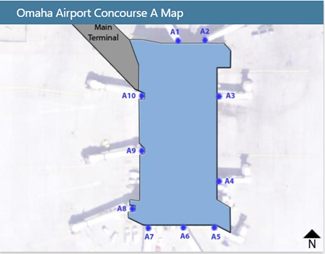 Location
Eppley Airfield is located at 4501 Abbott Dr, just outside of Carter Lake, IA in Omaha. It is located 3 miles northeast of downtown Omaha. The best way to get to Eppley Airfield is by using the Cuming Street exit off Highway 75 and going east. It will guide you straight to the airport.
Transportation From The Airport
In the main terminal, you will find the ground transportation center where you are able to rent a car. There are several different options that you can go with though.
I've also created a page dedicated to getting around Omaha.
Uber/Lyft
Uber and Lyft tend to be some of the most popular options when getting to and from the airport. These apps can be downloaded on any smartphone.
Rental Cars
There are several rental car companies. The providers available at Eppley Airfield are Alamo, Thrifty, Alvis, Dollar, Budget, Enterprise, Hertz, National, and Payless.
The airport just did a major renovation to upgrade the rental car facility. The photo below shows the new area for the rental car counters.
Taxis
There are taxis at the airport in the center island of the terminal, directly across from door #3. There is a taxi call button in case there is not one already at the airport waiting. The call button will send a taxi right away to the airport to pick you up.
Buses
In Omaha, Metro, will pick you up on weekdays only during rush hour. The bus will take you toward downtown Omaha or towards the North Omaha Transit Center. You can board outside the main terminal. Check the Metro schedules before using this option.
Shuttles
Many downtown hotels provide shuttles to and from the airport. Contact the hotel directly for options.
Hotels Near By
Eppley Airfield is rather large, so there are no hotels directly across the street. However, there are multiple hotels nearby within two to three miles. Here are a few of them. All hotel ratings and prices are from booking.com.
There are additional hotels close to Eppley in downtown Omaha.
Frequently Asked Questions